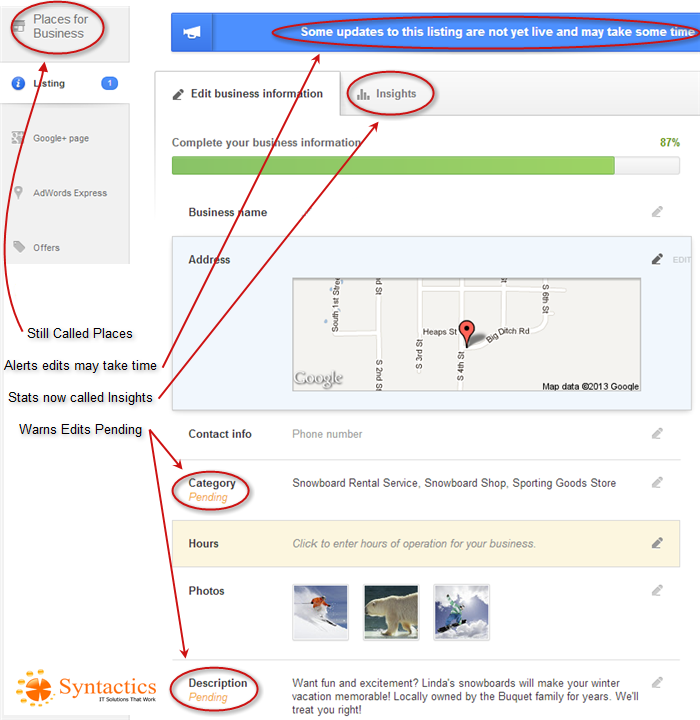 Mar 13, 2014
Check Out the NEW Look Of Google Places Dashboard
Google has upgraded its Google Places Dashboard, which is the backend tool that allows local businesses to manage their information that appears in Google's organic search results. This new dashboard looks like the current Google and Google+'s design. It also offers some new features and excellent functionality to update business details easily.
Highlights of the new Google Places Dashboard
Fresh design and page layout. The Google Places Dashboard's new design has the same concept with most of Google's other products such as Google+.
Like Google+, the navigation options on the new dashboard are moved to the left side of the screen and there are separate tabs for every menu button. As a result, businesses can manage their Google+ Local page and AdWords Express ads easily.
Easier access to Google's other products. The new dashboard has a special tab that allows business owners to update their Google+ Local pages. This tab helps local business owners to easily access the social features of Google+ such as sharing photos, posts and videos.
Furthermore, the old dashboard of Google Places did not include any direct access to Google+ Local pages. There was no way to post or share photos and videos to Google+ from the Google Places Dashboard. As a matter of fact, the edits or the changes made on the Dashboard did not automatically appear on the Google+ Local page.
Important tip: you cannot see the Google+ Local page tab on your Google Places Dashboard if you do not have a Google account.
Updates information immediately. Google promises faster data updates to local business owners in their Google+ Local page. This is supported by the statement below:
"Most edits made via the upgraded user interface now appear on Google Maps, Google+ local pages and other products of Google within 48 hours. As before, we may continue to moderate changes to ensure the highest quality local experience."
There are other changes in the Google Places dashboard that were not mentioned during Google's announcement about this update. For instance, the new dashboard allows service-based businesses or those that do not have their own office location to take advantage of the online exposure that Google+ Local page offers. The plumbers are one good example of who can benefit this new feature.
The new Dashboard of Google Places has been a welcomed change for all local business owners. It really helps local business owners to use Google+ Local pages at its best and boost the online exposure and local search results they want.
How did you find the new Google Places Dashboard so far?