Cybercrime and How to Protect Your Organization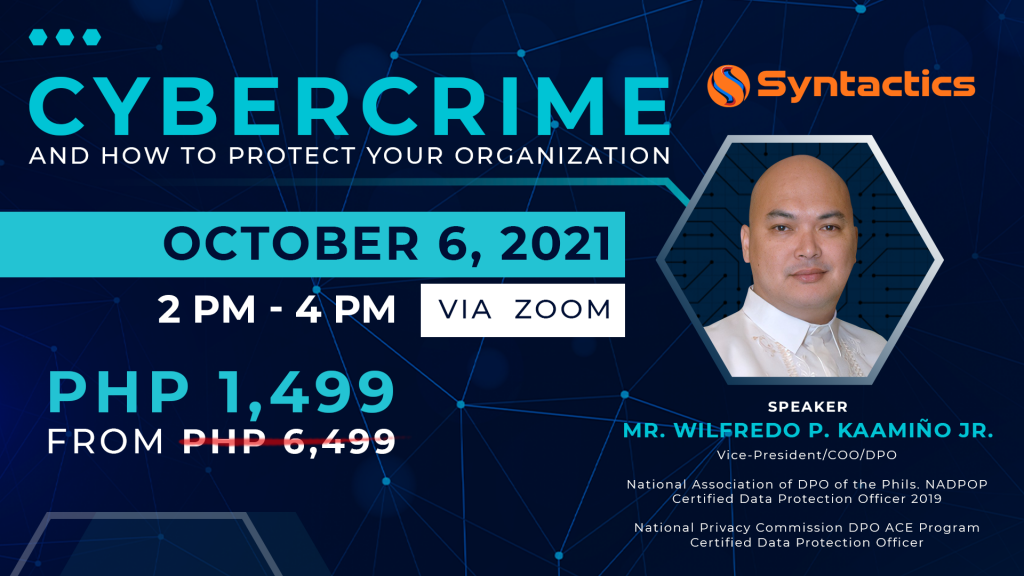 ABOUT THE EVENT
As organizations transition and move online, so do attackers and threats. Business organizations and government agencies rely on technology and most, if not all, use online software and platforms to run their day to day transactions. We display our information and business details on our website, social media, and other digital platforms. We communicate using various devices and access messages in different formats (email, SMS, etc.) When compromised, the organizations' reputation and users' information and online safety are put at risk.
Hence, there is a need to understand possible cybercrime threats, how to identify them, and how to protect your organization.
Ensure your workforce and organization apply the best practices when it comes to privacy and online awareness with Syntactics, Inc.'s Cybercrime and How to Protect Your Organization training this coming October 6, 2021 via Zoom with our certified Data Privacy Officer and COO, Mr Wilfredo Kaamiño Jr., where he discusses the current trends in cybercrime and how you can protect your organization.
Event Details:
| | |
| --- | --- |
| What: | Cybercrime and How to Protect Your Organization |
| When: | October 06, 2021 (2 PM – 4 PM) |
| Where: | Zoom |
| Registration Fee: | PHP 1,499 |
| Note: | EXCLUSIVE TO GOVERNMENT AGENCIES ONLY |
WHAT YOU'LL LEARN
Types of Cybercrimes
Organizational Vulnerabilities
How to protect your organization
Who is the Event For?
This training is open to government agencies' department heads, IT departments, and other employees.
ABOUT THE SPEAKER
Mr Wilfredo is a graduate of Information Management from Xavier University. He is the Chief Operating Officer of Syntactics, a National Privacy Commission Certified Data Protection Officer ACE 1 and Certified Data Protection Officer National DPO of the Philippines 2019.
Slots are limited and we will be closing registration once seats are filled. Secure your spot now!