Syntactics Inc. : Learn SEO Basics & Optimize Your Website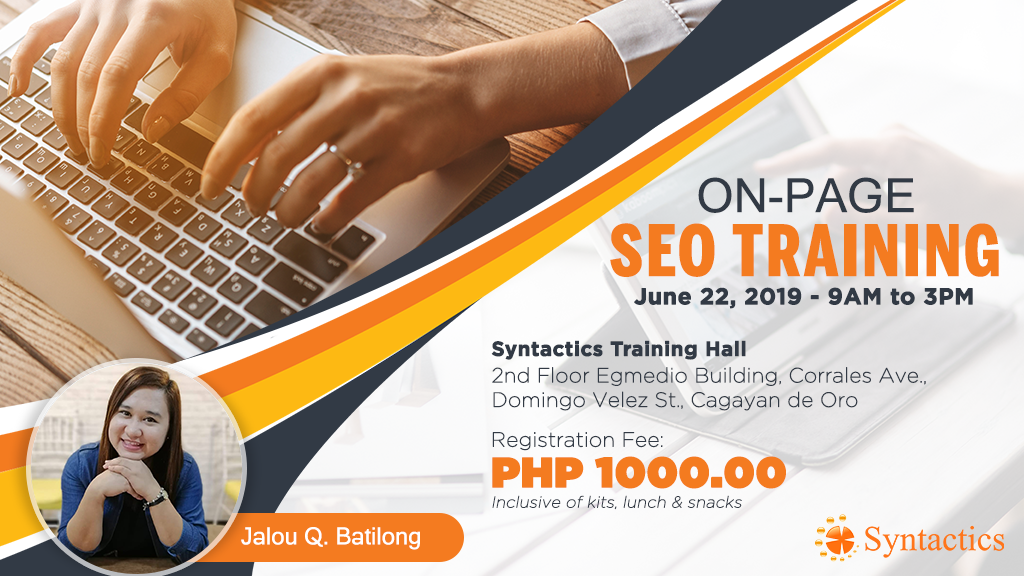 ABOUT THE EVENT
Learn how search engines (Google, Yahoo, and Bing) work and the effective ways in performing keyword research, checking on-page ranking factors, getting good backlinks, increasing website's rank in SERP, and analyzing results to help boost your site's rank on search engine results pages (SERP).
If your goal is for your business website to rank higher on search engines, use the most effective keywords, and strategies, this training will help you achieve that. This training is open not only open for business website owners. Students, freelancers, and online sellers from various industries who want to know more about marketing digitally will also find this activity valuable.
This training is for those who:
1. Have a business website.
2. Are about to start a business website.
3. Want to optimize a website for Digital Marketing.
Things you will learn in our Basic SEO Training:
1. Search Engine Optimization Facts and Figures
How does search engine works?
How important is Search Engine Optimization today?
How important is it to be on first page of SERPs?
2. On Site Optimization Checklist
On site factors
Keyword Research
Meta tags
Web Contents
Images and alt tags
Internal Links
3. Website audit and SEO tools
Workshop Fee Basic Class:
(Includes snacks, lunch, & certificate)
Regular Fee is PHP 1,000.00
*We accept payment during the event
What to Bring: Laptop for the hands-on activity
ABOUT THE SPEAKER
Miss Jalou Batilong, one of Syntactics Inc.'s best young professionals is our speaker for the On-Page SEO Training.
She is a graduate of STI College in Cagayan De Oro City and has a degree in Information Technology. She became a member of the Online Marketing Team in 2013 and since then, she has earned skills and experiences in digital marketing. After years of continuous learning and development, she has become Syntactics' Online Marketing Team Account Executive.
Other than being the Account Executive, Jalou is further recognized in the company for her skills in Search Engine Optimization in the field of digital marketing. She has become an expert at auditing and optimizing websites so that they can fit Google's SEO algorithms and standards, and rank higher on search engines such as Google, Yahoo, and Bing.
Jalou has shared her skills in Search Engine Optimization and other digital marketing strategies such as social media marketing for a variety of talks and conferences in the city. Entrepreneurs from many industries and aspiring marketers have learned from Jalou through talks for GoNegosyo and Department of Trade and Industry (DTI).
Slots are limited and we will be closing registration once seats are filled. Secure your spot now!