Syntactics Inc. : Social Media Tips, Tactics, Strategies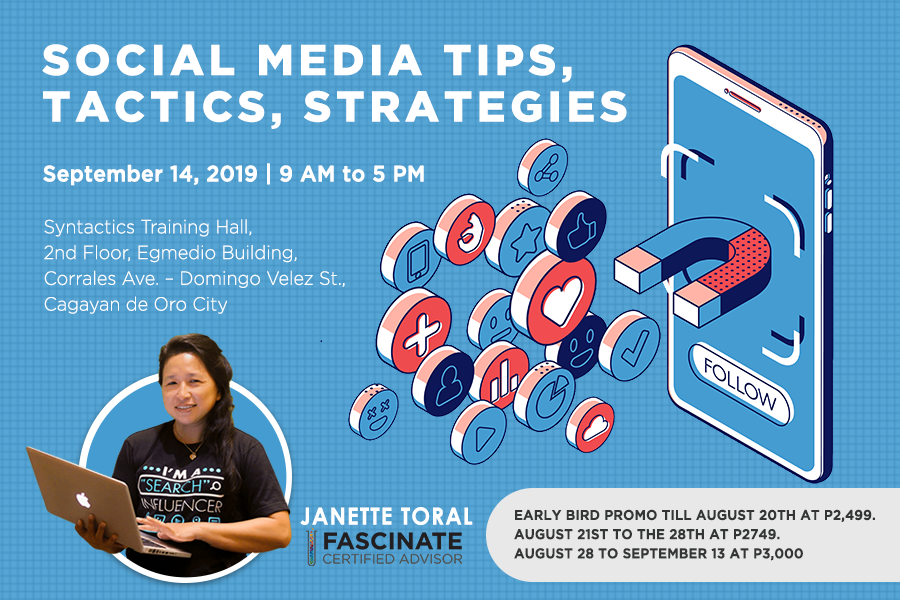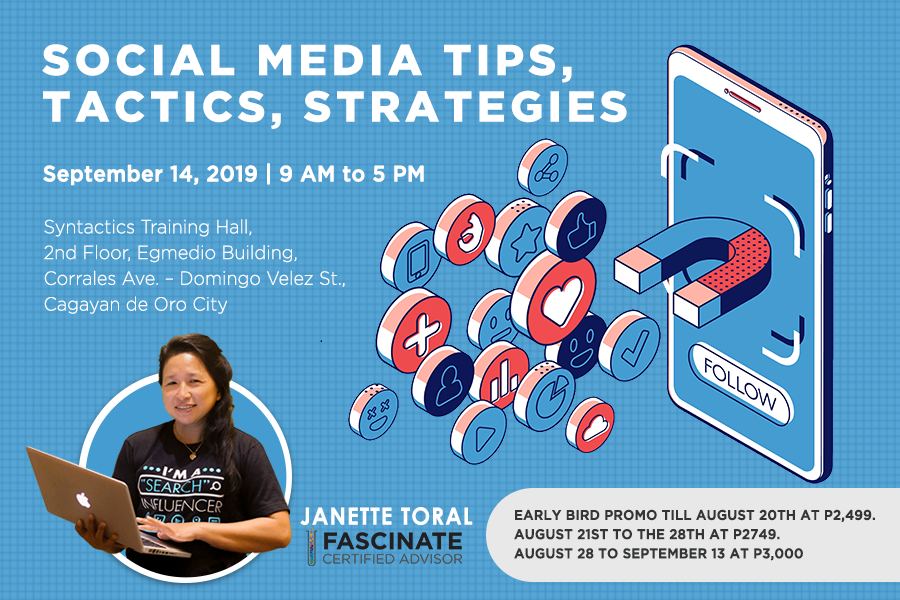 Are you still satisfied with the results you are getting with your social media marketing efforts? Would you like to improve your results? Are you exploring the use of social media to improve the perception people have on your brand?
If you answer yes to the above questions, our "Social Media Marketing Tips, Tactics, Strategies" event is right for you.
Things you will learn in our Social Media Marketing, Tips, Tactics, Strategies Training:
1. Social Media Trends
2. Social Media Audit (What works & what can be improved?)
3. Do you fascinate online?
4. Updating and improving your social media presence
5. Automating replies & interaction with chatbots.
6. Content creation templates
7. Content creation tips
8. Creating Social Media Marketing Campaigns
9. Social media advertising updates
Workshop Fee Basic Class:
(Includes snacks, lunch, & certificate)
Early bird promo till August 20th at P2,499
August 21st to the 28th at P2749
August 28 to September 13 at P3,000
ABOUT THE SPEAKER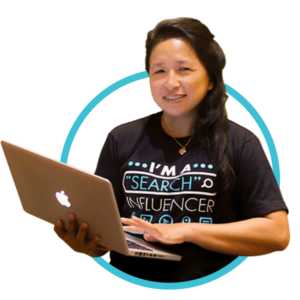 Janette Toral is a multi-awarded e-commerce advocate and digital influencer. At her highest value, she provides independent insights.
She is a Fascinate Certified Advisor, Certified ScrumMaster & Product Owner, Canva Certified Creative, and Global Leadership Assessment 360 Certified Practitioner.
She is an Independent Executive Director, Certified Coach, Speaker, Behavioral Analysis Consultant, Trainer, Youth Facilitator with The John Maxwell Team.
She is a Certified Executive Coach and Certified TEAM Coach with Marshall Goldsmith Stakeholder Centered Coaching.
Distinguished expert for 2nd & 3rd Expert Committee of APEC E-Commerce Business Alliance (June 2016 to September 2022).
She helped the Department of Trade and Industry in crafting the Philippines E-Commerce Roadmap (2016-2020) released last February 2, 2016.
She participated in the International Visitors Leadership Program 2011 (individual program) sponsored by the U.S. Embassy. Featured as 1 of the 6 women innovator at the APEC Women and Economy Summit 2011, San Francisco, USA.
Former technical consultant/executive director of the Congressional Oversight Committee for the E-Commerce Law. She worked on policy creation in consumer protection (value added services, e-commerce, e-banking), data privacy for the private sector, & e-payment in government.
As founding president of Philippine Internet Commerce Society, she worked on the passage of Y2K Law & E-Commerce Law. Retired in 2002. Former board member of Philippine Computer Emergency Response Team (PH-CERT), Internet & Mobile Marketing Association of the Philippines (IMMAP), Philippine Macintosh Users Group (PhilMUG).
Slots are limited and we will be closing registration once seats are filled. Secure your spot now!
For more information contact Marvin at 09650436597