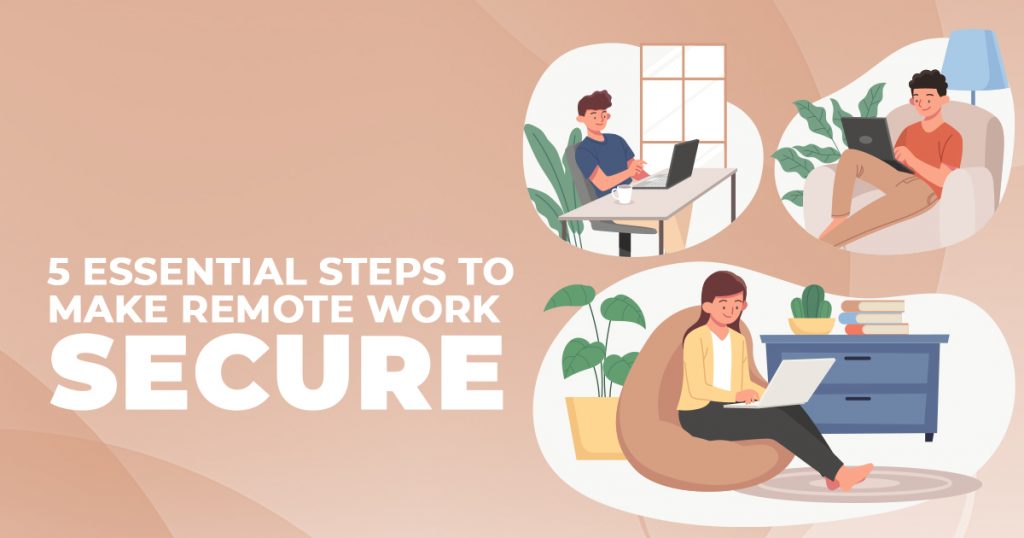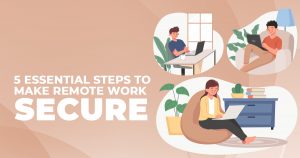 Oct 4, 2021
5 Essential Steps to Make Remote Work Secure
The COVID-19 pandemic forced most of society to stay at home to help curb the spread of the deadly virus. As a result, most businesses and institutions, including schools and government offices, have redesigned and realigned their operations by adopting the remote work arrangement. If you are one of the countless individuals who are currently working from home, read this article to know five essential steps that you can take to make remote work secure.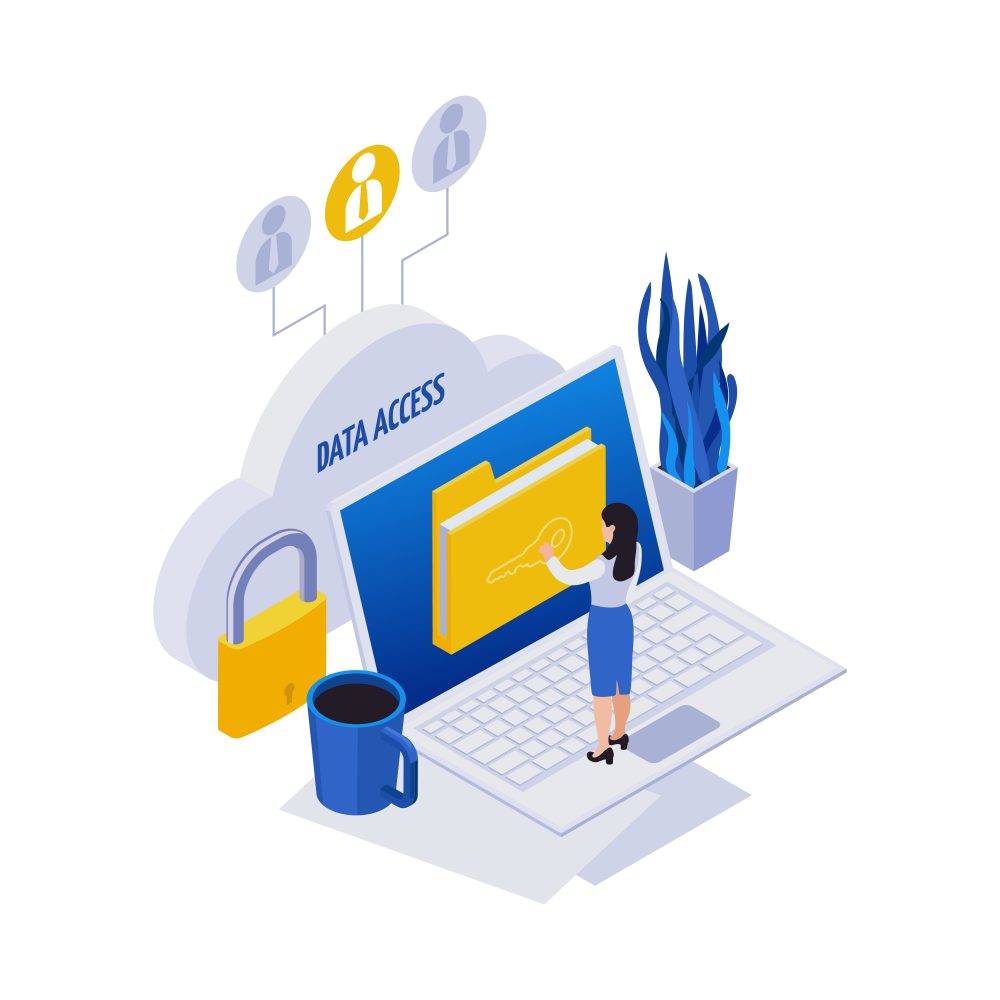 What is Remote Work?
Remote work refers to the working arrangement that lets individuals perform their jobs outside the usual office environment. It follows the concept that people do not have to stay in a specific space such as an office to perform their job effectively.
Moreover, because of this remote work arrangement, professionals no longer need to spend time and effort to commute to their office every day. They can do their projects at home. With this work arrangement, workers have the opportunity to design their professional and personal lives so that both work together efficiently.
The Risks of the Remote Work Arrangement
With everyone transitioning to the remote work arrangement, organizations needed a way to continue collaborating with their workers. This is where computers, smartphones, and other software and devices with an internet connection come in.
However, personal devices are usually not as equipped with security measures and protocols as our offices' devices. This is where risks come in wherein cybercriminals can quickly get through an individual's device and, subsequently, infiltrate their organization's network. As soon as these hackers enter your network, they could gain access to personal and confidential information, which they could use in any way to their advantage.
Making Remote Work Secure: Five "Must Do" Steps
Every remote worker should practice essential steps to make remote work secure. Here are five methods that any individual worker can do to secure their devices while working from home:
ONE: Use a Virtual Private Network
A Virtual Private Network or VPN helps prevent hackers from infiltrating your network. A VPN encrypts the information you transmit from your device's browser to a server and vice versa. If you use a VPN, hackers will not understand your encrypted data, even if, somehow, they get a copy of it.
You can use some of the best VPN software such as ExpressVPN, NordVPN, Surfshark, Hotspot Shield, or Private Internet Access.
TWO: Be Cautious of Phishing Attempts
Here's another thing that you should keep in mind when working remotely: phishing attempts. Phishing is one of the ways used by malicious individuals to perform identity theft. They do this by tricking individuals into voluntarily providing their personal details, which they can use for nefarious purposes. Most often, you will encounter phishing attempts through malicious websites, email, and even text messages. For example, you may have already seen messages such as those that claim that you have won something, and you can claim your prize by providing your personal information or by clicking a link, or by opening an attachment.
Never interact with these phishing attempts! You can filter out these phishing attempts on a browser level. You can also protect yourself from these attempts by installing cyber protection software on your device. Before opening any attachment from an email, make sure to scan it first using antivirus software.
THREE: Keep Your Antivirus Software Updated
With the use of up-to-date antivirus software, your device can get the needed protection to combat malicious software. However, if you still don't have antivirus software guarding your device, get in touch with an IT technical support team now to assist you with the installation.
Once you have the software installed, make sure to program it to scan your device at least once daily. Also, remember to keep your antivirus software updated to guarantee that it can protect your device from new viruses or malware. Finally, do not ignore the notifications that pop up on your screen regarding antivirus updates.
FOUR: Update Your Operating System
Another way to protect your device while working from home is to update its operating system (OS). With an updated OS, you help ensure that your device has the patches needed to protect itself from hackers and other threats. Unfortunately, many attacks happen because of unpatched vulnerabilities. As such, it is vital that your system adequately assess these vulnerabilities and apply the necessary patches. High-risk vulnerabilities take priority when it comes to patching. You can confirm that these vulnerabilities are patched correctly by using success reports.
So, if you see a system message on your device's screen, such as those that ask you to restart your device, do it. Ignoring these messages or delaying these requests is a mistake. To guarantee that your system is always up to date, you can enable its auto-update feature.
FIVE: Use Strong and Unique Passwords
Please do not make it easy for hackers to get into your device. One best way to do this is to use strong and unique passwords. Try to combine upper- and lower-case letters, numbers, and special characters. More importantly, make sure that your passwords do not contain your personal information.
Also, do not share your passwords with anyone. This helps reduce the chances of your accounts getting hacked. If you have long and complicated passwords, you can use a password management software to help keep track of them. You can also employ two-factor authentication (2FA) to add another layer of protection to your accounts and devices.
Keep Your Remote Work Secure!
Are you currently working from home? If so, after reading this article, check if you have performed all five methods mentioned above to keep remote work secure.
If you need help with anything IT-related, please do not hesitate to reach out to us. Let us work together to keep you and your devices safe from cyberattacks!