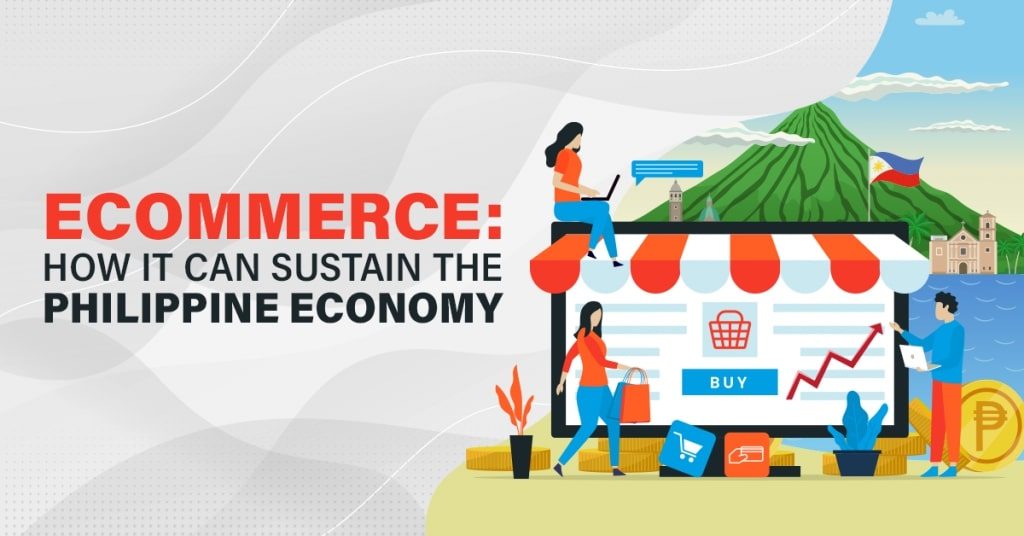 Jun 22, 2020
eCommerce Industry: How It Can Sustain the Philippine Economy
As the world has transitioned into the new normal, businesses and online shoppers have adapted to many of its changes. One critical trend is the rise of the eCommerce Industry within the Philippines, alongside eCommerce Website Development.
The effects of the COVID-19 pandemic have resulted in the rapid growth of Philippine eCommerce. The pandemic slowed down the nation's economy as Filipinos were unable to visit a business' physical location. However, shoppers around the country could still browse products, make orders, and pay for products via online stores.
As a result of this much safer alternative for the time, it drastically increased online sales. So it's no wonder the National Economic and Development Authority also favors it.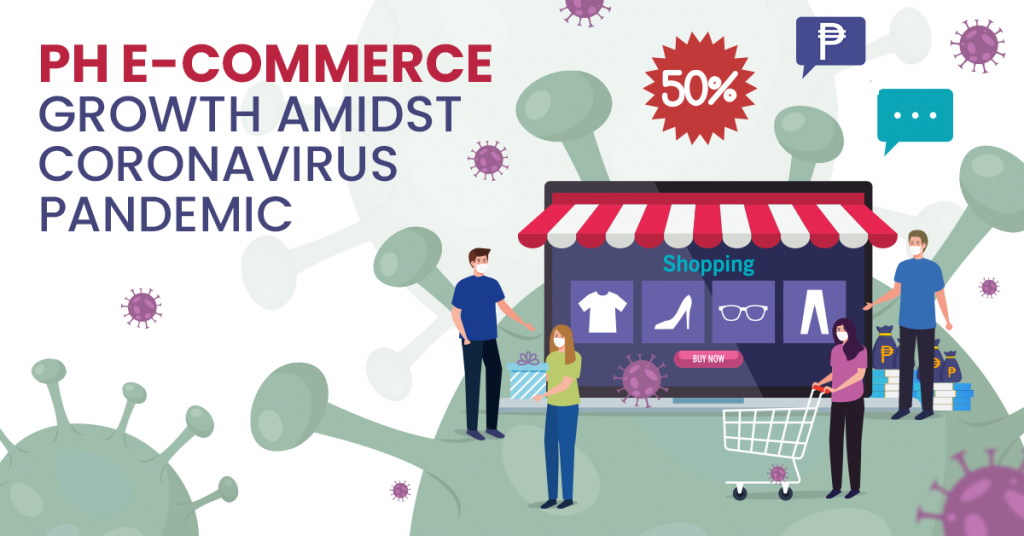 In 2020, NEDA's then-Acting Secretary, Karl Kendrick T. Chua, weighed in on the situation. He stated that "efficient and affordable eCommerce" is one way the country could sustain its economic activities. In addition, Chua mentioned online shopping and marketing platforms would play important roles in the new normal.
The eCommerce Industry as the Key to Survival
It's in every company's best interest to follow trends relating to their industry and business type. In this case, businesses in the Philippines must change and evolve to provide a valuable way for customers to shop online. Thus, the eCommerce Industry holds the key to your business' survival.
Additionally, eCommerce offers the following advantages:
Reduced costs;
No physical store construction is necessary;
Less staff is required to run the store;
Access to a broader range of customers at any place and time;
Gain analytics from your eCommerce Website about customer- and store data; and
Quick and convenient communication with online shoppers.
Of course, these days, more companies are looking for services such as Web Design and Development. As a result, they can shift from physical or brick-and-mortar stores to online shops. However, some companies run either a store location, an eCommerce Site, or both.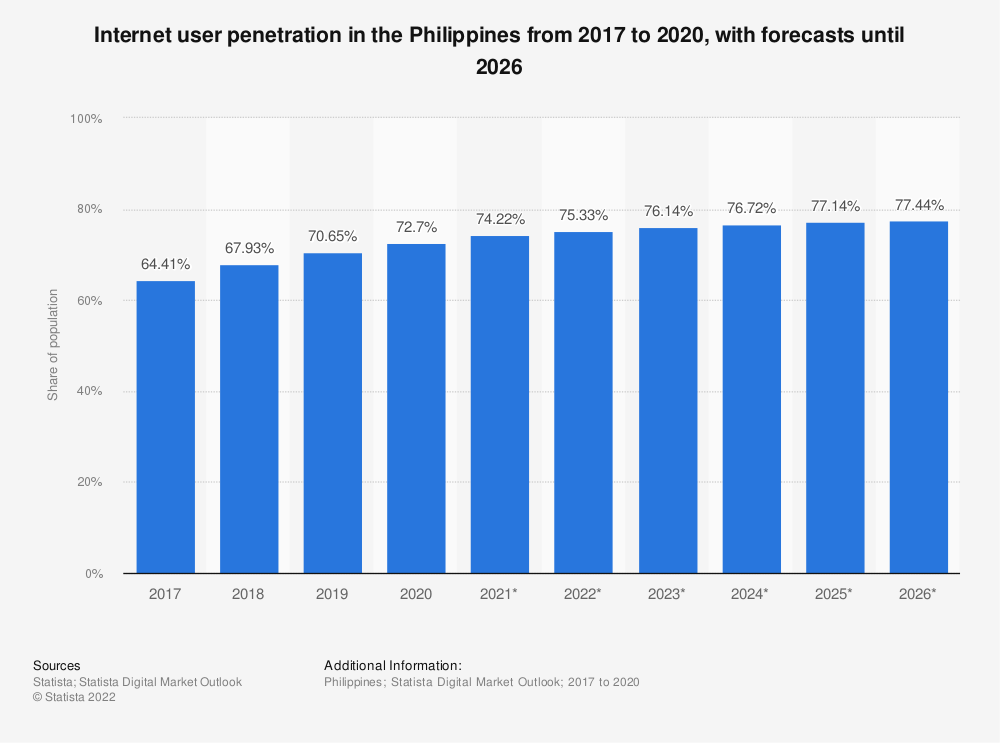 Source: Statista.
In 2019, the Philippines had an almost 71% Internet penetration rate. On a more positive note, its penetration rate was at 76% in 2022. In 2018, the nation had an average of users who plugged in at least ten hours per day.
How eCommerce Can Sustain the Philippine Economy
eCommerce or Electronic Commerce allows businesses to sell goods and services online. So, eCommerce can occur over any device as long as it's connected to the Internet. The eCommerce Industry experienced a considerable surge during the pandemic. It was a safer alternative than visiting physical stores or branches to make purchases.
In addition to the safety of online shopping, people can purchase almost anything from an eCommerce business. For instance, you can sell products like clothing, household appliances, books, etc., or offer services like online banking.
Moreover, eCommerce Sites allow shoppers to do their own research online by providing informative Product Pages. The aspect of independence in finding their preferred products is a huge draw for customers in the industry. Therefore, creating a website for your eCommerce business can help you provide information to site visitors.
On top of Filipinos having robust digital lives, they also have a strong interest in particular products or goods. Since eCommerce allows anyone to purchase any item regardless of location, the industry is poised to meet Filipino consumers' needs.
Here are the many ways eCommerce can sustain the nation's economy:
Collaboration Opportunities with Related Organizations
eCommerce business owners should have the opportunity to collaborate with fellow brands for increased visibility and sales. In addition, collaboration with related industries related to your business can positively impact both parties.
Also, you can maximize a particular business' success with eCommerce. Various companies can market their product or services on Social Media Platforms. For example, eHealth companies can sell healthcare plans or medical solutions via eCommerce platforms.
But, there are more opportunities in the Philippines than just that. So you must find out which prospects fit your brand best. Capitalizing on unique yet on-brand collaborations is an excellent way to capture your audience's attention.
In addition, all parties involved in an eCommerce collaboration will enjoy the following:
even more success;
stronger relationships with one another; and
additional opportunities for partnerships with other businesses or industries.
Consumer Base with High Penetration Rates for Internet and eCommerce
Internet and Social Media browsing are some Filipinos' favorite pastimes. Unfortunately, though Filipinos enjoy spending time on the 'Net, the country has some of the slowest yet most expensive internet services.
In Ookla's December 2022 yearend report, the nation's broadband speed reached 87.13 Mbps, from a previous 50.26 Mbps. In addition, mobile internet speed increased from 19.2 Mbps to 25.12 Mbps. Though these numbers are a far cry from other countries, current speeds don't stop Filipinos from using the Internet.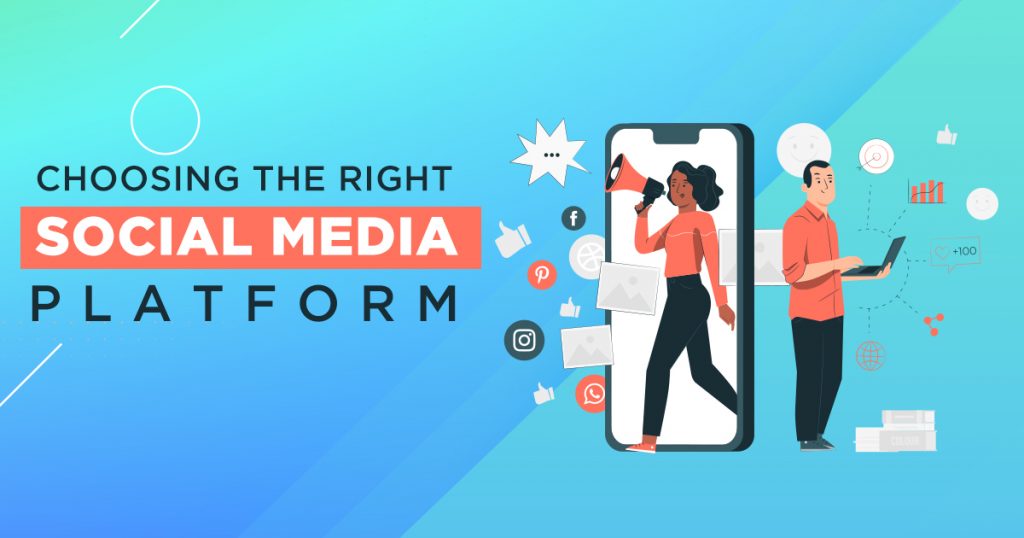 The better the connectivity speeds, the more people want to shop for particular products. eCommerce is popular due to its consistent promotion via Social Media Marketing, particularly on the Facebook and Instagram platforms. Considering these two factors, the Philippines is an excellent market for eCommerce businesses.
Fewer Geographical Barriers
As a result of the pandemic, businesses began to adopt an eCommerce model, if not shift to it completely. eCommerce helped companies to stay afloat due to its potential for decreasing expenses.
Firstly, an eCommerce store doesn't require the same costs as running a physical shop, which can include various recurring fees. An eCommerce business doesn't require much physical space, and Website Development can help!
Your businesses will want a great Web Developer to provide efficient, responsive sites and web applications for smoother business operations. So, count on them to construct an attractive online store that entices shoppers to make a purchase.
Once you have a responsive site, you can spread your reach beyond your immediate location. Thus, you can tap into a broader consumer base. For instance, eCommerce businesses invite customers to search for their desired products, regardless of geographical location.
Not to mention, eCommerce is one of the many industries that should employ Automation Software. So, changing the shopping experience to an automated system further decreases costs. At the same time, automation reduces margins of error for easier scaling and streamlines processes.
Incur Lower Expenses
The pandemic has impacted the Philippine economy in more ways than one. Thus, it forced businesses to resort to methods that offer lower costs. Again, since various businesses find eCommerce cost-effective, it can significantly decrease expenses. This is because many factors and costs affect brick-and-mortar locations more than online shops.
After all, a business owner generally needs a storage location to hold their stock until someone makes an order. Of course, the costs that affect traditional stores include the following:
utilities;
storage costs;
store maintenance;
staff expenses.
eCommerce slashes most of these expenses as they can rely on their website as a shopfront. Instead, businesses will want an eCommerce Website Design and Development company's expertise in digital storefronts.
Also, they can provide automation, which, as mentioned earlier, decreases costs, reduces margins of error, and streamlines processes. Thus, eCommerce Website Development is an ideal solution to stand out amidst an industry teeming with competition.
Increasing Government Support
The Philippine government recognized the importance of the eCommerce industry in the economy. But, of course, this was in light of most businesses turning to online shops during the pandemic. As a result, the government developed the Philippine eCommerce Roadmap 2016-2020.
Under this roadmap, the government hoped to boost eCommerce in the country. One way was by making the MSMEs, which comprise 99.6% of Philippine enterprises, benefit from the initiative. Additionally, it passed the Financial Consumer Protection Bill, which helped online shoppers or financial consumers under preferable conditions.
Overall, the 2016 to 2020 Roadmap's goal was to improve online business activities. These activities would make up 25% of the country's GDP by 2020. Unfortunately, a lack of data initially hampered the roadmap. But, the Department of Trade and Industry did its best to tackle the problems.
Also, the Philippine government continued this progress with their eCommerce Philippines 2022 Roadmap.
Rising Popularity of Digital Technology
The Philippines is home to more than a hundred million people, with many having Internet access. Most of them are tech-savvy Millennials and Gen Z consumers. For this reason, digital technology has been rapidly growing in demand.
Most consumers are avid users of the Internet, which unsurprisingly makes eCommerce popular. Most prefer to browse websites and shop online, especially on their mobile phones. This results in businesses like Lazada and Shopee gaining prominence. That's why many companies, including those in the eCommerce Industry, felt the need to acquire services such as Website Development.
Naturally, a business of any size or industry can attain a professional website with the help of Website Development Specialists. A well-optimized site can convert traffic into paying customers because it has the necessary features and better online visibility.
Final Thoughts
Though the Philippines' eCommerce Industry gained prominence during the pandemic, it has since made various contributions to the economy. In addition, selling online in the Philippines still has much potential for growth and development. According to research, in the ASEAN region, the nation has one of the highest eCommerce growth rates.
Many eCommerce channels are accessible and convenient for Filipino online shoppers. In particular, eCommerce gives MSMEs a digital edge. An online store doesn't require much concerning the costs and resources necessary for managing a physical store. For instance, business owners can use Landing Page Creators to shift from offline to online stores.
So, as eCommerce businesses leverage their many benefits, the industry continues to grow. eCommerce is thriving in the Philippines, meaning businesses have ample opportunities to succeed.
So, business owners must set up an advantageous digital storefront that can reach their target market without any hindrances. Consider contacting an eCommerce Website Developer from the Philippines to create the ideal digital representation of your business.