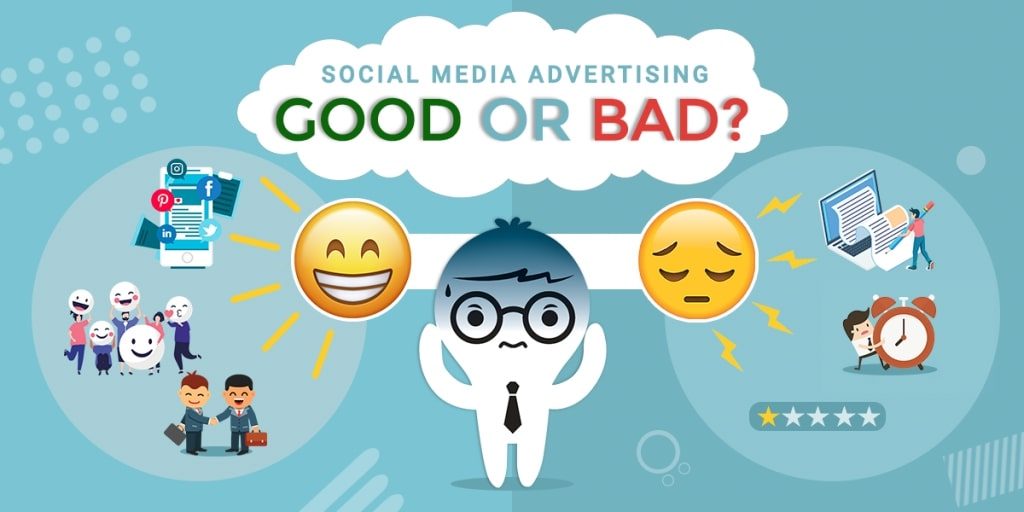 May 13, 2021
Advantages and Disadvantages of Social Media Advertising
Social media has indeed made the world interestingly smaller in the last decade alone. It made human interaction easier, faster, and more convenient. Combined with the newest technological innovations in communication, various social media platforms have become more powerful. These platforms have also proved helpful for their users, especially business owners implementing their digital marketing campaigns. As such, in this article, let us discover some of the common advantages and disadvantages of using social media advertising.
People and Social Media Platforms Today
As of January 2021, there are already 4.2 billion active social media users in the world. Some of the most popular social media platforms worldwide ranked according to their number of active users include Facebook (2.7 million), YouTube (2.3 million), WhatsApp (2.0 million), Facebook Messenger (1.3 million), and Instagram (1.2 million).
Let us take Facebook, for example. Imagine how wide this marketing platform is going to be for business owners to promote their brands. For this reason, social media marketing (SMM) bombed its way through to this globally renowned mediated world. Although this social media strategy has been around even before Facebook came into the picture, the technological evolution in digital marketing was able to bring it forward to this day.
For some business owners, social media advertising made their marketing efforts efficient and more streamlined. This approval and satisfaction are primarily due to the vast number of potential targets to introduce their products. However, some business enthusiasts may have to disagree with them. They consider social media platforms as double-edged swords for how they can either make or break their businesses.
Thus, how can you say if social media advertising is good or bad for your business? Let us understand the many effects of social media advertising in your business marketing activities from an argumentative standpoint. Let us dig into both its advantages and disadvantages.
What are the Advantages of Social Media Advertising?
Increases Brand Awareness

Creating a social media profile for your business is an exceedingly powerful way to expand brand awareness and increase click-through rates. Social networking sites can be of good use when it comes to marketing your brand. The wider your audience reach is, the more exposure you can get. Moreover, social media platforms are incredibly beneficial, especially for new businesses. These platforms can help expose your brand to the public, making it possible to reach your audience. Social media has become such a staple marketing strategy that even hotels join in and win the social media game.

Promotes Customer Engagement

Engaging with customers is a fundamental factor in marketing and boosting conversion rates that businesses have been promoting for many years. It is an integral factor in guaranteeing that they seek you whenever they need your products and services. Through customer engagement, business owners like you can also effectively build lasting relationships with your customers. Social media platforms are created mainly for communication and interaction. As such, the use of social media and advertising through social media can encourage people to engage with you. We highly suggest making it an everyday routine for your business.

Assists in Monitoring of Competitors

With social media advertising tools like Facebook Advertising, business owners can research their competitor's latest trends and activities. These include business strategies or marketing efforts that you can adapt and incorporate into your plan. So, if you see a marketing strategy that works, try to integrate it into your marketing campaigns. Doing so can help you formulate better marketing strategies to match up or exceed your competitor's marketing development. As a result, you get to improve your marketing campaigns. You also ensure that your targeted audience finds you on social media and avails of your products or services.

Provides Accessible Consumer Insights

The vast majority of social media users are pretty vocal about their opinions on the latest trends. Considering this, social media platforms can help business owners identify what their consumers want or need. Therefore, you can gather customer insights from various social media platforms and apply them to your marketing strategy. As much as possible, it would help if you guaranteed that your products or services would cater to their needs. In doing so, you can build a splendid brand impression, expand your potential market, keep existing customers and, ultimately, increase your product sales.

For the Most Part, Free

When you create a business profile on various social media platforms, they come primarily free. Facebook, for instance, allows you to create a page for your business on their platform. With this, you can promote or advertise your products or services for free through a public post. You can even share it with your friends and their friends without having to pay a single penny. Just take note that if you choose to boost your content's audience reach, it will not come for free. Nevertheless, the fact that you have the freedom to post anything about your brand and promote it to the general public without having to pay is already beneficial.
The following section will discuss the disadvantages you may encounter when using a social ad in your business.
What are the Disadvantages of Social Media Advertising?
Allows Negative Feedback

One negative viral feedback from a dismayed customer or client can hit your business harder than a knockout punch. Always keep note that this a pressingly vital factor to consider for business owners. Anyone can share almost everything on social media platforms with others, which means that one negative feedback can impact nearly everyone. Seeing something negative online about your business could break customer trust. It could then ruin brand perception for both business owners and their respective companies, despite the fact they can still respond to said negative feedback. Check out some of the ways on how you can manage negative reviews

Costly and Time-Consuming

Social media advertising is a gradual process that requires high consistency for the business to be known. It may sound like an easy task in theory. Still, social media advertising will require a lot of time and patience from the business owner, especially when it comes to social media management. Not to mention that you would most likely need like a year's worth of luck to get immediate results. So, if you wish to quicken your advertising campaigns, you can choose to boost your social media ads. However, doing so would come at a price. Social media advertising is a financial risk that you should be ready to face.

Presents High Volume of Content

Almost everyone today has access to the Internet and the various social media platforms available online. Consequently, more businesses go online and use social media platforms for advertising and raising awareness about their brand. Due to the heavy number of organic content from other companies that utilize social media in their marketing and ad campaigns, the chance of a potential customer finding your products and services would be like finding a needle in a haystack. Thus, for business owners, especially those that are still new to online marketing, increasing brand awareness is not as easy a task as they may have previously thought.

Susceptible to Misleading Information

It is not a secret that social media contains a lot of fake news and content. So, say you unintentionally offend or disappoint a customer. That customer may use the power of social media to spread rumors and falsely accuse you online. So, users who cannot filter through said misleading information could fall into that dismayed customer's lies. Along the process, that customer's announcements on social media could cost you potential clients and your existing ones. Thus, misleading information could tarnish your and your business's reputation on a large scale.

At-Risk to Possible Security Breaches

With the rise in technological advancements also comes the rise of hackers and other malicious individuals. We are constantly informed that our social media accounts, applications, and websites are highly protected. However, they are still at risk for possible security breaches from said online hackers. When these hackers access our social media accounts and channels, they could harm us in many ways. They would have the power to destroy our image and reputation. So, although this disadvantage rarely happens, the stakes are still higher for business owners when it does happen.
As you can see, understanding and weighing the possible positive and negative effects of using social media advertising can help you strategize efficiently to improve your businesses. So, always remember that you need to handle social media advertising critically. Also, remember to tailor-fit it according to your type of business.
Take the Risk in Social Media Advertising!
On a final note, you should know that successful business owners need to be calculated risk-takers. Therefore, if you do not take risks, you would not get returns.
Do you want to be successful in your digital marketing campaigns? If so, you should get assistance from social media marketing services providers in the Philippines. Take the risk in using social media advertising as part of your business strategy today!
Are you ready to use social media advertising in your marketing campaigns? Let us know how we can be of help in the comments section below!