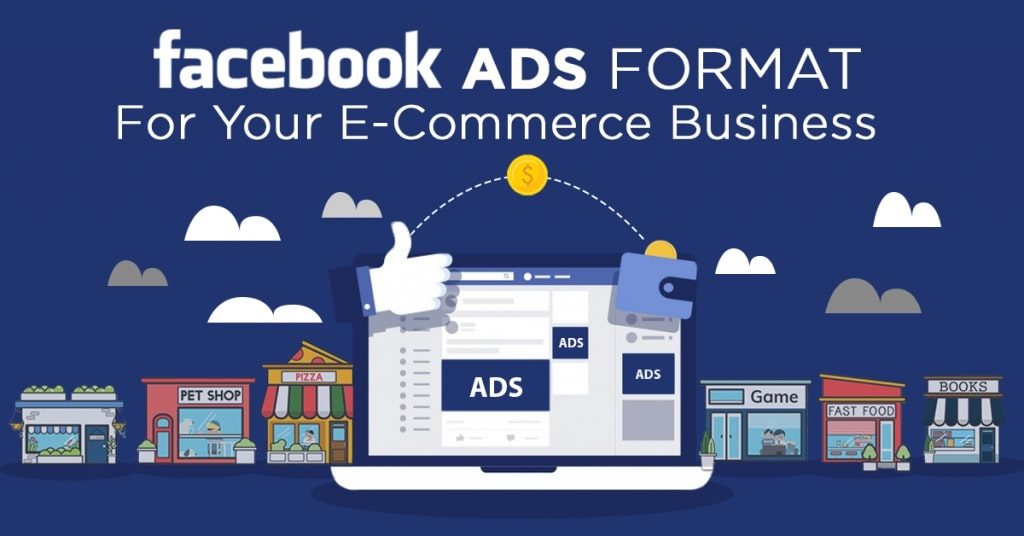 Mar 14, 2019
Facebook Ads Formats for Your E-Commerce Business
What Are Facebook Ads?
Facebook Ads, also known as Facebook paid ads, are advertisements of products and services that often appear on the platform. Usually, these appear on your News Feed, but there are also cases where they pop up on the right side of the Home dashboard or even on Messenger. They are utilized by many established brands and even small-scale e-Commerce businesses.
You may have noticed these or you may have been more focused on scrolling for posts from your friends; thus you haven't been giving them much attention. However, you have undoubtedly encountered them on your day to day Facebook use. They appear on all the devices whether you're using Facebook on your desktop, smartphone, or other such devices.
What Are The Different Types and Formats
There a variety of formats you can use if you want to advertise on Facebook, each with a unique style and charm of their own that will appeal across multiple audiences. Here are some of the widely used ad types for e-Commerce businesses:
Video
Have you ever experienced clicking on a video on Facebook and receiving a notification on the bottom left warning you that an ad is coming up? In a few seconds, you'd then find yourself watching a video from a particular brand.
The length of the video can depend on you. Furthermore, it's good to remember that while shorter videos may easily be completed, a few extra seconds or even a minute can give you more time to deliver your brand's message via this type of Facebook ad campaign.
Other Formats for Short Videos
An eye catching short video can also come in the form of a GIF, and this can also appear on Instagram. Videos in this format are also usually square.
You can choose to have vertical videos that will usually take up a mobile phone's full screen without the user having to rotate their phone.
You can also post short videos on Instagram and Facebook stories which are usually formatted in a vertical form. Stories can be added with text, stickers, and GIFs too!
                           
Image
Photo ads are the most straightforward and cleanest format of ads. Like videos, these ads also appear in the timeline. Often, they are accompanied by a caption/text, a headline, a description, and a Call-To-Action button that will usually lead to the brand's website. Those elements essentially make up your ad copy.
When it comes to image ads, it's best to have a picture that can effectively deliver your message and market your e-Commerce business' product or service.
Collection
A collection is one of the best ways for you to encourage your audiences to shop if you're running a product-based business or e-Commerce website. This ad format allows for audiences to see and purchase your products while on their mobile phones.
Additionally, this ad format includes a cover image or video, beneath this cover are photos of the products and their prices. When users click on the Collection ad, they will then get a full-screen view of the products.
In a sense, it looks like an online catalog that users can browse through. It also comes with a headline of 25 characters and a text caption of 90 characters.
                   
Carousel
With this ad format, users can swipe horizontally across ten images or videos. Each image or video also comes with a link leading to a specific website page or order form.
This is best for brands that want to advertise multiple products. It can also be used to promote a product with various features so that each feature is highlighted and delivered better to the audience.
Carousel ads can also be used to create a step-by-step diagram of how to use a particular product.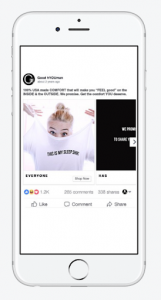 Slideshow
A Facebook Slideshow ad is just like a video, but they're much easier to create. With this ad type, you merely need images with texts as Facebook will automatically create a slideshow out of them.
You can also use existing videos to create a slideshow. All in all, slideshow ads also play like videos.
They load much quicker, though, and will play on various connection speeds and older devices because they consume five times less data.
                        
Lead Generation Ads
Filling up forms can be a hassle for mobile users. With this ad format, however, business owners can attach pre-populated forms on their ads.
A user just has to click the CTA button or the ad and a form will pop-up. The form will also be pre-populated with their Facebook contact details, and they can easily submit it to you.
                        
Event Responses
If you're thinking of holding an event for your business, like a product launch, a flash sale, or an anniversary, this ad format allows you to create ads about that event. You can then use statistics such as age, gender, and location when choosing your target audience.
Should they click "I'm Going" on your event, Facebook automatically adds it to their calendar and sends them notifications when the event is nearing.
                          
Messages
Message ads are one of the best ways that you can engage in a more personal way with a custom audience. With message ads, you can put up your products and let users inquire about the price, find similar items, or ask a question.
                    
How Do Facebook Ads Help My Business?
According to Statista, Facebook garnered 2.32 billion monthly active users for the fourth quarter of 2018. Other than that, 22% of the world's entire population also use this social media platform.
While Facebook ads won't guarantee that you will reach that 2.32 billion, there's no doubt that you will be able to achieve a more substantial amount of audiences in your local area and other areas, as well.
How Do I Choose The Right One For My E-Commerce Business?
As there are various ad types, choosing the right one for your e-commerce business can be a confusing task. Furthermore, you can also select more than one ad type to better market your business and figure out which one gets more results from your target audience.
You can also base the ad type you'll go for based on these:
When you want more people to know more about your business, you can choose videos, images, collections, and carousel ads. These ad types will be able to highlight your products and services. Furthermore, you can increase your ads' reach by focusing them more on the people in your area.
What ad types will help you reach and find potential customers? Image ads, videos, messages, and events are some of the best ways you can do this.
Drive Sales for Products and Services Offered
When you want to drive sales for your e-Commerce business, the best way you can do that is by showcasing your products and their features. Other than image ads and videos, different ad types you can also try are the collection, carousel, and lead generation ads.
What you're selling can also determine the ad types you'll be using. If your business is an online boutique, a collection ad or a carousel ad will work best since they can highlight your available items.
The features of a gadget you're selling would also be better showcased with a video or a carousel ad. Additionally, a service that you offer would best explain what you do with a video or a slideshow.
An Array of Opportunities
Hopefully, this guide to Facebook ads serves as an excellent way for you to optimize this to market your business. Furthermore, there are no limits for you in choosing ad types.
In the end, it all depends on how you utilize them to achieve your goals. You can also leave this mission to Facebook Ads experts so that you can focus more on running your e-Commerce business.