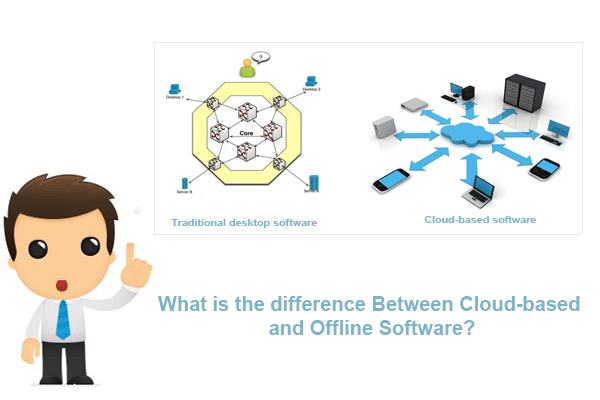 Mar 18, 2014
The Difference Between Cloud-based and Offline Software
Is cloud based software likely to fit your needs better than more traditional desktop software?
Years back, it was much easier for you to make choices when it came to automating your business operations. If you wanted a system to support your accounting process, payroll and inventory processes, a software application was installed into your computer. However, as technology evolved, cloud-based software continued to grow and further developed.
For you to have a more informed decision on whether selecting a traditional desktop software or a cloud-based software, check the following information.
Cloud Based Software
Cloud based software is a more cost effective solution for your business than a traditional desktop software. The latter can be expensive. This is because you need to have the support specialist on site to install and make updates from time to time. You must also pay some licensing fees for each user or computer where it will be installed and setup a server within your organization to handle the data. The cloud-based software, on the other hand, is available at a more affordable price . It can also significantly lower your company's IT expenses and overhead.
Advantages
Cloud based software can give you almost unlimited storage capacity or pay only as little as you need. It would also be easy for you to back up your entire data. This is because the cloud stores all the information. Furthermore, software integration in the cloud is easy.  No need to exert great efforts to customize and integrate the other applications that you need. This is because you can only choose the features that suit your business needs. Most importantly, choosing a cloud-based software gives you the power to access the information anywhere as long as you have an Internet connection. Cloud computing is undoubtedly beneficial, but it also has its downsides.
Disadvantages
Yes, data and other information in your software can be accessed anytime, anywhere, but there are times that this system has some serious dysfunction such as network and connectivity problems. Remember, you need a very good Internet connection to access the information. Security issues are also your number one problem with cloud-based software. Keep in mind that you will be surrendering all your company's sensitive data to a cloud service provider. Moreover, nothing on the Internet is completely secure, storing company's information in the cloud would make the data vulnerable to hack attacks and threats.
Traditional desktop software
One good thing about an offline software is that it processes your operations faster. You will not have any connectivity problems to slow down the process. PLUS! There will be no security issues because information is not sent over the Internet.
The only downfall of a traditional desktop software is that it is only accessible in one computer, users can possibly pirate or copy the software easily and the data can take up your computer's hard drive space.
The cloud-based and traditional desktop software can give you advantages and disadvantages. The only things that you need to consider here is your business needs and your budget. You also need to make sure that you choose the most reliable service provider.
Which would you prefer, the cloud based software or the traditional desktop software? Why?
Let us know!