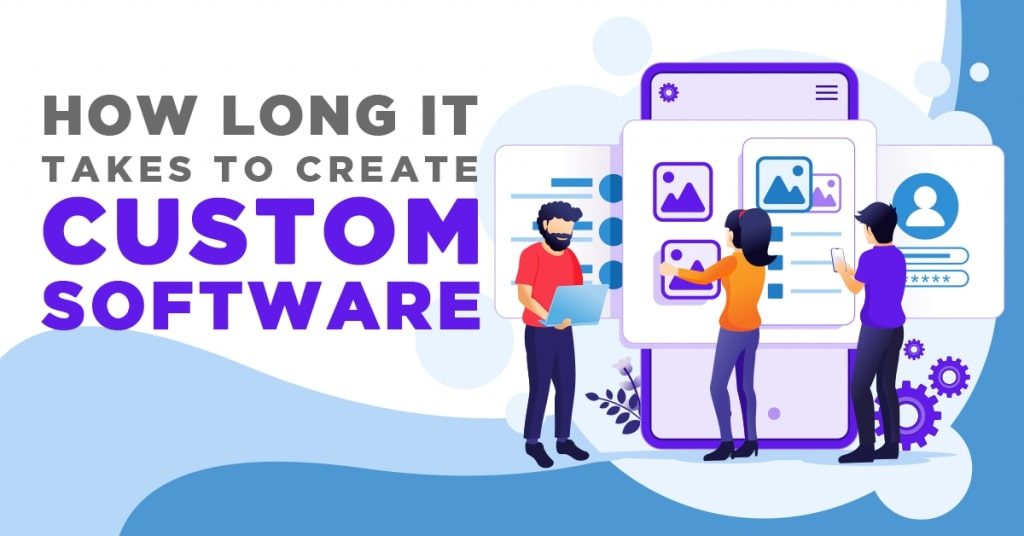 Jan 26, 2021
How Long It Takes to Create Custom Software
Through custom software applications, businesses improve their decision-making, strategic planning, and overall work efficiency. These applications and software also help companies to save on time.  This article lets us look into how much time businesses must invest in creating custom software for their needs.
How Long Does It Takes to Create a Custom Software
Before we begin, let us first clarify that there is no definite answer to how long a custom software development company can create custom software. Custom software development projects differ in the specifications and functionalities required by different business operations. In other cases, custom software development means updating or modernizing an already existing software in use. Other times, software developers may integrate new technological solutions into software or an application to enhance its functionality.
As such, even if a custom software development company has already evaluated the time needed to finish a particular project, it may still take longer than initially planned.
To get an idea about the time frame for software development, let us study the various stages in the software development life cycle (SDLC). Let us look at this cycle in three major phases:
Gathering of Requirements, Comprehensive Analysis, and Design
First of all, you need to choose a custom software development company and be in close communication with them, especially in the requirements gathering stage. Discuss with them the issues in your business that need appropriate software solutions. You need to give them the specific requirements and functionalities you expect from the custom software application they will design for you.
Aside from that, you and the software development team's business analyst should also discuss with the employees who will be using the final product. Talk about their work habits and their expectations towards the custom software that they would soon work with.
Thus, in this first stage, you must communicate your requirements and expectations with the software development company's business analysts and software developers. Approximately this stage in the software development life cycle would take two to four weeks.
Planning, Architecture Development, and Coding
By now, the software development company you are working with should show you the blueprint of your custom software. In the planning stage, the project will be divided into a series of tasks. Then, the development team assigns where resources and materials go. The developers will then define the tasks' completion order.
Subsequently, the software development team will build the technical architecture of the custom software application. During this stage, the software developers will decide which technologies will be employed to create the custom software. So, find a software developer that will help you solve your problems without fail. The development of the software's architecture usually takes one to two weeks. However, it is highly dependent on the custom software's size and complexity.
After the business analyst – along with the designers – have designed the software and the developers have agreed on the technologies to implement into the software, the code's writing follows. The coding process, which may last three to six months, takes the longest time in this particular stage.
Testing
Depending on the custom software development project, the number of tests and the types of test to run may vary. However, what applies to almost all kinds of custom software projects is the need for end-to-end testing and acceptance testing.
End-to-end testing requires using all of the features developed in custom software in a way that the average user would do. If you run this type of test, you can check if the custom software application developed matches the client's specifications at the start of the project.
The other test, the user acceptance test (UAT), determines whether a user can utilize the custom software developed for a specific time. Users are expected to see how the system works and pinpoint as many issues as possible while using the software.
To fully optimize your custom software, custom software developers may run additional tests on it. For example, web applications may employ cross-browser testing to ensure that their app looks and functions well on all types of browsers. Integration testing helps you identify if your custom software is capable of interacting with third-party systems. Moreover, load testing and performance testing can also be employed to check how many users your custom software can handle at the same time.
Generally, the tests required depend on the type of custom software that you have. Time spent on QA and testing usually depends on the business process's complexity or the application itself.
Create Custom Software with a Software Development Company in the Philippines
Ultimately, it isn't easy to approximate how long it would take to design, develop, and create a custom software application. What you can do is determine the issues that you need solving in your business. Next, research the business and technology solutions you think would work best to improve your operations. Then, employ a custom software development company from the Philippines to create custom software application that addresses your business needs!