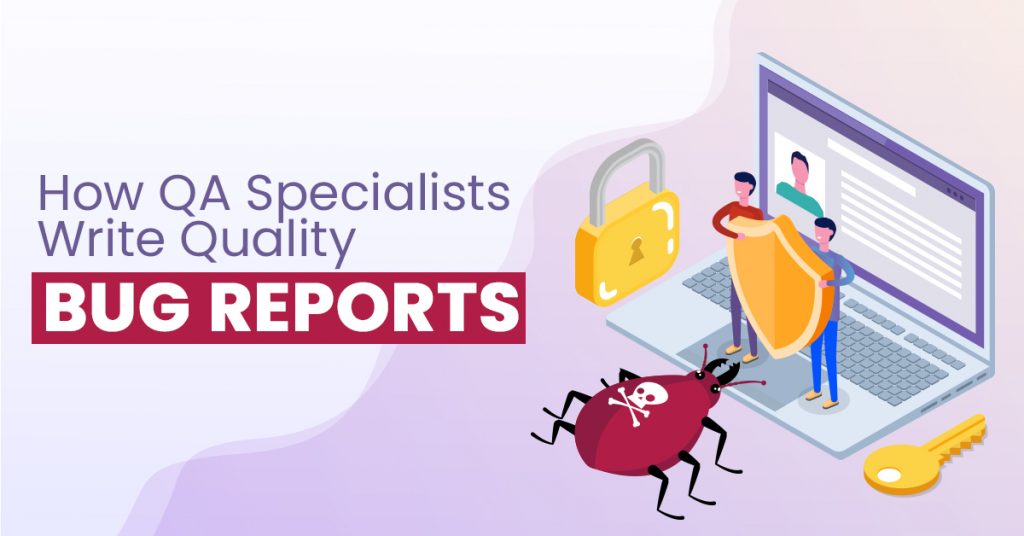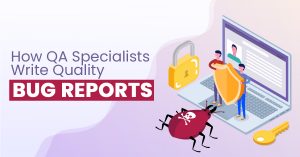 Feb 25, 2021
How QA Specialists Write Quality Bug Reports
One of the skills that software development companies often give less importance is writing a quality bug report. These bugs are generally responsible for harming or disabling application or software functionalities and overall performance. As such, developers need well-written bug reports from quality assurance specialists to easily and quickly locate and resolve bugs. Let us learn in this article how quality assurance specialists write quality bug reports.
High-Quality Bug Reports
When quality assurance specialists report a bug, they aim to quickly explain to web or software developers the issue that the user is currently going through. When building websites, they employ particular QA tools for website checking. They do this to help the overall development of the project.
Before quality assurance specialists write a quality bug report, they should answer the following questions. First, QA specialists should know what happened to the application or software. Next, they should be able to identify what the user clicked or did to produce the bug. Lastly, quality assurance specialists should locate which part of the software or application the user found
the bug.
An ideal and quality bug report contains the bug's ID, summary, details, severity, priority, and description.
Bug ID

Quality assurance specialists and testers use a bug tracking system or other software to assign an ID to the document automatically. However, QA specialists may also assign the ID for a quality bug report manually. Developers are working on various projects at the same time. Using a well-defined bug ID instead of writing out a complete title to the report will help save time. It will also direct them to the right software or application and the respective version where they found the bug. Today, if you still practice manually writing bug IDs, you may use the application or software's abbreviation. You should also include an index number to correlate with the respective bug. So, instead of writing "PxTrack-Patient-Tracking-#137" quality assurance specialists may write it as "PT-APP-137."

Bug Description

QA specialists, testers, and developers consider the bug description as the central part of the bug report. So, quality assurance specialists must write short and informative titles in their quality bug reports. Often, a bug description can include the name of the specific functionality (such as User Profile or Chat). Quality assurance specialists should also include one or two sentences to describe what exactly happened in the application or software. It is also important to note that QA specialists should avoid including emotional reactions and other subjective remarks into their bug report. So, for instance, a QA specialist may write "How It Works Page. Banner text is hard to read." instead of saying "Users cannot read the text on the banner because it blends with the annoying image behind it!!!"

Bug Severity

Bug severity is the estimation of the bug's impact on the software or application. The severity may range from critical to low when writing a quality bug report. For instance, you can consider a bug critical if it blocks a software or app's particular key function. On the other hand, you can consider the bug to have low severity if the main functionality is working as it should, but users found minor issues in rarely used functions. In other words, a bug may get low severity if it does not have an impact on the software or application's functionality, and users can still do something on that page. Moreover, bug severity also helps identify bug priority. Since we already know what issues are critical, they will be tagged by developers as high-priority.

Steps to Reproduce and Actual Results

In this part of a quality bug report, quality assurance specialists should provide developers with the needed steps to reproduce the bug. They should also include its actual results, which are what happens when a bug is reproduced. The steps to reproduce contains descriptions of how bugs happened. Said steps include the description of where in the app or software an action was done, which also includes the browser, its version, the system state (user type, user state, system initial data, and the page where the user was). It should also include the actions done to produce a bug.

Attachments

A quality assurance specialist should also attach any pertinent documentation to their bug report. When writing quality bug reports, QA specialists should gather as much information regarding the user's issue. These sets of information may include screenshots, a log.txt file, and more.

Expected Result

Lastly, QA specialists should also describe the expected results or intended outputs in a quality bug report. It is crucial to outline the outcome of the test as it will show the project requirements, which includes the user and client expectations. As such, quality assurance specialists should clearly state the things that happened during the testing and its results.
Quality Assurance Specialists for Quality Bug Reports
Help develop your software and applications with well-written and quality bug reports. Hire dedicated Web QA Testers to guarantee that your bug reports are crafted and delivered to you with the highest quality!