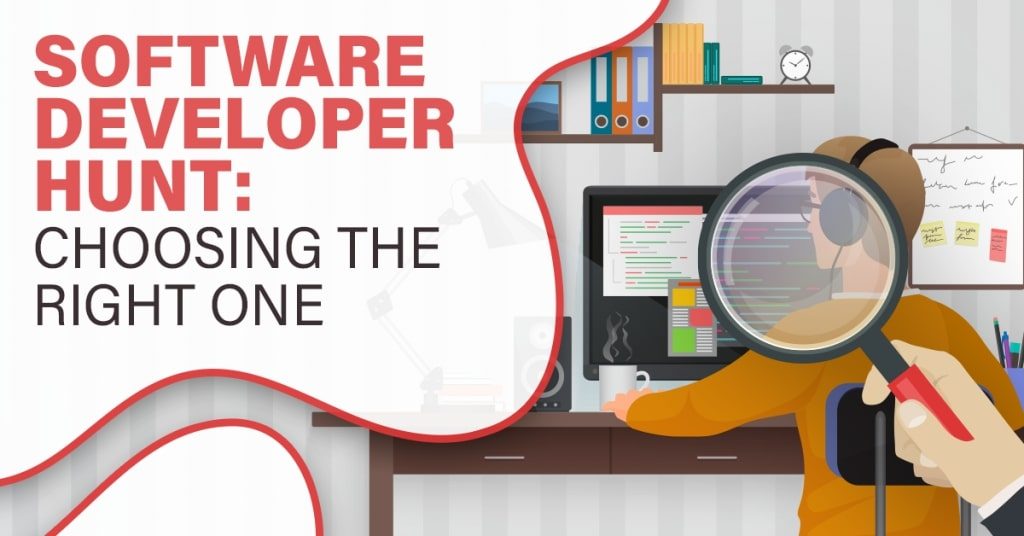 Jul 3, 2020
Software Developer Hunt: Choosing the Right One
Finding a decent custom software developer can be quite a difficult and challenging process. There are countless companies and teams out there offering software development services. So, how do you choose the right one for the job?
Let us discuss some important considerations to help you hire the best custom software development company fit to your needs.
What Is Custom Software Development?
According to ScienceSoft, custom software development is a process that addresses the pressing needs or achieves the objectives of your specific business through designing, building, integrating, scaling, and upgrading software solutions.
Moreover, IBM describes it as a custom project that starts with the gathering of requirements set by the business owner. Software developers follow this up with code construction, testing, and deployment. Lastly, they apply methodologies such as Agile, DevOps, or Rapid Application Development.
Nowadays, many companies offer custom software development services to help in the creation of unique technology solutions. Companies design these kinds of software to specifically address the user's needs better than traditional and widespread off-the-shelf software. Off-the-shelf software caters to a broader and more comprehensive set of requirements. Thus, they are easier to distribute commercially in the market.
In comparison, custom software development services target a narrow set of requirements. Therefore, you consider the use of custom software application development for your specific set of needs. For example, it can be a program for a manufacturer's field tune-up equipment maintenance. Likewise, if you own a bank, you can customize an online banking app for the bank and its customers' needs.
To help you choose a custom software developer from the Philippines for your company's needs, read through the following tips and considerations that we have prepared for you.
Choosing the Right Custom Software Developer
#1 Talk to the Right People
So you can identify the right people for the job, you need to get recommendations for custom software developers. Talking to people allows you to gather honest and candid feedback about them.
#2 Validate their Company Portfolio
Go through their earlier projects. You can then get a glimpse of the nature of applications that they have built or worked on. It gives you the chance to evaluate if they are indeed what you are looking for. Note that a software developer that has already worked on many projects must have a tried and hardened methodology in completing tasks. Relatively, a new company may still be in the early stages of developing their own sets of methods.
In any case, you can never expect these companies or teams to be perfect. However, they must be ready to take challenges. They must prove that they can work on projects that require excellent learning capabilities, research, and analytical skills. So, once you have selected the developer of your choice, you can then present your concerns and needs.
#3 Know Your Software Systems
On your part, you must also be knowledgeable enough about custom software application development. You can start learning about technologies such as UNIX and Windows. From there, you can decide on which technology you would prefer to base your custom application. Also, ensure the skill of the software development company in developing the technology for you. You may even require them to construct on the exact software system that you are already using. Doing this actually makes things easier for both parties.
#4 Emphasize on Delivery Time
As with any business or activity, time is of utmost importance. Select a custom software development company that has an existing track record of completing projects on time. With this, you and your team can have enough time to analyze the created software and find bugs. You and your employees can then get familiar with the application. Doing so also gives you a chance to look for things that may need more work. When setting the deadline for the project, consider also the time for training and debugging.
#5 Check Market Presence
In evaluating the performance of the company, you also have to consider their market presence. How is their reputation? What is their position in the market? With the help of social media, you can do background checks on a said company through social networking sites. Luckily, most businesses have set up their own Facebook, Twitter, Instagram, and other social media pages. These pages help them in advertising and promoting their products and services. These social media pages can also help you in selecting the one best software developer suited for your needs.
Solve Specific Problems with the Right Software Developer
Once you have made proper thought about all of the considerations mentioned above, then you can determine whether a specific software development company is the right fit for you or not. The final say will always come from you. So, make sure that you choose the custom software company from the Philippines that will help you solve your software development problems without fail.