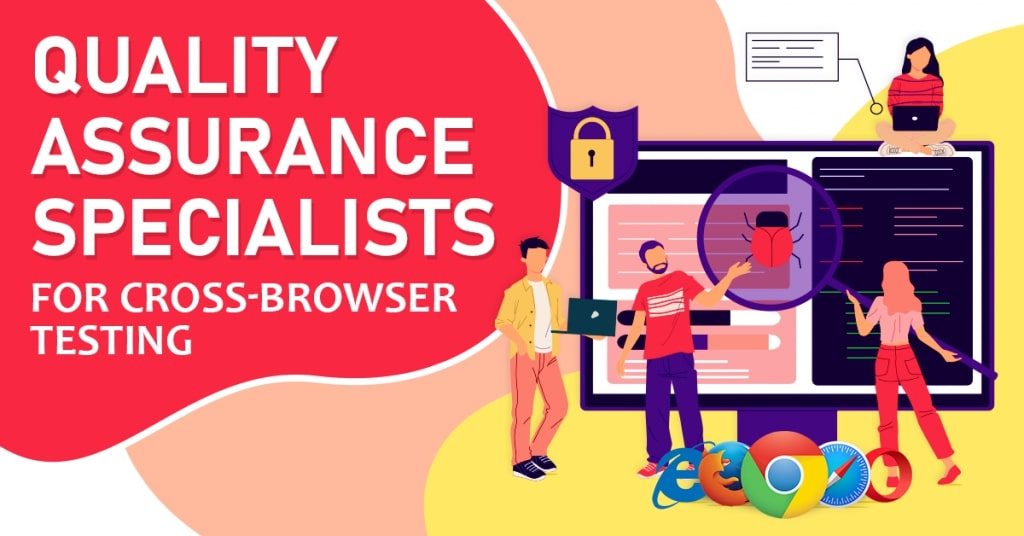 Jul 20, 2020
Quality Assurance Specialists for Cross-Browser Testing
As a business owner, you cooperate with an experienced and creative team to build a web product that meets your requirements. You can accomplish this through understanding the meaning behind each product and sharing of user pain points. Thus, effective communication between you and your development team is essential. To help achieve this, you would need quality assurance specialists to serve as intermediaries and take care of testing and support daily tasks related to your business needs.
What are Quality Assurance Specialists?
Quality Assurance Specialists are responsible for quality assurance audits. They also ensure the integrity of your product and that they follow standards. Good quality control specialists are capable of troubleshooting systems to ensure its reliability, usability, and performance.
Quality control specialists are functional testers who facilitate everyday work with business requirements in the development process. They support the team throughout the entire product development to generate a high-quality web product and contribute to a shared understanding between the development and product teams.
They help in analyzing initial goals and needs, evaluating product requirements, supporting the design process, asking questions, facilitating communication between all involved parties, and eventually testing the implemented features.
If you are looking to create a brand new product or enhance an already existing solution on the market, you should expect to have a quality assurance and quality control expert who possesses creative thinking and the ability to solve problems. They should know the necessary techniques for them to dig deeper into the business objective and remember the crucial edge cases to bring value to the general team effort.
What to look for in your Quality Assurance Specialists?
The following section introduces you to the critical characteristics that quality management specialists should possess to get their job done. These are the following:
Organized
Before you start any work, there should be a shared understanding of the requirements of both parties. The conditions should be clear, precise, feasible, consistent, and current. The senior quality assurance specialist should be able to take care of user story mapping, formulate well-described acceptance criteria, and ensure that other necessary elements like designs, flows, etc., are easily accessible. As experts, they can quickly answer developers' questions on the expected behavior of features or end-user activities. They can also facilitate discussions on concerns about the product.
Evaluative
The previously established requirements should also be testable. Competent QA specialists should ask questions to help spot the gaps and avoid risks at early stages. They should also know the consequences and impacts for the entire product, and encourage everyone to focus on creative solutions. From this, the development team can anticipate edge cases across that you may encounter along the way. By paying attention to those aspects early on, you can avoid high-risk severity bugs from taking place. With an expert on quality assurance and quality control on your team, you are ensured that someone has a deep understanding of your product and has the skills to perform a website testing on them.
Collaborative
With quality control specialists on your team, your web developers won't have to spend time browsing through pages of requirement specifications. Developers no longer need to update every minor detail and communicate and document all of the changes made. Programmers love to solve problems and create amazing products, too. However, with QA specialists to help them, they can instead focus on evaluating the feature's goal and fix user problems. They will have more time to provide thorough analysis during refinement and actual development of products. As a team, website developers write the code, and QA specialists look for errors in it and submit them for correction. The collaborative action goes back and forth until the project is ready for delivery.
Conversational
Within every business or organization anywhere in the world, transparent communication is the key to cultivating mutual trust and success. Quality assurance specialists should always discuss the company's objectives, reasons, and decisions. They should also encourage developers to do the same to ensure that the requirements are being organized, communicated, and tested correctly. A quality management specialist's role is to support conversation between the product team and the development team. Thus, asking questions should become a healthy habit among co-workers to promote healthy communication in the workplace.
Objective
Quality assurance and quality control experts think beyond the technical aspects of developing a company's products. They elicit and maintain business requirements. They also secure the proper flow of knowledge and expectations during the developmental and website testing stages. QA specialists can broaden a team's perspective. Everyone then gets to look at the many aspects and possible challenges that may pop up along the way. The out-of-the-box thinking introduces a non-technical perspective that helps facilitate and cultivate a more professional internal and external communication. With that, the ideas put forward by a non-technical team member could inspire others to figure out practical technical solutions.
With the above listed vital characteristics, you can see how QA specialists can support and ensure that a team understands the business objectives.
What do QA Specialists have to do with Cross-Browser Testing?
First off, what is cross-browser testing?
Cross-browser testing lets you check whether the website that you have built performs as intended when accessed through various browser-OS combinations (Chrome, Edge, Firefox, and Safari – Windows, Android, iOS, and macOS). They also check compatibility with different devices (smartphones, tablets, laptops, and desktops), and with other assistive tools (screen readers, etc.).
Usually, senior quality assurance specialists perform cross-browser testing. User testers execute website testing scenarios using cross-browser testing tools on multiple browsers to guarantee that the build meets browser compatibility benchmarks. Cross-browser testing checks how the website works on different devices and orientations.
How Does Cross-Browser Testing Work?

Generally, quality control specialists perform cross-browser testing to identify browser-specific compatibility errors for the web development team to debug quickly. Depending on the workflow, you can do website testing during the development stage or pre-release stage. During development, developers test new features to ensure that they are compatible with multiple browsers. In the pre-release phase, QA specialists perform more tests to guarantee that no browser compatibility issues would surface in the website's latest version.
We can categorize the features that will usually undergo website testing according to the following:
Base Functionality: A user tester will check if the essential functions are working well. These functions are dialog boxes or menus that work as intended or form fields that validate inputs correctly. They can also be first-party cookies appropriately handled, and the seamless touch input for mobile phones or tablets.
Design: For this, user testers check the website's appearance. Fonts, images, and layout are evaluated by a user tester to see if they match the specifications given by the quality control specialist.
Accessibility: Cross-browser testing also helps identify if the website is compliant with the Web Content Accessibility Guidelines (WCAG) for differently-abled users.
Responsiveness: The website testing verifies the fluidity and proper fit of the website to varying device screen sizes and orientations.
With today's tech-driven society, a business needs to keep up with the changes to support their clients. Therefore, companies need to work with dedicated teams that provide code and content and have the expertise in promoting their product's entire development through research, testing, and user experience.
Start Working with Quality Assurance Specialists Today!
Having quality assurance specialists or Web QA Testers at your side certainly helps throughout the demanding stages of product development. With quality assurance and quality control experts who value quality and competence in business, you can save time, boost creativity, and improve the product team's overall performance. In time, the fruits of your labor will bear the fruits of your success.