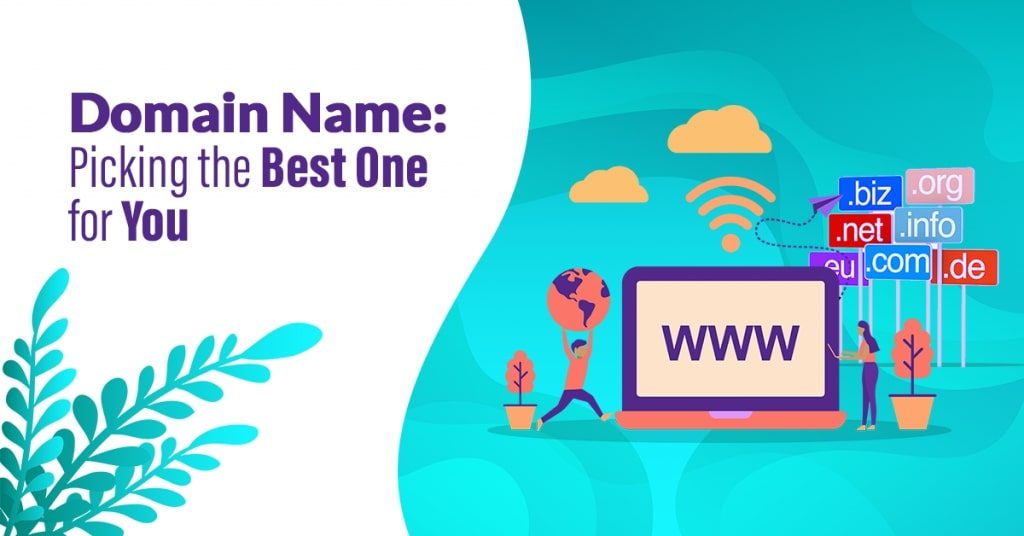 Sep 9, 2019
Domain Name: Picking the Best One for You
I'm sure you'll agree that it is essential to choose the right domain name for a website. A company can otherwise have trouble switching if it chose the name without harming the brand and its rankings.
Selecting a business name is also comparable to it — it requires much thinking and consideration. Your domain name is your internet identity. You want to ensure that what you selected is not only right for your company but also simple to discover and promote.
That is why the choice for the fitting domain name is crucial at the beginning. So when you get started, the idea of catchy business names with a perfect domain name is hard to come by.
Why you need to pay attention to picking the right name
The name of your domain is the home address of your website on the internet. And, although this isn't the only thing that impacts the success of your website, it is essential to choose a domain name carefully for a lot of reasons: 
Domain names affect the optimization of the search engine.

It is more probable that a distinctive, memorable stamp will remain with site visitors and encourage them to return.

You can give new visitors (or search engine users) an immediate insight about all your sites once they see your name in the long run.

If you change your domain name after building your website, it can be time-consuming and costly.
Getting your Domain Name right
In this article, we'll talk about practical ways to maximize your opportunity in choosing your domain name. To make the process easier, we have just a few steps for you to consider:
Step 1: If possible, pick a .com extension.
Extensions give a sense of definition to what your site is all about. These three below are the most common of all:
.net – network

.org – organization

.com – commercial
It can be tempting to use new extensions with your chosen domain name. However, .com hails as the most established and credible name extension. Some visitors might regard a site with an unknown extension as not trustworthy.
Not to mention, visitor searches using mobile phones are significant today, and most, if not all, smartphone keyboards automatically have a .com button.
Step 2: Keep the name short and easy to remember.
It's always a good practice to have a domain name that's short, easy to spell, and memorable. We advise you to keep the length below 15 characters. For your site visitors and repeat customers, it is difficult to remember or even type long domains. 
For instance, Apple.com is still one of the best domains out there. Even children can read what it is.
Step 3: Care deeply about branding
.
Your site should have a distinct name to distinguish you with your competition. It's smart to search for other competitor sites in your niche and check out which names they use. It's better to avoid using a trademark name accidentally than be accused of copying later on.
Also, select a more brandable one. Unique, charming, and memorable are characteristics of a branding, which your site should have. 
By the way, don't create a hyphenated name. We usually associate hyphens with phishing and spam domains that you don't want to get affiliated with. Hyphenated fields are also susceptible to typos. Hence, if you select a hyphenated domain name based on a taken branding, your visitors might get mixed up. Worse, they'll possibly end up at your competitor's website if they forget to type a hyphen.
Step 4. Research first the name you have in mind
Before you attempt to register a domain name, figure out first if a registered company with the same name you have in mind already exists. Remember, there are more than 360 million registered domain names, leading many people to say that all good domains are unavailable.
You can also search Google or check for the names on top social media websites such as Twitter, Facebook, Instagram, etc. A closely similar or matching name would not only create confusion but also might have serious legal issues later on. 
Considerably, it is time-consuming to search for possible great and available domains. The good news is that there are name generators such as First Site Guide, Nameboy, Panabee, and Name Mesh that can help you come up with suggestions for great branding.
Step 5. Pick the best SEO-friendly option
The success of your SEO also relies on how you name your domain. Keywords that tell about what your site offers can be a significant factor in ranking your site. So among the options that you are getting, pick the best one that works in improving your site rank on search engines. Should you need more insights, you can tap SEO experts in the Philippines to help you understand your leverage.
Step 6. Register it immediately if available before somebody else does
Thousands of new domain names from all over the globe get registered every day. Don't wait too long if you have discovered a domain name you like that's available.
The names of the domain are like property. People are actively seeking top branded ones that they can register for better prices in the future.
Final thoughts on domain names
In conclusion, get your domain right and appropriate the first time and then build your business around the branding. After all, it is much more costly to fail and miss the opportunity mark.