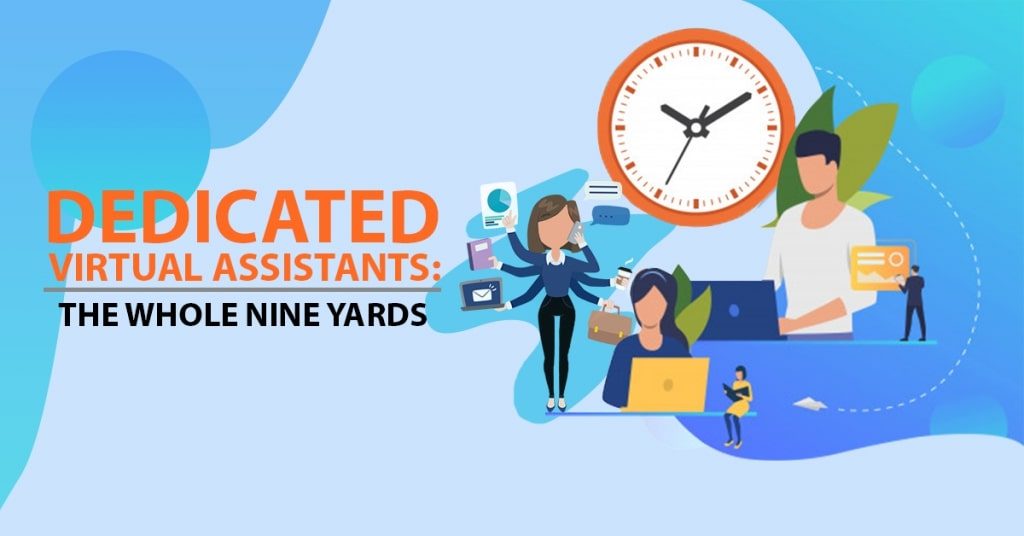 Apr 15, 2019
Dedicated Virtual Assistants: The Whole Nine Yards
In this technology-driven world, businesses are becoming more and more drawn into seeking and hiring dedicated virtual assistants over the internet. With the evolution of digital technology is that is quickly progressing, the development of the world wide web was able to change the spectrum of virtual assistance in the Philippines and all over the globe.
Additionally, the recent trends involving the use of social media created an impact on various business strategies across different industries. Today, numerous businesses are outsourcing services to cut costs and enhance productivity. For many companies, they are able to maximize their business' efforts with the help of virtual assistants.
To fully understand the benefits of hiring VAs in the business industry, we've created a detailed overview that explains why virtual assistants are highly essential for businesses.
Virtual Assistants and Time Management
As a business owner, time is the most valuable asset that you need to maximize. It should be considered as your goldmine. Business owners who allocate most of their time doing administrative responsibilities like email management and customer support don't have the chance to grow and develop a successful business.
However, hiring dedicated virtual assistants can be a game changer. VAs can work with minimal supervision because of their wide range of expertise when it comes to handling various tasks. Due to this advantage, virtual assistants can allow business owners to do the following:
Develop effective business strategies.

Forge new relationships or partnerships.

Think of fresh ideas to improve business performance.

Prepare for future challenges and hurdles.

Manage and monitor financial goals and cash flow.

Discover new marketing techniques to increase revenue and improve profitability.
To save your time as a business owner, it is wise to consider hiring people and delegate tasks that can be done without your involvement. By hiring people, we mean virtual assistants to help you cut costs from training and equipment for new employees.
Virtual Assistants and Business Productivity
Hiring virtual assistants as an addition to your workforce can help increase business productivity. However, it is not the only way that a dedicated virtual assistant can help increase your business' productivity level.
Virtual assistants elevate productivity more significantly in comparison to just merely adding a few hours worth of labor. Thus, if a virtual assistant manages to accomplish tasks without committing too many errors and delays, it suggests that the VA has accommodated a lesser amount of time in accomplishing his or her given tasks. Therefore, efficient time management can greatly affect the level of productivity.
Again, it all boils down to time management. With that being said, here are some time management tips that you can share with your virtual assistants to help them become a master of productivity:
Avoid procrastination.

Develop a "do it now" attitude.

Organize tasks to avoid juggling too many at the same time.

Flee from distractions.

Make "preparation" a habit.

Practice the "eat that frog" approach.
Prominently, it is important to know that experienced virtual assistants already possess great time management skills. This is also the reason why the virtual assistance industry became a hype in the modern-day business industry.
VAs and the Entrepreneurial Mindset
One of the most important elements to achieve entrepreneurial success is our mindset. However, we are all guilty of lacking or displacing this element somewhere in our lives. As a business owner, if you are stuck in the middle of your heavy workloads, there's a high probability that your current mindset will be redirected towards them. This can cause you to lose sight of the main goal: running your business.
It is not wrong to leave the shore and cross the ocean for your business. However, if you can't afford to lose your entrepreneurial sanity, here's a piece of advice: hire a dedicated virtual assistant. We understand that as the business owner, your mindset matters. Therefore, hiring a virtual assistant is the solution to maintain an effective and working entrepreneurial mindset.
Here are some of the good qualities of virtual assistants that you can take advantage of once you hire one:
Reliability is an A+
Excellent in multitasking.
Highly resourceful.
Great time management skills.
Has a wide variety of abilities.
Goal-oriented.
Offers absolute integrity and professionalism.
In addition, virtual assistants are highly organized. They can also help you determine the tasks that need to be prioritized. In terms of efficiency and experience, the majority of virtual assistants had undergone training and already spent years in assisting business owners from all over the world.
Hiring Dedicated Virtual Assistants
Whether you're an owner of a small and starting business or a big, famous company, it is undeniable that managing heavy workloads on your own is not beneficial for your business as a whole. In order to stay on top of all your objectives and long-term goals, finding someone who will be able to effectively manage tasks can provide you and your business a massive advantage against your competitors.