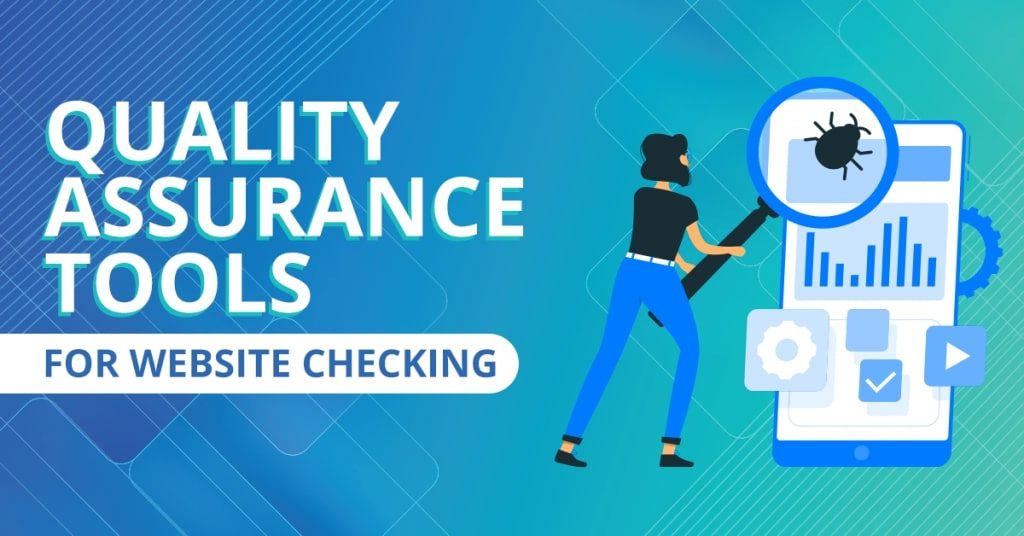 Feb 8, 2021
Quality Assurance Tools for Website Checking
In website checking, quality assurance (QA) specialists take care of quality assurance audits to guarantee that a website follows standards and performs its best. They are capable of troubleshooting systems for improved usability and performance. As such, this article will explore the quality assurance tools that QA specialists can employ to check websites.
8 Excellent QA Tools for Website Checking
1. Pixel Perfect Checking
The Pixel Perfect Checking extension helps developers, markup designers, and QA specialists develop websites with pixel-perfect accuracy. The quality assurance tool lets you overlay the actual approved design template on top of the developed HTML for per-pixel comparison. You can then set the opacity on Pixel Perfect's settings to check the differences for both designs.
Its features include support for multiple layers within a page, support for inversion and scaling, and separate overlays for each website. Moreover, you can also save your overlays in between browsing sessions. Then, it has a minimalistic and easy-to-use user interface (UI). It supports the dragging and dropping of layers within a page. You can also paste a URL or from a clipboard.
2. WAVE Web Accessibility Tool
WAVE is a collection of evaluation tools that lets authors and QA specialists create web content that is more accessible to people with disabilities. The quality assurance tool can identify various accessibility and Web Content Accessibility Guideline (WCAG) errors. It can also facilitate the human evaluation of the web content. To use the online WAVE tool, you need to enter the web page address (URL) to test accessibility within your web browser. Additionally, the quality assurance tool lets you check for password-protected, locally-stored, and highly-dynamic pages.
3. Grammarly Spelling and Grammar Checker
The Grammarly spelling and grammar checker lets QA specialists eliminate writing errors and helps you express yourself using the right words. It also allows you to set goals for your content such as audience, formality, domain, tone, and intent. This quality assurance tool provides you with real-time feedback on Gmail, Google Docs, LinkedIn, Twitter, and basically, anywhere you may be writing. Grammarly will show specific suggestions to help you enhance your writing. Through the Grammarly spelling and grammar checker, you are assured that your writing is correct, clear, and concise.
4. World Wide Web Consortium (W3C) Tools
W3C is an international organization that develops web standards, protocols, and guidelines. Unicorn is a W3C-developed markup and CSS validator that helps QA specialists improve the quality of their web pages through various checks. It is a quality assurance tool gathers the results of HTML, XHTML, and CSS validators to check for well-formed markup to ensure the technical quality of web pages. It is an essential tool to check for browser compatibility and site usability. Also, it checks to ensure that there are no errors in the associated Cascading Style Sheet.
The W3C Internationalization Checker provides a table listing key international settings for a web page, including character encoding, text direction, and language declarations. It also gives QA specialists a list of warnings, errors, and helpful suggestions about your web page. The reports that it provides considers both markup and HTTP headers that are essential for troubleshooting problems. It takes into account how your HTML pages will behave in modern browsers.
 QA specialists also use the W3C Feed Validation Service, an RSS validator for syndicated feeds and Atom feeds. To use this quality assurance tool, you need to enter the address of your feed. Then, you click the validate button. Once the tool finds problems in your feed, it will notify you of the type of problem and highlight where it occurs in your feed. It validates RSS feeds against rules indicated in the RSS 2.0 specification. Then, it validates Atom feeds against the version 1.0 of the Atom feed format.
5. Website Speed Test
WebPageTest is a quality assurance tool that lets you run a free website speed test from different locations worldwide by using real browsers and consumer connection speeds. It allows QA specialists to run a simple or advanced test, including multi-step transactions, video capture, content blocking, etc. The test results will help you acquire diagnostic information such as resource loading waterfall charts, page speed optimization checks, and other suggestions to improve your website speed. Similarly, PageSpeed Insights (PSI) sends reports on a web page's performance on mobile and desktop devices, but based on Google's speed standards. It also provides suggestions on how you can improve the page.
Additionally, PageSpeed Insights is Google-owned which is why they have their own metrics for testing. It's also more focused on the website alone such as the page weight and what needs to be optimized. On the other hand, WebPageTest focuses more on the actual speed based on the set variables for testing such as the location of the user and the browser being used.
6. Screaming Frog SEO Spider Link Checker
The Screaming Frog SEO Spider is a website link checker or website crawler that helps QA specialists improve onsite SEO. It does this by collecting key onsite data and auditing common SEO concerns. With this quality assurance tool, you can crawl 500 URLs for free. It is a flexible site crawler capable of crawling small and large websites and providing real-time analysis of results. It can find broken links and audit redirects. Moreover, it can analyze page titles and meta descriptions and find out duplicate content. It can also extract data using XPath, review robots and directives, and generate XML sitemaps. Furthermore, it integrates with GA, GSC, and PSI, and visualizes a website's architecture.
It is important to take note that the free version of the checker is limited to 500 URLs per website. This shouldn't be a problem for websites with few URLs and contents. However, if your website has been around for quite some time and has a lot of content, you may need the premium version to audit all the URLs.
Hire a Dedicated Web Quality Assurance Specialist
Employ dedicated web Web QA Testers in the Philippines equipped with the right quality assurance tools to ensure that your website performs at its best and achieves improved results. Hire a quality assurance specialist today!