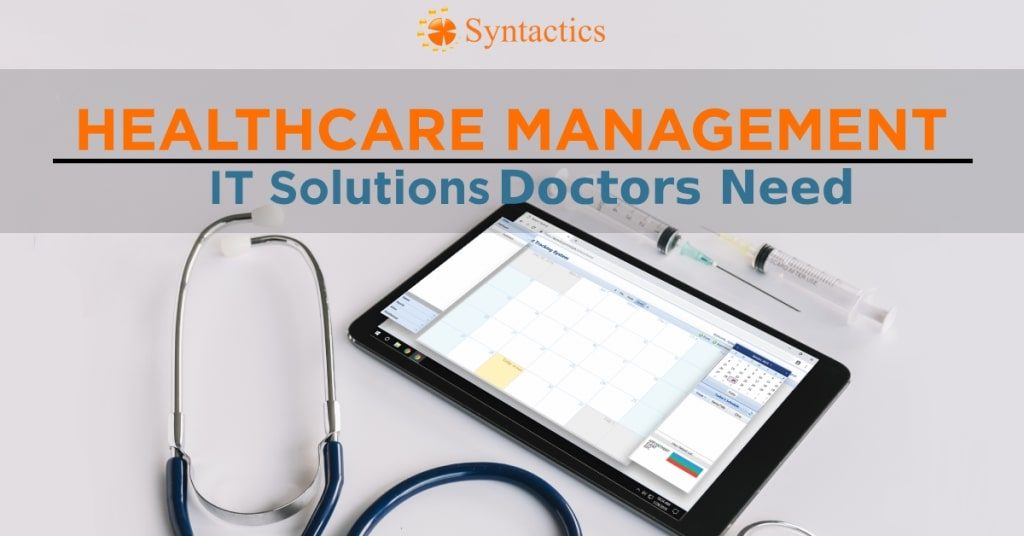 Apr 10, 2019
Healthcare Management: IT Solutions Doctors Need
Healthcare Management In A Transition
Doctors are healthcare management professionals and the central part of every healthcare practice is the doctor-patient relationship. This relationship forms one of the foundations of contemporary medical ethics until today.  Every doctor wants to help his or her patients effectively. In order to accomplish this, he has to have the right skills and tools.
The right tools is a major factor when it comes to getting a competitive edge in the medical world.  Doctors must continually adapt to the changes that technology has to offer. But it's not just about outperforming the competition or building rapport to patients. Rather, it is being able to deliver the best healthcare services possible to their patients.
With the changes in human demography like urbanization and population growth, land use for agricultural practices, and poor health services in overpopulated areas and areas difficult to reach, we'd definitely see an emergence of diseases soon. A recent study also suggests that there are at least 300,000 pathogens waiting to be discovered.
Hence, medical professionals need to keep up with this rise and help as many as possible.
Improving Practice and Healthcare Management
Patients need healthcare for various health conditions. With the shortage of medical professionals to provide such, doctors need to be able to serve their patients effectively and efficiently thereby allowing them to help more.
Improving the practice management enables these medical professionals to offer more value to their patients. This means going beyond just building a doctor-patient relationship and professional trust, which most doctors already practice as a norm in the Philippines and other countries. Practice management also involves how each patient's' medical information is treated, and how doctors can effectively collaborate with other partners in the practice.
As a doctor, you'll perhaps need to look at other innovative ways to improve how you provide your services aside from your diagnostics and this is using IT solutions.
Empower Your Capacity as a Healthcare Provider With An IT Solution
Your highest priority as a healthcare provider is to care for your patients. That, and managing the buildup of everyday tasks mostly done by your secretary like paperwork, scheduling, billing and other reports that you need.
Great medical practice is about keeping everything efficiently organized. It also ensures that you as the doctor, get the right and up-to-date information of your patients.  In fact, most successful doctors in the country don't just go about the regular checkups and diagnostics; it's that they are able to manage hundreds of patient records and cases while they do their routine everyday.
Over a year, this efficiency adds up significant value that your practice makes rather than doing things manually.  You can actually do more for both you and all your patients by selecting a good IT solution for healthcare administration and management.
Why Doctors need these Healthcare Management IT solutions
Looking even at the United States as the number one country with the highest budget per capita on healthcare, here are some statistics which may be both alarming and eye-opening for those providing healthcare down to the third-world countries:
The

Healthcare Information Management Systems Society

states that 86% of mistakes made in the healthcare industry are administrative. In the US alone, preventable medical errors continue as third of the top killer next to heart disease and cancer.

Patient records and charts cannot be found on

30% of patient visits

.

As many as

80% of the errors

initiating a string of mistakes involve informational or personal miscommunication within the medical field practice. Information gets altered or lost as it is transferred from one hand to another, perhaps by accident or just due negligence.
Hence, it is vitally important to be able to address these concerns, whichever country you are located and currently practicing healthcare. You can avoid and prevent these issues by using a clear and centralized information storage with measures to ensure the safety of the patients and their records.
Your Benefits in Having a Digital Practice and Healthcare Management in Place
Let us identify the advantages and benefits that your practice can get once you've decided to automate your day-to-day operations with IT solutions.
Practice management improvement

. Providing an efficient and secure way to implement and store electronic health records (EHR), scheduling, patient encounters, medical billing, and medical reports.

Organized records

. Keep patient information, charts, appointments, and billing information together in a single digital file for doctors. Digital storage, in general, is more secure and saves space for a neater, more welcoming small clinic, which most doctors have.

Administrative improvement

.  Reduce the amount of data entry tasks your secretary is expected to perform. It also helps maintain efficiency and helps them perform better, give them a more meaningful work with less burden.

Patient care improvement

.  It enables immediate record transfers, enhances patient workflow and eliminates treatment issues that result from inaccurate or incomplete paper records.

Real-time data access

. You get a secure and 24/7 real-time access to records on cloud-based services.

Outsourced IT maintenance

.  IT professionals remotely maintain software-as-a-service (SaaS) solutions including bug repair, patching, and security.  This saves time, money, and frees your staff to focus on delivering care and improving the patient experience.

Mobility and Data Portability

. Able to access data while you are on the go anywhere. It is also capable of providing patients their complete data once they need to seek a second opinion.
An IT Solution to Check Out
Furthermore, here's an example of one healthcare management solution that we can check out: PXTrack.
PXTrack is a healthcare management system that is made for Obstetrics and Gynecology doctors. The cloud-based system developed by our applications developers to help OB-GYN doctors keep track of patients' records. Its major features are specifically tailored to address the doctors' one common problem. This is basically maintaining a centralized practice management system across their multiple clinics as their career continues to grow. Additionally, it offers the same benefits we listed above.
Final recommendations to Doctors
Healthcare practice management requires new standards for excellence in patient care. In the advent of technology advancements, the IT solutions provide healthcare facilities of all sizes with greater capacity, improved quality of service, accuracy and better efficiency in service delivery.
According to a 2014 HIMSS Analytics survey, 86% of healthcare organizations are already using cloud services. 67% also say they're using software-as-a-service (SaaS) healthcare management applications.
In other words, certified healthcare providers will find their best way to be more efficient and effective in making their jobs smoother and more manageable. Eventually, all of them will adopt the IT solutions that best fit their needs organically and voluntarily.