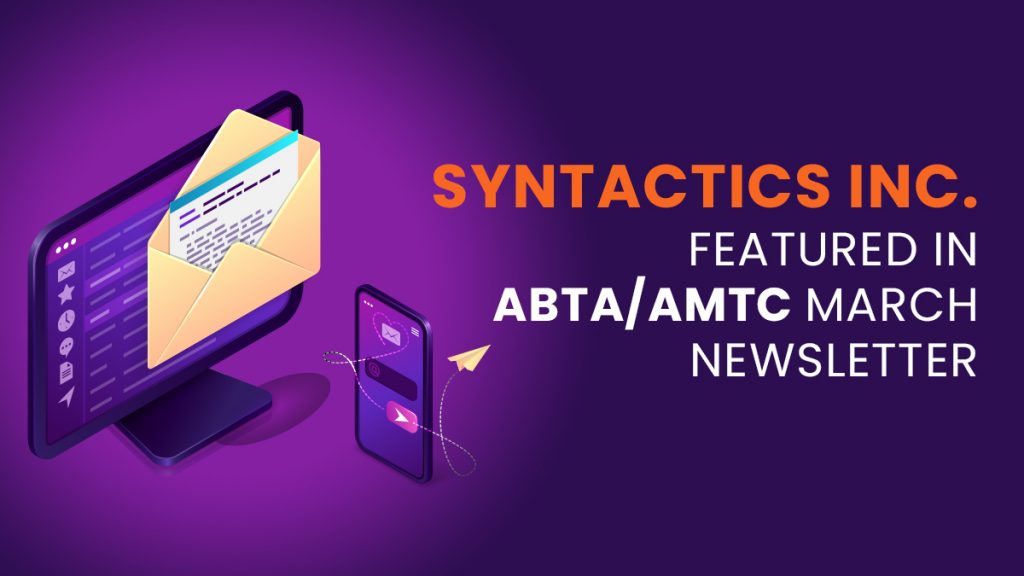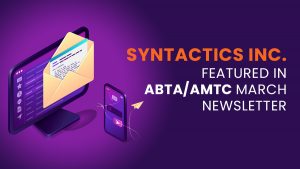 Apr 20, 2021
Syntactics Inc. Featured in ABTA/AMTC March Newsletter
The 20-year running IT Solutions Company from the Philippines, Syntactics, Inc., was featured in the March newsletter of Singapore-based Asia Business Trade Association (ABTA), a secretariat to the Asia Pacific MSME Trade Coalition (AMTC). 
As part of their vision, ABTA/AMTC strives to support small businesses by empowering them with the "knowledge, network, and ability to engage and influence relevant stakeholders on trade policies, with the goal of building a vibrant trade ecosystem." As such, the AMTC will be holding a series of regular workshops and webinar sessions for their members starting June 2021.
The first AMTC workshop, which delves on Operational Excellence, will occur on June 11, 2021, followed by a webinar on eCommerce for SMEs and what they should know on June 25, 2021. The registration links and other details will be made available by AMTC soon.
For this March 2021, ABTA/AMTC presented two of their members on their MSME Feature, namely Dr. Nimnual Piewthongngam of the Gumpun Muay Thai social enterprise in Thailand, and Syntactics, Inc. CEO, Ms. Stephanie Caragos of the Philippines. Both AMTC members are also mentors in the Asia Women Exporters' Mentorship Programme, where Ms. Caragos and her team helped programme mentees create, implement, and boost their Facebook advertising campaigns.
Through Gumpun Muay Thai, Dr. Piewthongngam helped build a stable career for Muay Thai fighters who retired from their careers at a young age. Their enterprise was established in 2017 by her and her sister, Prof. Dr. Kullapruk. They were able to place an advisory system for savings and financial planning for their instructors. Gumpun Muay Thai is currently operating in Khonkaen and Korat in Thailand and Yangon, Myanmar, through their partner Active Gym. 
Aside from being the founder, president, and CEO of Syntactics, Inc., Ms. Caragos is also the founder of letIThelp.org. This social enterprise helps young Filipinos develop their IT skills and improve their chances of securing stable and profitable jobs in the future. 
Ms. Caragos also founded the Syntactics PINK (Promoting Innovation Networking & Knowledge) for women, a community initiative run by her company's female developers to train and develop women's coding and IT skills.
To know more about Gumpun Muay Thai, you can check them out at http://gumpunmuaythai.com/. And for more information about Syntactics' services you can visit it here.