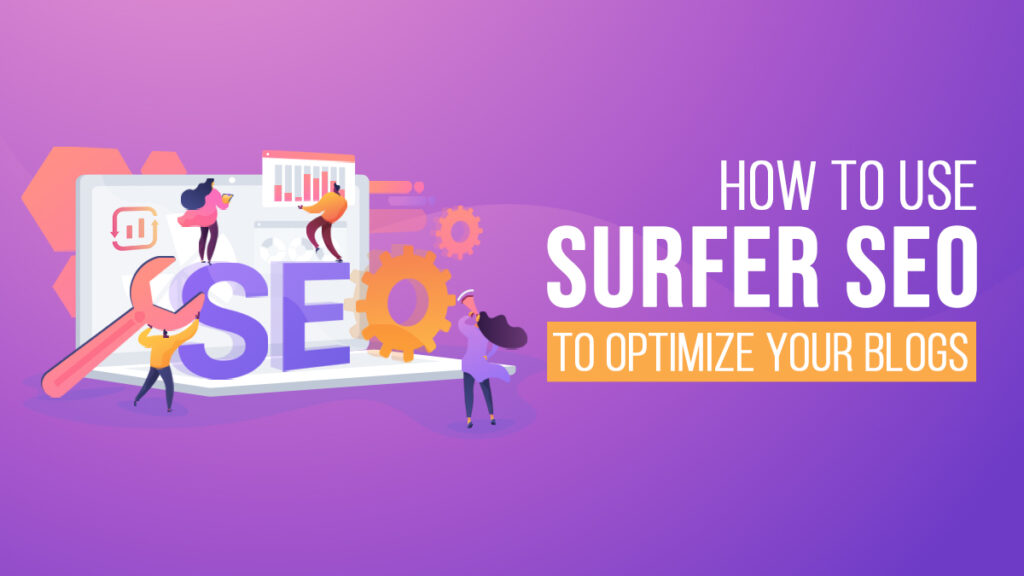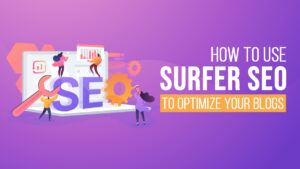 Nov 7, 2022
How to Use Surfer SEO to Optimize Your Blogs
Search Engine Optimization allows you to control your website's visibility, resulting in better rankings on Search Engine Results Pages. When done right, SEO can increase Conversion Rates to as high as 14.6%. Fortunately for Content Marketers, the Surfer SEO Tool can help your content beat out industry rivals on search results pages. 
After all, the top result on a Google search results page enjoys the highest Click-Through Rate at 28.5%. Although not as popular, the rest of the results on the first page enjoy a lot of exposure. However, a mere 0.63% of Google users clicked on results from the second page.
Fortunately, you can optimize content, particularly blog posts or articles that share valuable information with interested readers. 
How to User Surfer SEO to Optimize Your Blogs
Start by Researching Target Keywords
The Surfer SEO Tool is primarily meant for optimizing content, but Content Marketers can also use it to select keywords. But, you can utilize your usual Keyword Research Tool that you rely on for SEO Audits. Regardless of the tool used, you must choose the keywords or -phrases dictated in your Content Marketing Plans.
You'll need more than one keyword to do a multi-keyword analysis. Also, these multiple keywords have to be as similar to each other as possible. Content Marketers can apply Keyword Research and select many keywords, especially ones with limited competition.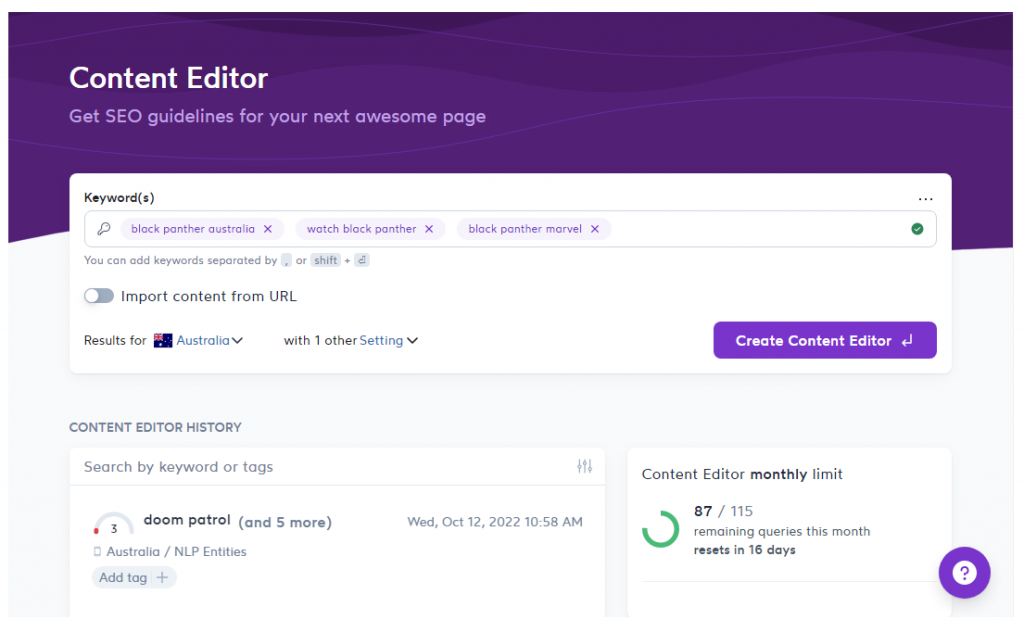 So, before you start writing and optimizing content, pick the keywords you want it to rank for. Make sure they have manageable Search Volumes, so you can easily rank higher on the right Search Engine Results Pages!
Set Up Your Draft in the Content Editor
In this step, Content Marketers can enter a query in the Content Editor that matches desirable keywords. Thus, you must add the queries or keywords meant for optimizing your blog. You'll notice that added keywords have check marks before them.

Writers can create a query for one keyword by typing it and clicking the "Create a Query" button. In addition, you may create a multi-keyword analysis by typing in multiple phrases. You have to choose between creating separate queries or a single one.
Afterward, Content Marketers must:
Select the scraping device — whether you prefer mobile or desktop.
Specify the country you want your content to target. For certain countries, you can select particular localities or areas.
Lastly, Content Marketers can choose whether or not to use Surfer SEO's NLP-Powered Analysis. This gives you more keyword or -phrase suggestions and can be beneficial for ranking with more competitive terms.
The tool will provide recommendations for creating competitive content when you're done setting things up. These will include particular suggestions on the following:
Best content length or word count;
Content structure, or headings; and
Additional relevant keywords you can add to the draft.
Customize Your Competition
After preparing the content editor's draft settings, writers must adjust the guidelines further. Thus, Content Marketers should do a little bit of editing. So, Content Writers must click the Customize icon on Surfer's right-hand sidebar. As a result, the Content Editor tool will let you examine your content's organic competitors.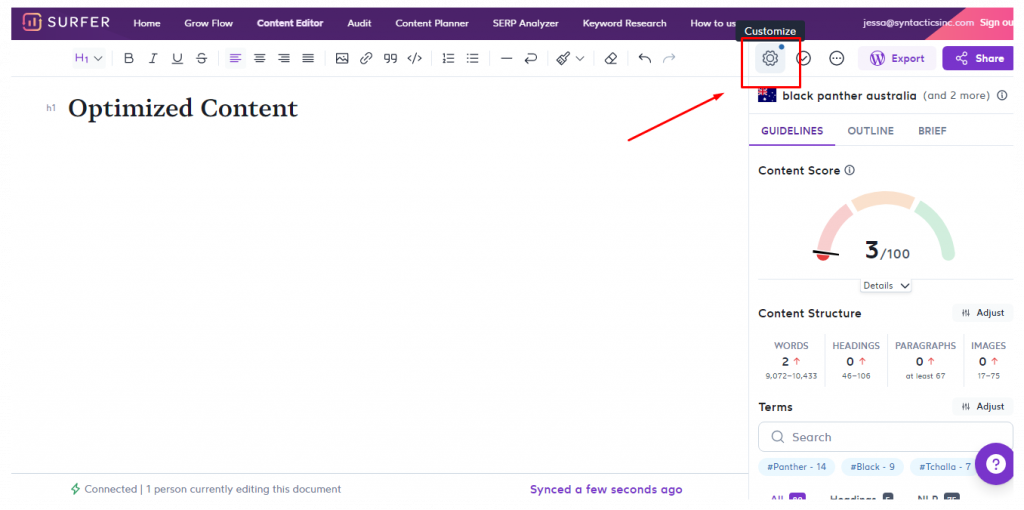 With this, Surfer becomes an excellent Competitor Analysis Tool. Afterward, the Surfer SEO Tool will provide a list of competitor articles. To ensure the tool provides a thorough analysis, writers should manually select the relevant ones. You can accomplish this by toggling competitor articles from Surfer's list.
When looking at competitors in Surfer's Content Editor, you'll notice that Content Score values range from 0 to 100. These scores are based on the page content's relevance to keywords. Naturally, the higher Surfer's Content Score, the better the blog quality. However, the article's quality doesn't always speak for itself.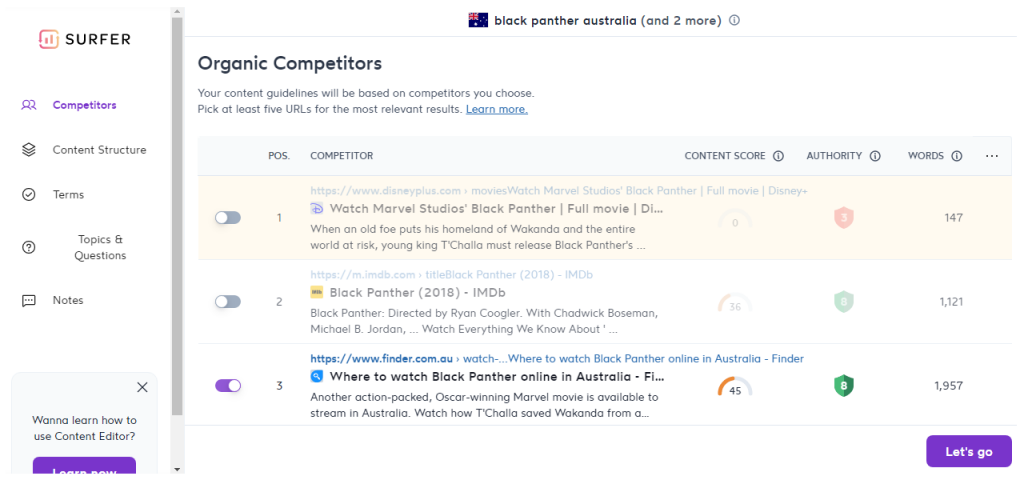 Content Marketers need to select results that are your content rivals, even if the Content Score is low. Alternatively, some pages with high Content Scores may not share the Search Intent you're using, so you can exclude them. Also, writers can add ten extra pages to the analysis.
Learn Your Content's Optimum Structure
The Surfer SEO Tool will suggest a certain number of words according to your guidelines. The analysis will provide a particular number of words writers need to beat the competition. So, Content Marketers will have to adjust their draft's content length in the Editor Tool. However, writers may also change the word count to their liking, and the Surfer tool will adjust the numbers.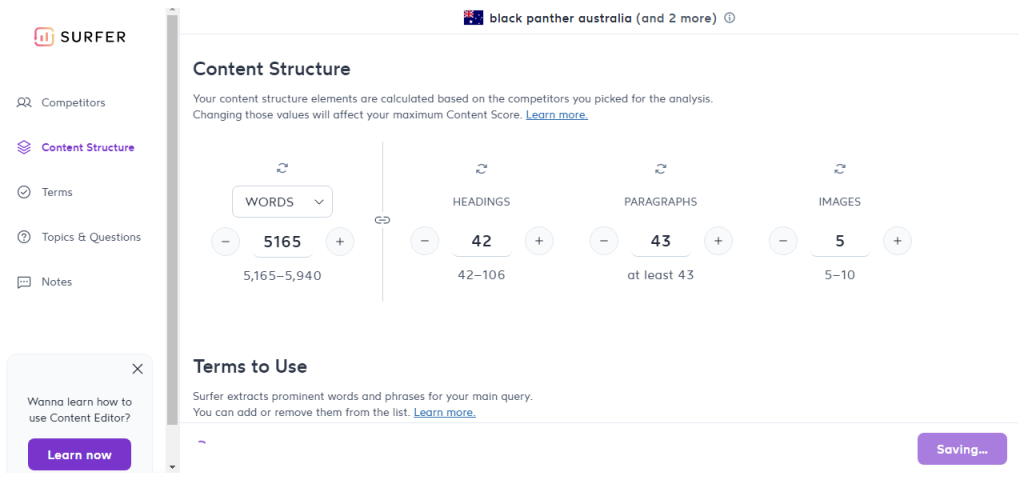 Thus, setting your word count, heading count, paragraph count, and image count is vital. Initially, Surfer SEO will generate an average for all of them, depending on your selected competitors. But writers can still customize it, and the numbers will change across paragraphs and headings.
Add Extra Related Terms to Your Writing
Surfer will recommend additional terms to write into your article, courtesy of its excellent algorithm. In addition, if writers allowed the NLP option in previous steps, they'll find the appropriate analysis data from Google.
Content Writers can add up to 50 terms to increase their draft's Content Score. It's also possible that they can increase the article's chances of ranking on other related SERPs. Not only that, but you might even create Featured Snippets, which are visible on 12.29% of search results pages.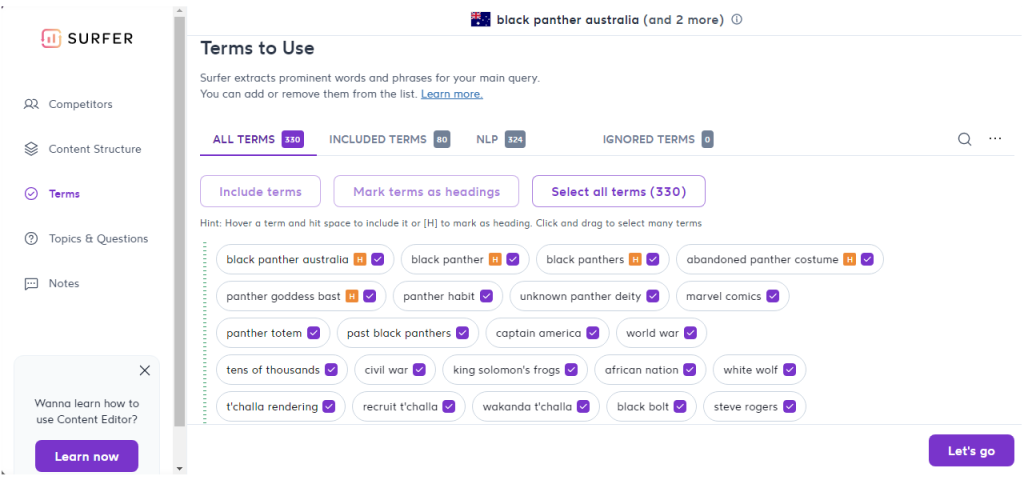 There's an abundance of relevant terms that Content Marketers can incorporate into the editor. So, the tool will choose the relevant keywords in your content based on how they performed in your rivals' works. But writers can also disable terms if necessary, especially if they're irrelevant or don't meet your needs. As a result, you can prevent them from appearing in the guidelines.
Also, you can prioritize some phrases if you must use them in headings. If you've added keywords to your list, specify the main one so Surfer SEO reviews your content more accurately! Lastly, Content Writers may also filter NLP terms.
Add Topics and Questions to the Article
Surfer's Content Editor Tool will also list topics and questions writers can incorporate into the content. After all, Content Writers create articles for people, not for search engines. Thus, Content Marketers must select suitable topics to add to their draft articles. Optimizing content for related topics might help you with Passage Ranking and Featured Snippets.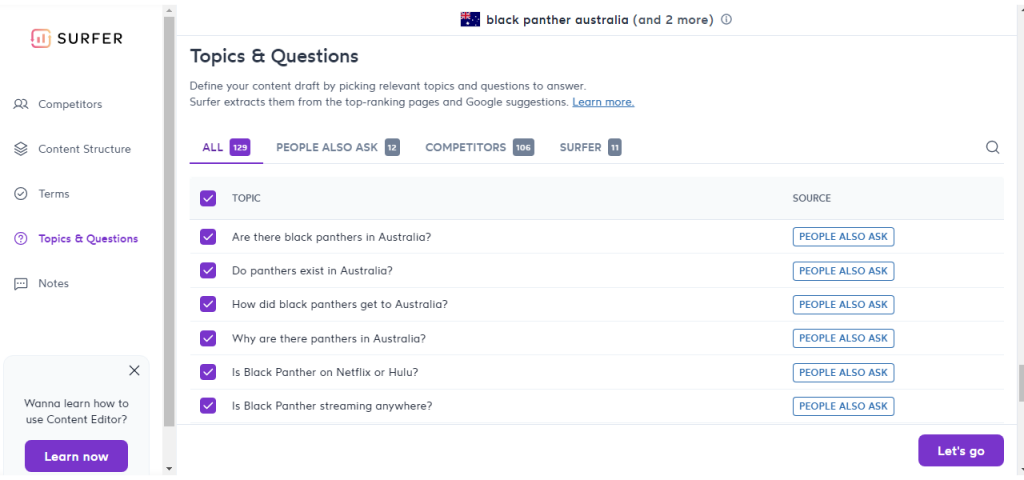 The questions listed are taken from 'People Also Ask' sections on Google SERPs, competitors, and Surfer SEO's database. Suggested topics will provide more value to readers and fill up Content Gaps. As a result, Content Marketers can ensure they publish a robust article that meets all their audience's needs.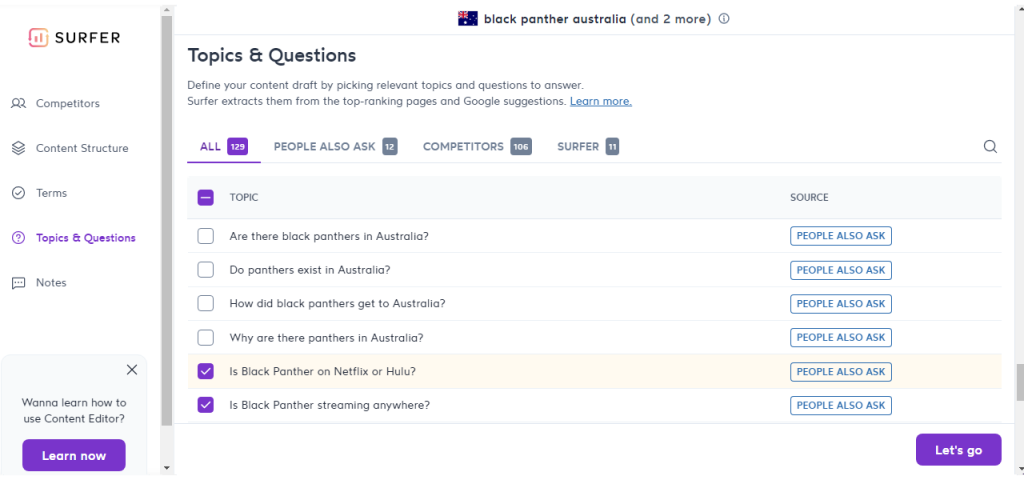 Content Marketers can write any article topic however they like, but the tool can guide them on the points to hit. So, writers can use as many topics as needed and even add their own.
Consider Adding Draft Notes
Notes can benefit the writing process, especially if you're working on a draft with one or more writers. Content Marketers have ample space to add information about the content, deadline, or preferences. Also, marketers can further customize the notes to ensure they provide a thorough writing guide.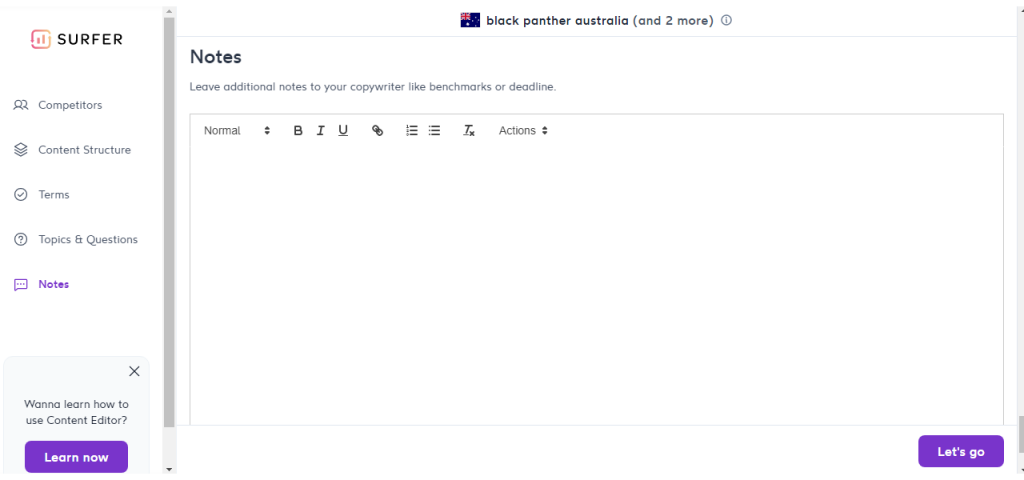 One particular recommendation is adding your list of competitors to the notes. Then, Content Marketers can add the competitor articles they chose in the previous steps. This way, writers can get a better look at their rivals' work.
Optional: Share the Editor or the Guidelines
The great thing about the Surfer SEO Tool is that Content Marketers can work with other writers. So, you can give others access to the Content Editor Tool via a link. If they have the unique link, people won't need to log into the app or create an account to write.
In addition, writers can utilize Surfer's plugin, which can work with Content Management Systems and Google Docs.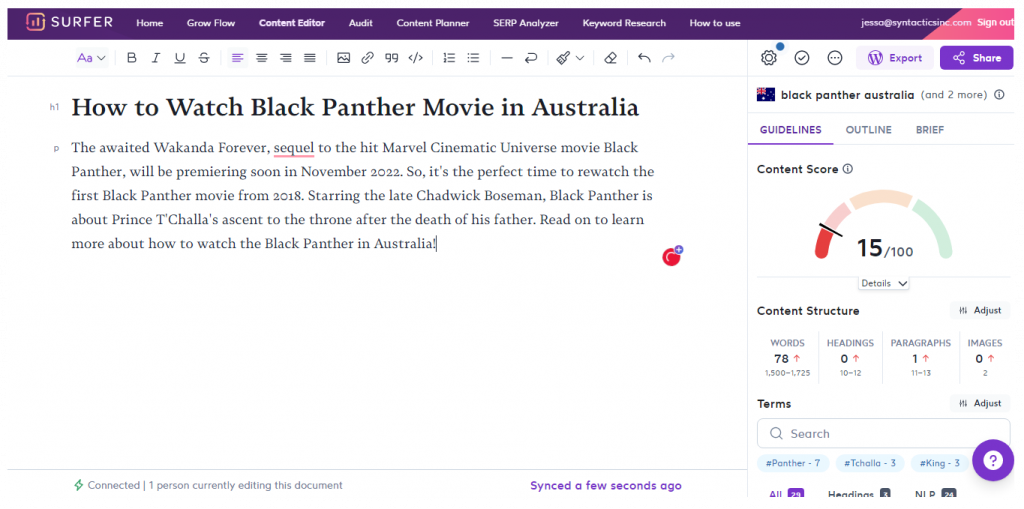 Start Writing in Surfer's Content Editor
Blogging increases a business' chances of getting noticed online. After all, business websites with blogs "have 434% more indexed pages" than sites without blogs. Fortunately, the Content Editor Tool can provide SEO recommendations as your keywords dictate. Additionally, optimization will further boost your content's online visibility.
When writing, the goal is to achieve a high score. Fortunately, Surfer's Editor Tool will update values in real time as writers continue adding content to the draft. The score will depend on the guidelines that were set up in previous steps. Thus, you can see how your content optimization work is progressing.
Another Content Editor perk is that writers can see the guidelines in the sidebar as they write.
Check the Content Score as You Work
The Content Score on the sidebar will tell you the quality of your content by displaying your current score. But, depending on your settings, it can also show your draft's maximum score.
However, your settings won't allow you to hit a perfect Content Score, even when you do everything right. The reason is that the guidelines are based on your rivals. For instance, if your competitors' content doesn't have a high grade, you might not want to achieve high scores. Instead, your blog content's focus is surpassing competitors' numbers.
Regardless of your rivals, Content Marketers should achieve higher scores than the competition to stay ahead on SERPs. Lastly, if Content Marketers are working with other writers, they can verify their work through the Content Scores and suggested terms.
Reach the Desired Counts or Limits on Words
You can find an optimal count for vital aspects of your draft article in the box listing the words or phrases. Of course, as writers go along, the Surfer SEO Tool will indicate the following:
the words you still need to write;
how many headings you need,
the number of paragraphs you lack;
how many more times you need to mention terms, etc.
So, writers must ensure they reach the recommended counts and try not to overuse keywords. Also, everything must flow naturally and be understandable to readers. The tool can also give insight into how your competitors used a particular phrase.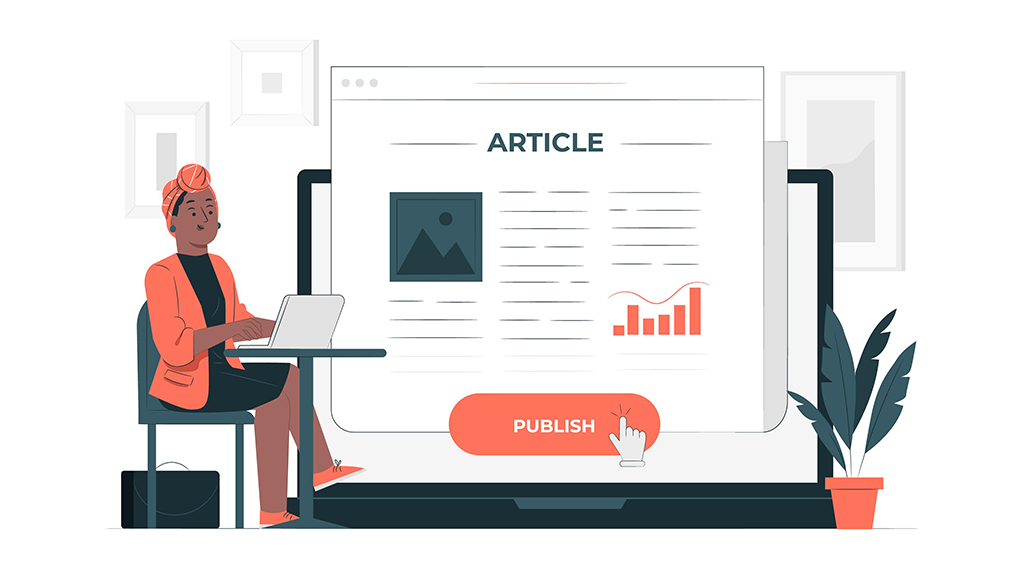 Export the Finished Content 
When you find yourself satisfied with the content and its score, you can export it. One way to accomplish this is by transferring it to your SEO-Friendly CMS of choice. The copied and pasted text should look the same as it did in the Editor Tool. But Content Marketers can't be too careful, so giving the pasted version a once-over is vital before publishing.
Otherwise, marketers can export the article in an HTML format. Then, they can either paste the code onto an HTML editor or upload it to the server.
Use Surfer SEO to Create Top-Quality Content!
And that's it for using Surfer's Content Editor Tool to optimize your articles. It provides a robust list of keyword suggestions Content Marketers can target and includes advice on editing content.
So in the hands of capable professionals, you can create search engine-optimized articles. In addition, the tool even makes existing content evergreen. So naturally, marketers can do Keyword Research with Surfer SEO.
Thus, it allows Content Marketers to craft better articles that fill Content Gaps. Moreover, they can achieve better SEO rankings for particular keyword queries. Also, it will enable them to select keywords, topics, and competitor articles to calculate how best to beat industry rivals.
Content Writers from the Philippines can help your website achieve higher rankings on SERPs. As a result, you'll enjoy an abundance of organic traffic.