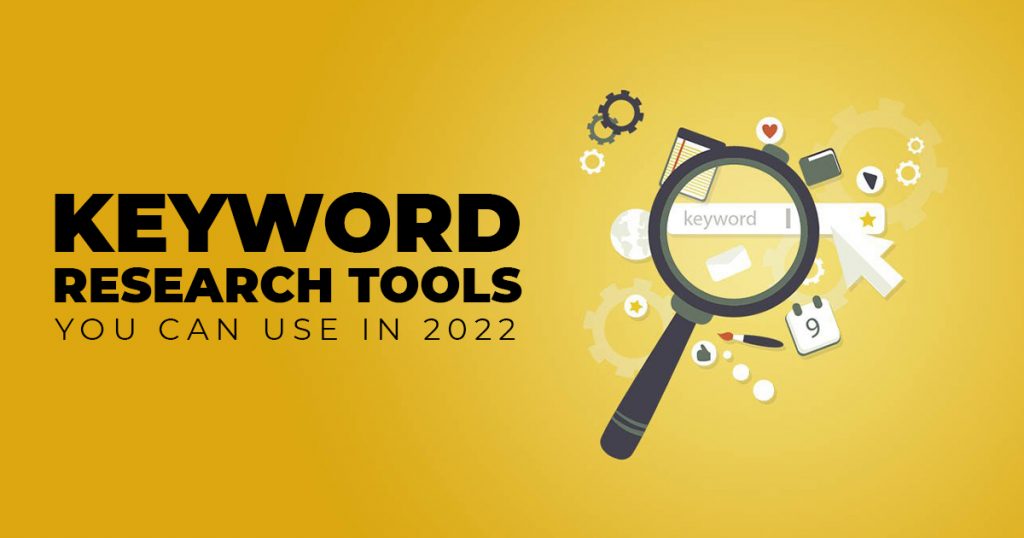 Mar 4, 2022
Keyword Research Tools You Can Use in 2022
Keyword Research is crucial for ranking your content high on Search Engine Results Pages. After all, the Five SEO Basics call for timely but strategic keywords. Also, a thorough investigation of keywords saves you time. Finding the right long-tailed keyword or two can help you tap into your desired audience. In addition, you don't drown in the results pages with so many other generic short-tailed keywords. So since SEO needs organic research, you'll need to be equipped with the proper tools. Continue reading and learn about the best organic Keyword Research Tools for 2022!
Keyword Research Tools
You need research tools to help boost your SEO efforts. The great thing is that there are tools for various aspects of keywords! So you can find trends, new ideas for keywords, your competition, or the search volume for queries. Also, Search Intent is vital for reaching the right audience segment.
So without further ado, we've compiled a list of tools. Most tools are free, but some have paid plans.
The best Keyword Research Tools for SEO this 2022!
Moz
Source: Moz.
Moz is famous for its massive selection of powerful keyword research tools to boost organic SEO. Not only does it help you with researching, but it also generates keywords and analyzes your links. Among the many things Moz can help you accomplish, it does weekly crawls, competition analysis, and on-page SEO recommendations.
In addition to being user-friendly, it's also a perfect tool for beginners looking to get better at Search Engine Optimization. So regardless of your skill level, Moz has SEO tutorials ready if you need any assistance.
While Moz doesn't provide data on a few metrics, it still provides the most crucial ones for SEO. For instance, the Keyword Planner tool lets you research desirable keywords. Moz shows the monthly volume, difficulty, and organic Click-Through Rate. Plus, Moz even suggests similar keywords if the one you're looking at is too popular to rank for.
Semrush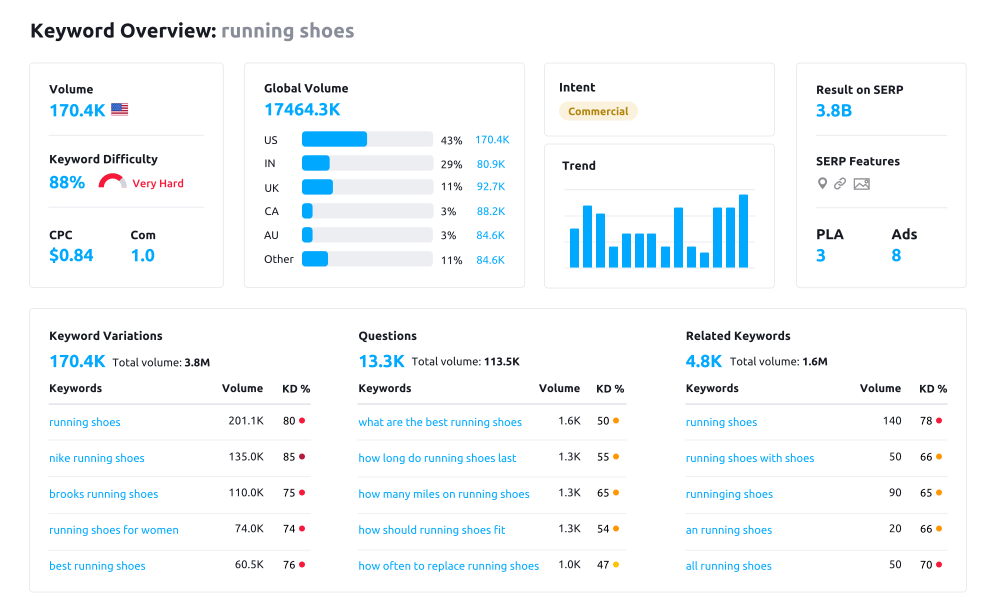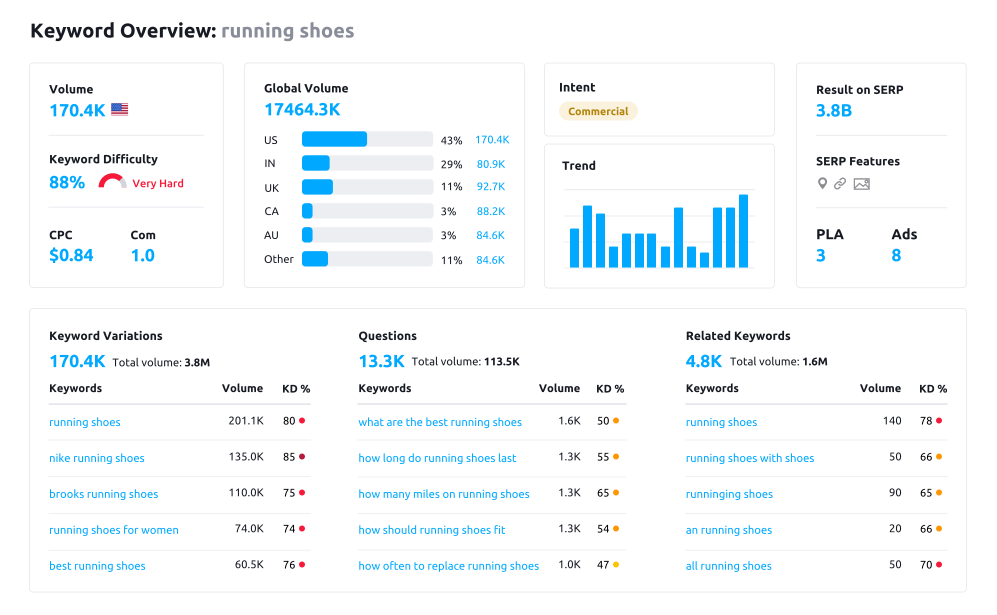 Source: Semrush.
Just like Moz, Semrush has a vast range of tools. However, when it comes to competitive keyword analysis, Semrush is your best bet. It provides data on keywords through granular analysis.
Plus, it gives insight on reviews, featured snippets, site links, etc. — anything you might find in a SERP. You can also see things like:
keyword rankings;
keyword traffic;
search volume;
Cost Per Click (CPC);
keyword difficulty;
domain comparisons; and
competitive gap analysis.
Semrush is more advanced than most other organic Keyword Research Tools, and part of the reason is its competitive keyword analysis. So, for instance, the Keyword Gap feature lets you look into rival sites and give an overview of keywords they're ranking for. This way, Semrush can help you find opportunities, especially if you're not ranking for the exact keywords as your competitors. Be warned: Semrush is a tad expensive, but the price is worth it considering its many features.
QuestionDB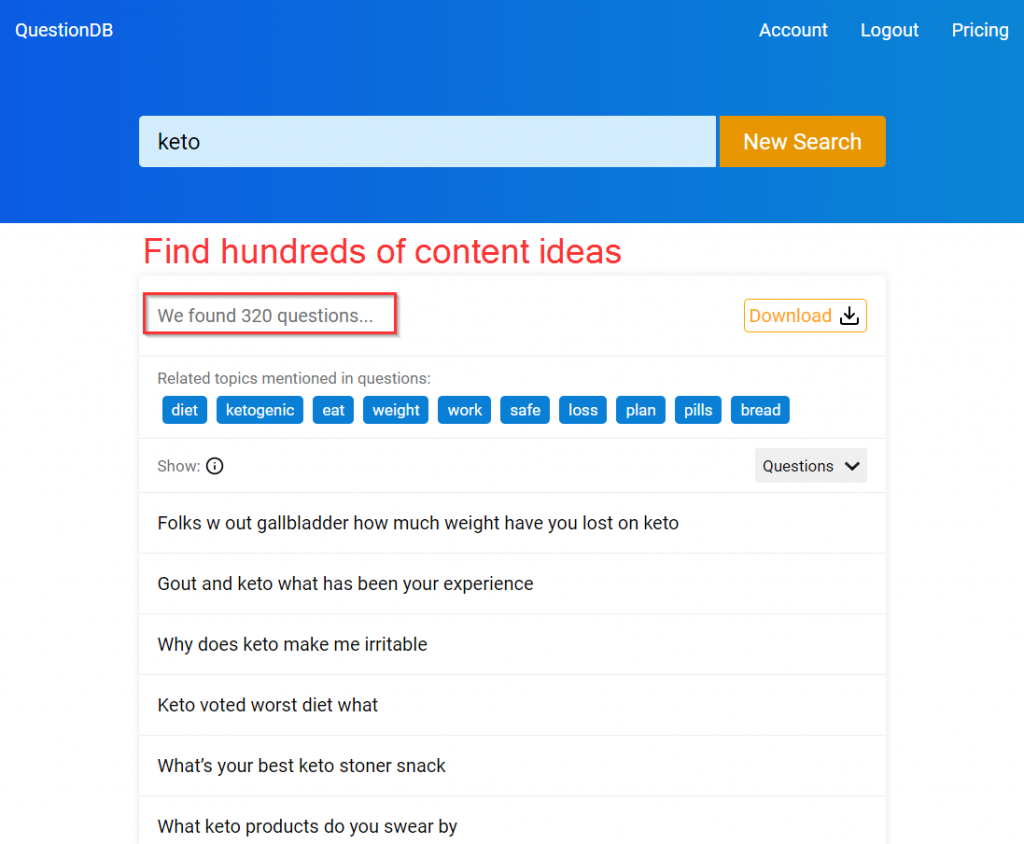 Source: QuestionDB.
Featured Snippets tend to answer questions, and QuestionDB is the right tool for finding question-based keywords. As such, it's perfect if you're planning on generating queries to rank on SERPs.
Most tools source question-based keywords from search engines like Google or even Bing. However, QuestionDB finds its questions with the help of Reddit. In addition, it pulls questions from Quora and Stack Exchange!
As a result, you can get a broader insight into what non-Google users are talking about. So, this tool provides more specific queries and context for content. Thus, not only is it excellent for achieving organic SEO, but for blog content writers' research!
While not as feature-laden as other tools, QuestionDB is straightforward. Just type in a keyword, and you get a list of questions (or keywords) that others are searching for! QuestionDB allows you to filter questions to make your keyword research smoother. You can see related topics alongside results for a specific query.
Keyword Surfer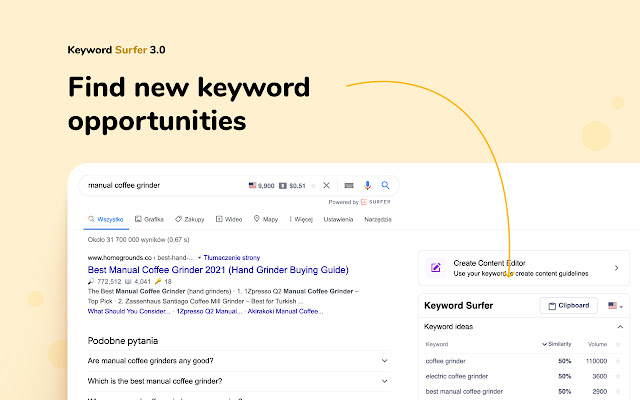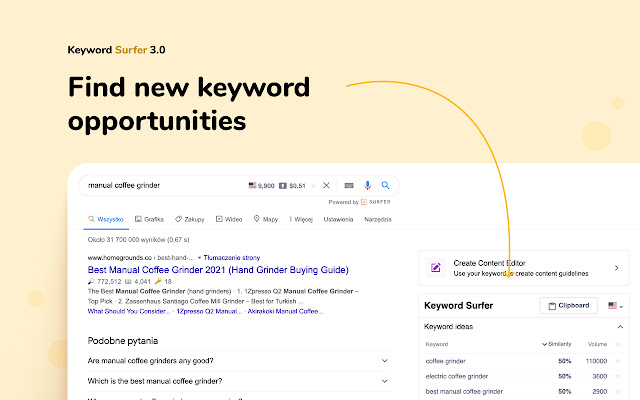 Source: Keyword Surfer, Chrome Webstore Extensions.
This tool is slightly different from the rest as it is a Chrome extension. It shows queries' estimated monthly search volumes. It can even share the global search volumes from the United States, Canada, Germany, and 16 more countries. Additionally, you can always toggle global search volumes on and off as needed.
However, because this tool is a browser extension, it isn't built for deep-dives into keywords. Not only that, but you can't get bulk search volumes. Still, Keyword Surfer can assess queries without making you leave the results page. If you need an entire suite of tools, you can check out Surfer SEO.
Keyword Surfer isn't too complicated! After downloading and enabling it, search a query on Google like always. Then, the tool can show you its search volume, CPC, and even exact match keywords.
The best part is Keyword Surfer does all this for free. (Plus, it has a paid counterpart called Keywords Everywhere.)
Ubersuggest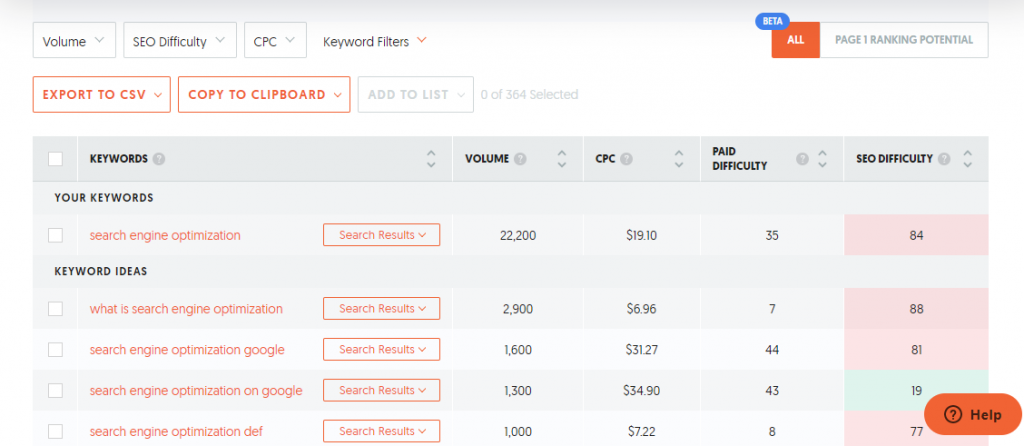 Source: Ubersuggest.
With Ubersuggest, there's much to learn about your desired keywords even with its three free searches. Specifically, you get to know about a keyword's search volume, difficulty, and CPC. Beneath these metrics, the tool also shows how many backlinks you need to rank for the keyword. In addition, there are also lists for keyword and page content suggestions.
You can even check out related blogs when it comes to content ideas! Ubersuggest also displays clicks and shares for each article. In addition, most of its reports are exportable. So, you can check them out at any time.
Plus, Ubersuggest has a Chrome extension so that you can check out data on your search results pages. This tool also boasts a comparison tab to get ideas on versus articles. Also, a related keywords tab can show you how you've used your keywords and what other keywords you can use.
AnswerThePublic

Source: AnswerThePublic.
AnswerThePublic shares info on the queries being searched on Google and Bing. After inputting a search query, you'll get a report on currently trending keywords. In addition, you can learn more about popular questions, comparisons, and other related searches.
The tool sources its queries from Google Autosuggest and Keyword Planner. However, its query pool isn't as large as other popular tools'. Still, AnswerThePublic can give you ideas for creating valuable content.
So, consider adding this tool to your Content Marketing strategies. Content creators are sure to get a lot of mileage out of this for Keyword Research in 2022!
Upon entering a keyword, you'll see queries containing: 'who's, 'what's, 'why's, 'how's, and other words that indicate questions. Also, these are immediately followed by propositions like 'is,' 'to,' 'for,' 'can,' 'near,' 'without,' etc. Then, of course, you'll be seeing potential queries that complete the sentence.
Google
Google is responsible for 92.96% of global traffic, split between Google Search, Google Maps, and Google Images. If you use Google for Keyword Research, you can plan content ahead of time, depending on your business or industry. Not to mention, you can get lots of ideas at the bottom of the SERP. The best organic Keyword Research Tools for SEO are Google Trends, Keyword Planner, and Search Console, so let's break them down.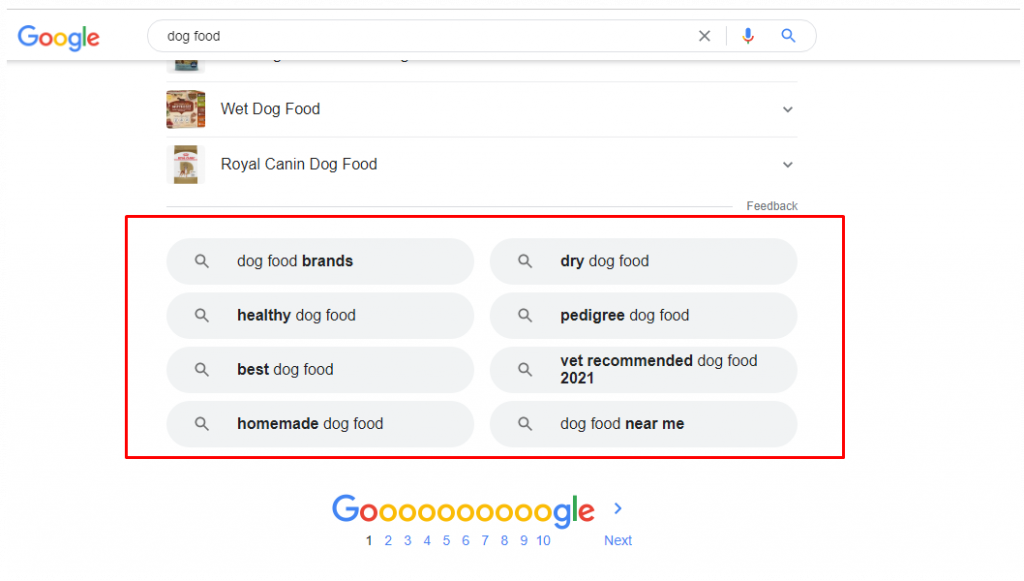 Source: Google Search Results.
Google Trends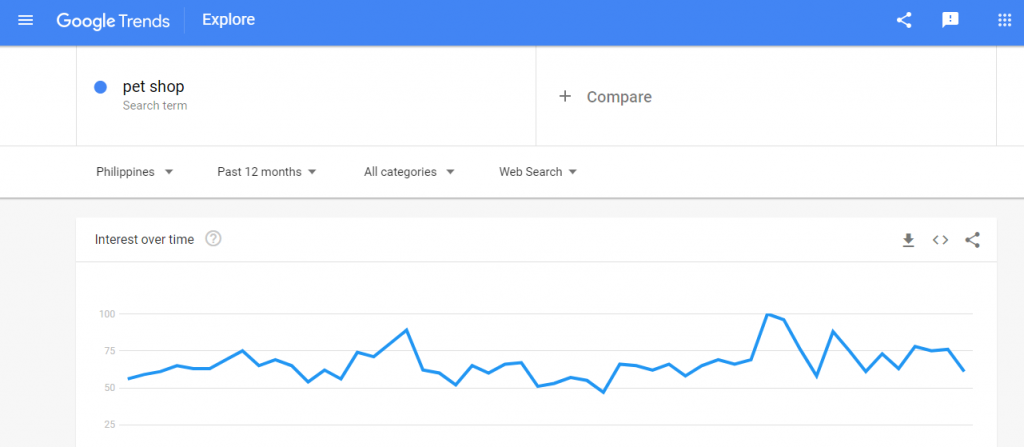 Source: Google Trends.
Google Trends can show you a keyword's popularity over time. So, you see how seasons, holidays, and even regular events influence keyword opportunities.
Google Keyword Planner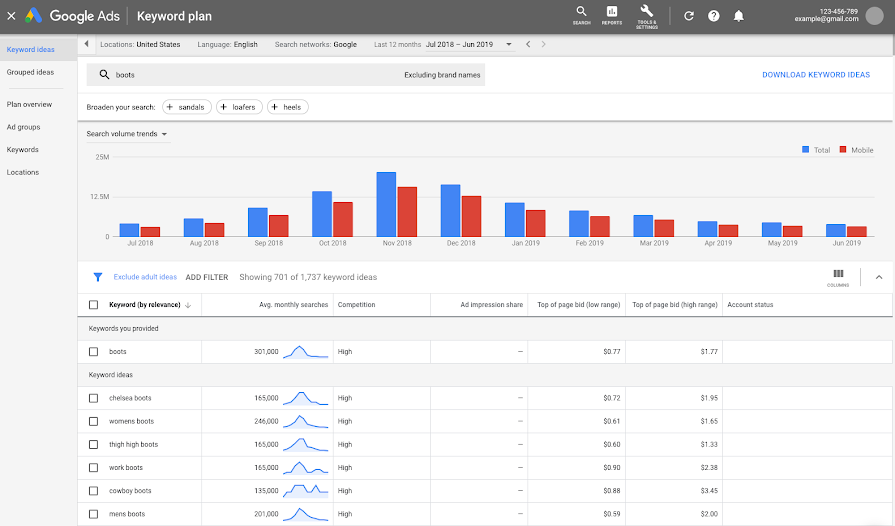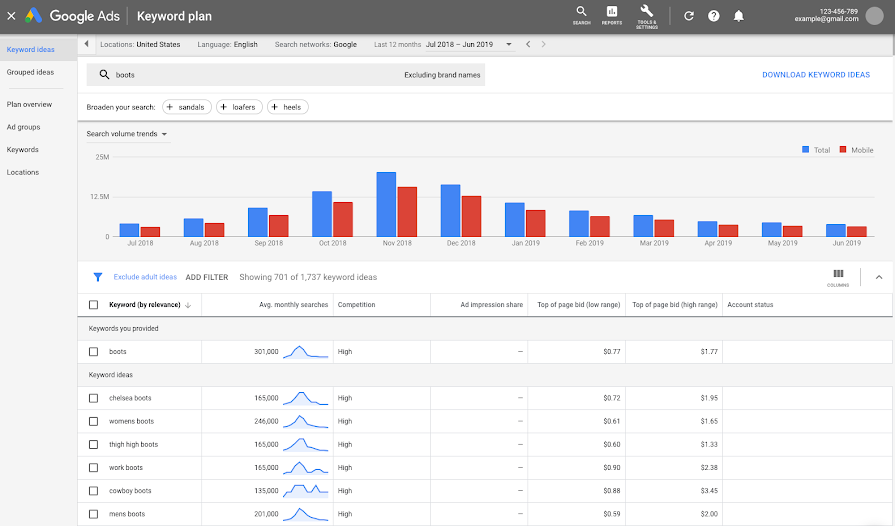 Source: Google Ads Help.
Google Keyword Planner can find keywords for general SEO strategies and paid campaigns for free! It's indispensable for keyword planning.
Google Search Console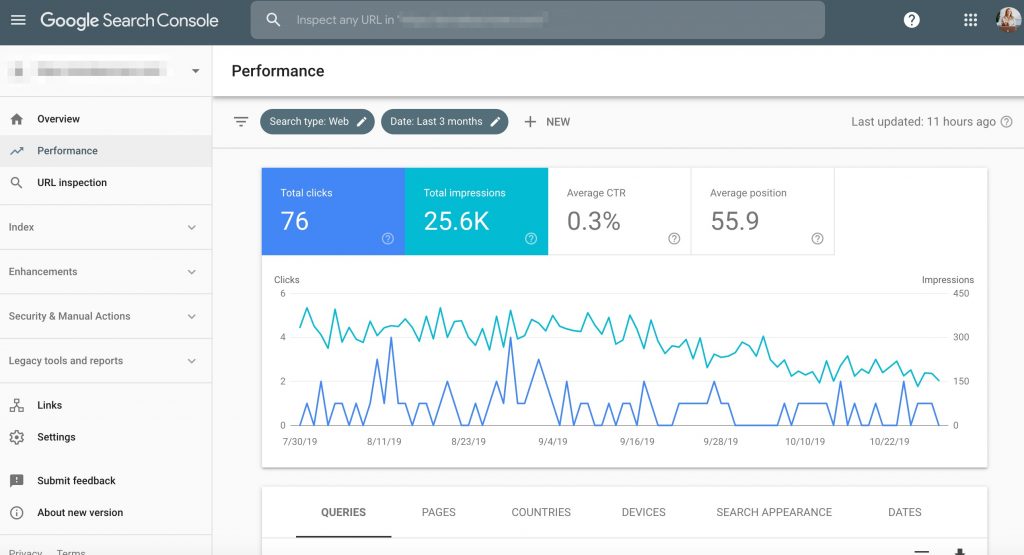 Source: Search Engine Journal.
Google Search Console tracks website performance, showing data on keywords you're ranking for with its "Search result" report.
Honorable mentions for organic Keyword Research Tools in 2022:
Ahrefs
Keyworddit
MonsterInsights
SEOBook Keyword Suggestion Tool
Rank Tracker
Serpstat
Mangools
SpyFu
Wincher
RankIQ
GetKeywords
Jaaxy
Boost your organic SEO!
And that's it for our list of research tools to achieve organic SEO. Keyword Research helps you find the best ways to tap into SEO. Also, they're still cost-effective as you don't expend too much effort and time trying to rank on SERPs that are too overpopulated with results.
Many of the research tools on this list are free (or at least, for a given amount of searches.) Hopefully, this list can help you with Keyword Research in 2022. However, organic Keyword Research can be complicated. SEO Services in the Philippines can provide extra pointers.