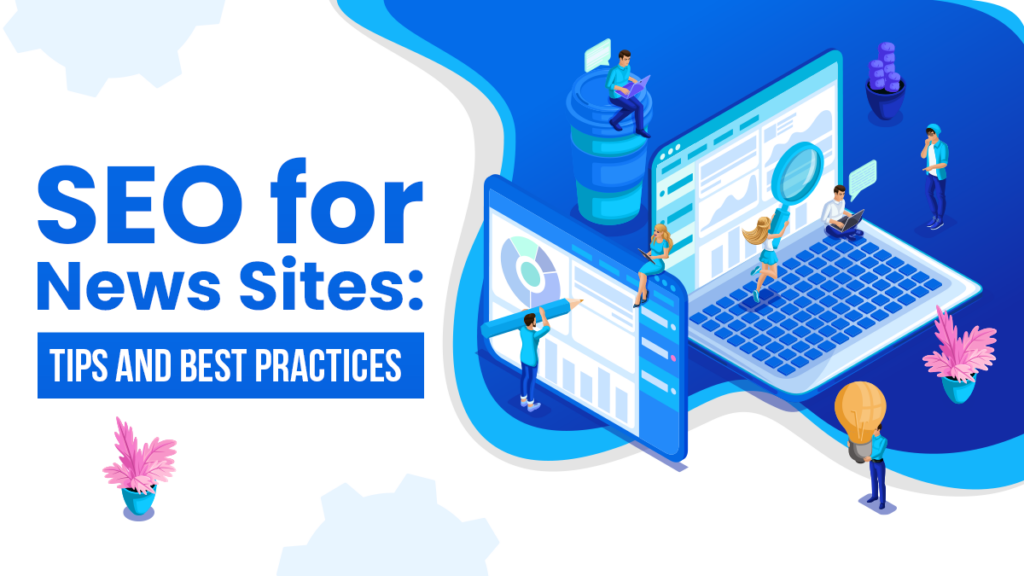 Jun 29, 2023
SEO for News Sites: Tips and Best Practices
Optimizing news websites for search engines means improving their online visibility. However, Search Engine Optimization (SEO) tactics for news sites and publishers differ from strategies for business websites. This is why news organizations must understand how to optimize SEO for their news websites to take advantage of the benefits.
News organizations publish timely, informattoive content on various happenings worldwide. Each organization may have a particular niche. But regardless of target content and reader base, you must deliver relevant news to your audience.
SEO plays a significant role in your news content's discoverability. It is also a cost-effective method to promote a news publication and acquire organic traffic. All news organizations strive to achieve higher rankings compared to their competitors in the online news landscape.
Fortunately, publishers can follow several News Website SEO Strategies. That way, they can improve their Search Engine Results Page rankings.
News Site Search Engine Optimization and Google News
Google has policies for news known as the Google News Initiative. SEO experts will realize they overlap with an essential SEO principle: E-A-T. E-A-T is short for Expertise, Authoritativeness, and Trustworthiness.
Since Google wants only the best experience for its users, they ensure that news publishers post content that delivers accurate information. Here are some examples of Google News' policies warning publishers to do the following:
Avoid posting misleading content;
News content must be transparent (ex., Have clear publishing dates, have information about the author and publisher, etc.); and
Advertisements and sponsored content shouldn't exceed the news content, etc.
Thus, for higher rankings on search results pages, you must use the SEO best practices for News Sites. For example, it's important to use appropriate keywords to come up with specific news content. Additionally, it's essential to examine Google's 200 ranking factors, which have a say in your rankings.
However, here are some of the most effective SEO strategies for news publishers:
SEO Best Practices for News Websites
Keyword Research
For any news website looking to rank on SERPs, you must identify relevant keywords through keyword research for your news site. You should optimize your top stories and other content with the appropriate keywords or -phrases readers search for.
News publishers can find relevant keywords with Google Trends, Semrush, and other SEO tools. Ensure that you consider the time, details, and relevancy of the keywords to provide timely and accurate news stories. You can even utilize Competitor Keyword Research to gain even more readers. 
Then, when doing keyword research, it's best to find specific, long-tail keywords to use in your content. Longer keywords will have less competition and more engagement!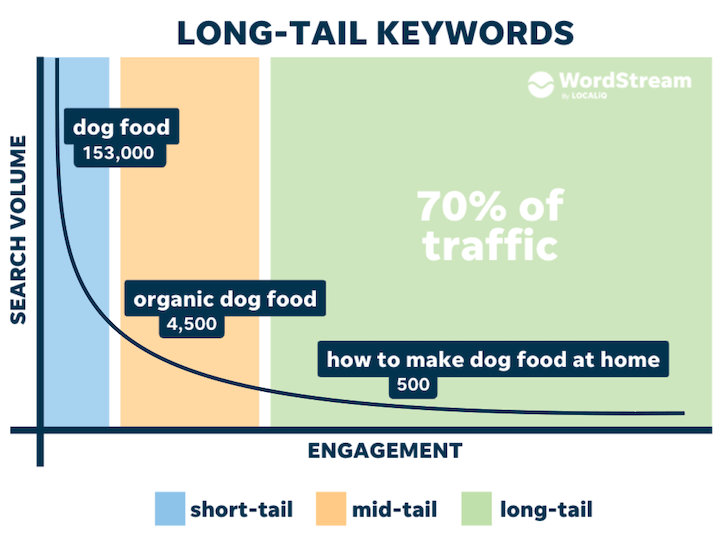 Source: WordStream.
Not only are keywords vital to content, but also titles, meta descriptions, and URL slugs. Headlines are everything in news content, so craft optimized, attention-grabbing titles. It's best to create headlines that are direct, usually eight words long or less. That way, search engine crawler bots and human visitors can quickly understand your news stories.
E-A-T
News publishers must share the latest events with readers and publish news stories as they happen. So, the best way to accomplish this is to distribute content that follows the E-A-T Principle. Content that embodies these characteristics fits perfectly with News Site SEO.
After all, the Google News Initiative rewards transparent and original news content with better page rankings. Add author bios and credentials to your articles to improve your transparency with readers. Also, as a news publisher, you must add information about your organization.
Thus, regularly posting valuable news content that follows the E-A-T principle can help readers stay updated with current events. As a result, your content has more chances to rank on search results pages.
Content Optimization
Content Optimization for News Publishers requires continuously publishing fresh stories. Of course, your content must be timely, informative, and SEO-optimized. For instance, news writers can use tools like Yoast SEO or Surfer SEO to improve keyword density.
You should distribute your keywords naturally throughout your content. In addition, you must add non-text media like images and videos and optimize them with Alt text.
Next, you must structure the content properly with headings. Dividing your content into specific sections can improve readability and allow readers to find the content they need. Also, you can incorporate keywords into those headings!
Well-written content will provide tremendous value to readers and readers to consume more of your news stories.
Technical SEO
In addition to on-page SEO, news publishers need to know about some technical SEO considerations. These include shortening site speed and mobile optimization. To improve website loading speed, you must do the following:
Implement caching;
Mobile-optimization. and
Streamline code.
As a result of these activities, news site owners can enhance overall performance and User Experience.
Optimizing your website's navigation is also crucial. Both human visitors and search engine crawler bots should know how to navigate your site to get the information they want. Part of this is streamlining your site's URL structure for added clarity.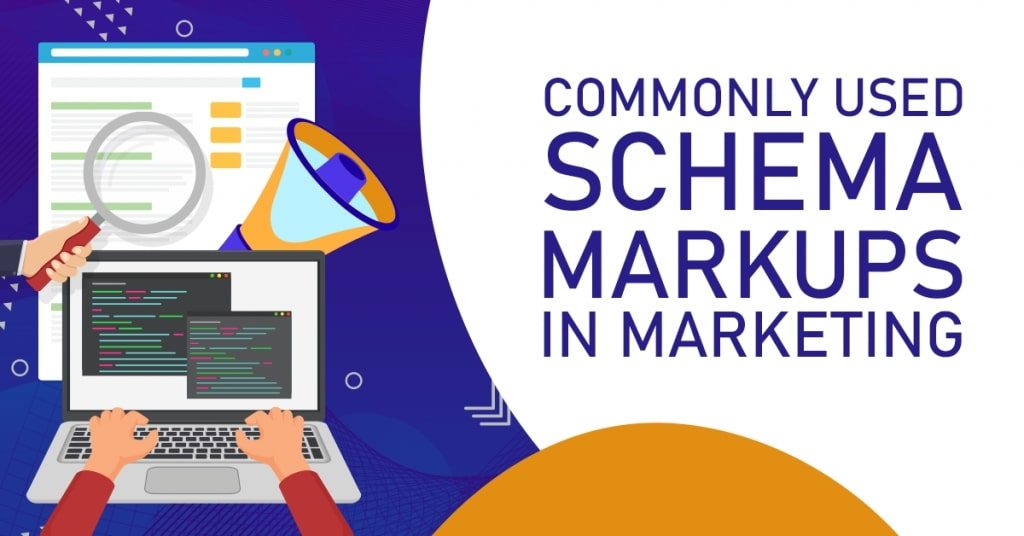 Lastly, you can leverage schema markups — which provide structured data to search engines — for even better visibility in SERPs. Thus, you have a chance to create Rich Snippets to display information about your content, including:
Headlines;
Images;
Publication dates; and
Meta descriptions.
These strategies can help your content stand out in SERPs to attract more organic search traffic to your news site.
Link Building
Links are necessary for your news website. Link Building for news sites is necessary to guide your readers to related content. By adding internal links, you ensure that people find related news stories and extend their stay on your pages.
In addition, you can establish a stronger linking profile by adding top-quality external links. Lastly, you can contact trusted sources for news and ask them to link back to your site. Consider creating guest posts in partnership with other news sites.
In addition to adding links from reputable sites and guest posting, news websites can leverage social media. According to Pew Research Center, half of adults worldwide get their news from social networks "at least sometimes." So, it's vital to be present on your socials with links to the latest developments on your site.
User Experience (UX)
User Experience is vital in News Site SEO as it can affect your website's standing in SERPs.
For instance, as mentioned earlier, navigation is critical to technical SEO. If search engine crawler bots have a hard time understanding (and indexing) your content, so will human readers. It's vital to allow people to find news according to categories via the navigation bar.
Considering Google's Mobile-first Indexing approach, you must also optimize your news website for mobile devices. On average, web traffic from mobile phones now outweighs that of desktops. Through mobile optimization, you can ensure your site is accessible and user-friendly to readers using smartphones and tablets.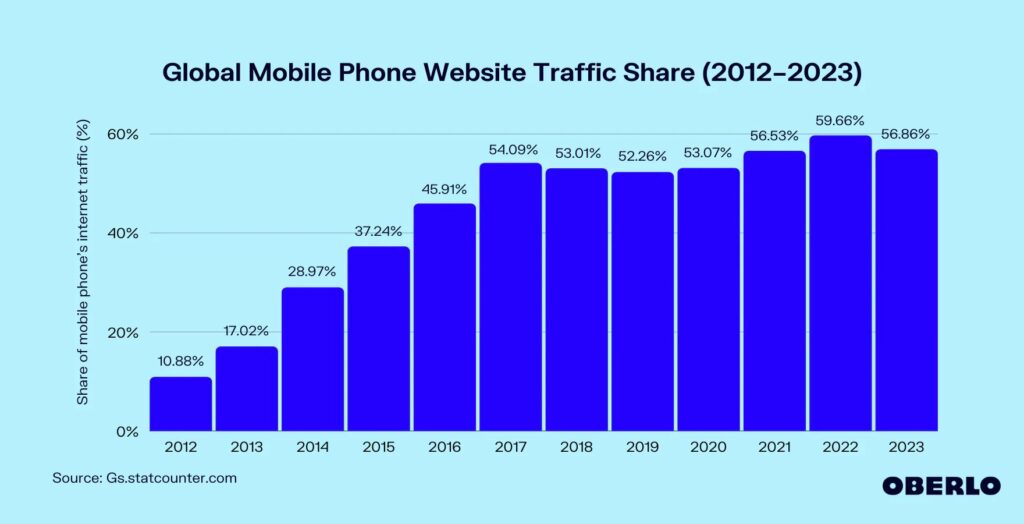 Source: Oberlo.
Also, eliminating ads improves UX, as they can cause slow loading times.
Analytics
SEO specialists know that it's vital to regularly measure your ranking efforts. The right analytics tools — such as Semrush and Google Search Console — can help improve your News Website SEO efforts.
With your analytics tools, you can track your news site's performance and gain insights into your current strategies. After finding the content strategies that are and aren't netting you the best results, you can make more informed decisions. These should be based on your traffic, rankings, and user behavior analytics.
So, analyze your data regularly to learn where to improve and adjust your SEO strategies as needed!
Voice Search and News Publishers
Voice Search is one of the critical SEO Trends of 2023. Thus, news publishers should take the time to optimize their websites for it. Nowadays, more people are relying on voice assistants, which can answer an average of "93.7% of all search queries."
Of course, if you optimize content for voice search, you can optimize it for Web Accessibility. More accessibility to human users means more visibility on search results pages!
A critical consideration for optimizing your news site for voice search is anticipating conversational queries. These queries often come in the form of more casual or complete sentences.
Final Thoughts
Boosting rankings for news websites can be challenging, especially with rival publications trying to gain readers' attention. Search Engine Optimization for news websites is crucial for getting ahead of competitors. Although SEO can yield organic traffic, keeping up with Google's standards is an ongoing process, especially considering its News Initiative.
The right SEO Strategies for News Sites and Publishers help you gain Google's trust and provide content to your readers. Following these practices, such as optimizing for Featured Snippets, ensure your site provides an excellent User Experience. As a result, you can put your site in an excellent position with search engines.
The ideal SEO Services in the Philippines can help your news website achieve high rankings for better visibility and organic traffic!