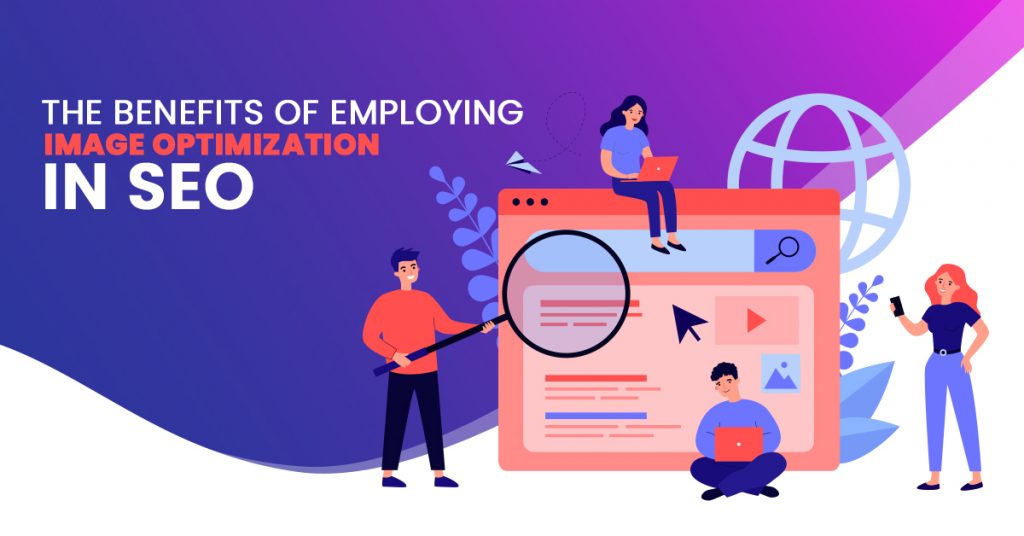 Mar 6, 2021
The Benefits of Implementing Image Optimization in SEO
Images are one of the most essential contents of a website. They provide the site visitor with a clearer vision of what your business is all about. Regarding search engine optimization (SEO), websites with images generate more traffic than websites containing pure text. They work even better if you optimized them correctly. In this article, let us discuss further the impact and benefits of image optimization.
What is Image Optimization?
For some people, viewing online content without images can be quite dull. Some are even discouraged from browsing a site because it has no pictures. For this reason, you should create websites using images. More importantly, you should optimize images for better SEO results.
We define image optimization as the process of slicing an image and reducing its resolution to make its file size smaller. We do this to make the image load faster whenever someone is opening or accessing your website. If you have web pages with images that are not optimized, these pages will eat up a lot of website speed, making a website's loading speed slow. Today, people would instead browse through a website that loads faster. As a result, your slow website loading speed will eventually lead to a decrease in website traffic.
Among the popular choices for image formats that people online use include JPEG and PNG. When you use JPEG, you get an image with a small size, but you may lose some of its quality in the process. However, you can make adjustments to get the right balance to achieve the image quality you need. On the other hand, the PNG format produces better quality images, but they come in larger file sizes.
Benefits of Image Optimization in SEO
Here is a summary of some of the benefits that you can get when you implement image optimization in your SEO efforts:
Image optimization helps improve your page loading speed. With a web page that takes too long to load, you risk losing site visitors to your competitors.
Image optimization helps your website rank higher on search results. These search engines will crawl and index your images. So, if your image has a large size, it will slow down your website. When search engines see this, they will rank you lower on SERPs.
Images with smaller sizes will use less bandwidth.
Images with smaller sizes require less storage on your server.
How to Optimize Images for Better SEO
A lot of people are fond of searching for images online. For this reason, images gather so much web traffic, which is why image optimization is important for SEO.
As such, here are some of the ways on how you can optimize images on your website:
Provide a Title

First, you need to think of an excellent title to give to your image. The image title can be the keyword that your particular web page is trying to rank for on search engine results pages (SERPs). Because of this, you need to give relevant titles to your image. It will also help if you use common or trending words or phrases that your target market or potential customers may type in on search engines for them to find your business website online.

Use Alt Tags

In this step, you need to make the search engine understand what your image is all about. You can do this by adding alt tags to your images. An alt tag allows search engines to locate your image and have them displayed on SERPs. The alt tag in an image helps a site user find your image and your website online. An alt tag may look like this: < img src="kittens-and-puppies.jpg" alt="Kittens And Puppies" />.

Reduce Image Size

Today, you are provided with various online tools which can help reduce the size of your images. Kinsta lists down some of the online tools or programs you can use for image optimization, including Adobe Photoshop, Gimp, NET, GIFsicle, JPEGtran, JPEG Mini, OptiPNG, pngquant, FileOptimizer, ImageOptim, Trimage, and ImageResize.org.

Place a Caption

Here, it would be best if you wrote a caption about what your image is all about. Make sure that your caption should not only capture a site visitor's attention. Your caption should also keep your visitors longer on your site to reduce the bounce rate. Search engines measure a website's bounce rate by determining how long a user stays on the site before heading back to the search engine because they did not find what they were looking for. Thus, an increase in bounce rate negatively impacts your SEO, which means bad news for your website.

Save Using Relevant Filename

Lastly, you should save your image using a filename that is relevant to your business or industry. Like the alt tag, the image filename should include keywords or phrases that people most commonly search for online. Moreover, the filename can also include your brand's products or services. The ultimate goal of image optimization is to get your image displayed on the first page of SERPs.
Check out more image optimization tips from Search Engine Journal.
Image Optimization Promotes Better SEO
Optimizing your images might sound like extra work, but the benefits that come from doing so can be quite rewarding. It is essential if you want your website to load faster and generate more traffic. Also, with image optimization, photo sharing on social media networks becomes easier, which helps in your marketing campaigns.
Overall, if you optimize your images, your website is more likely to rise high on search engine rankings. So, feel free to add a little more interest and color to your website by including images. If you need help with image optimization, you can hire a web design and development company from the Philippines and improve your SEO campaigns!