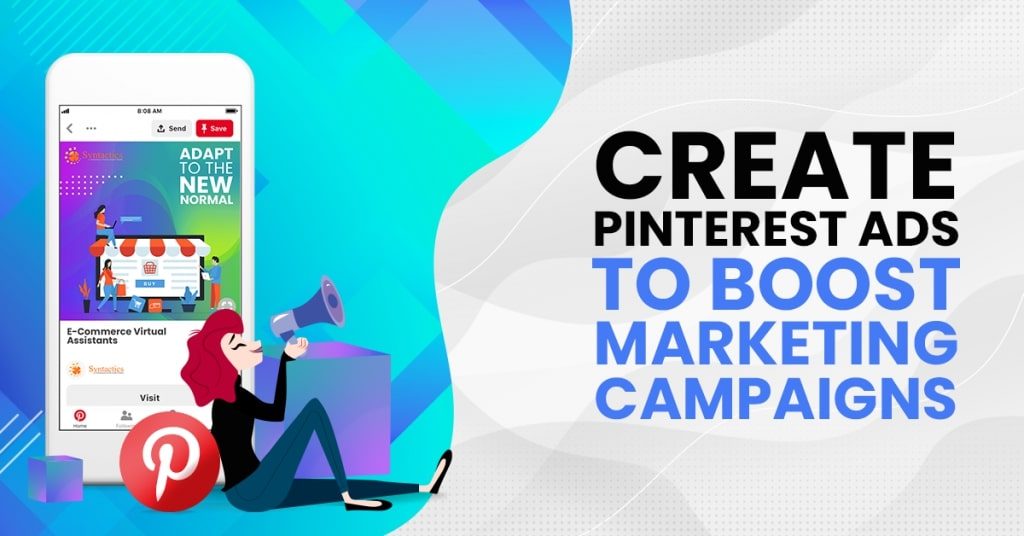 Nov 6, 2020
Create Pinterest Ads to Boost Marketing Campaigns
Pinterest is considered as a visual discovery platform where users can find fresh and unique ideas and products across industries and interests, including recipes, DIY ideas, and home, style, and fitness inspiration. It is also one of the social media platforms most utilized by companies offering social media marketing services in the Philippines. Hence, this article shall serve as a guide on how you can create Pinterest ads to expand customer reach and boost marketing campaigns.
Why You Should Use Pinterest Ads
With more than 416 million users worldwide as of the second quarter of 2020, Pinterest offers business owners and marketers with a platform to raise awareness about their products and services. For this reason, a digital marketing company in the Philippines places content on Pinterest to increase the chance of users making a purchase or completing a transaction on their business website after users see their content on the platform.
Moreover, here are the types of Pinterest ad that you may incorporate into your marketing campaigns:
Promoted Pins

Similar to a regular pin, these pins appear in the home feed and search results. They are boosted and targeted to get more reach. Every time users tap on your ad, they will be taken directly to your landing page.
Promoted Carousels

These utilize 2 to 5 images that users can swipe through. They appear and behave like regular pins, but they have dots on the bottom, telling users that they can swipe the images left or right. This ad is great if you are featuring multiple products with different images, titles, descriptions, and landing pages.
Promoted Video Pins

This promoted pin uses a video instead of an image. They appear in the home feed, in search results, and on the "more like this" section of a Pin close-up. Also, videos automatically play when they are fifty percent in view.
Promoted App Pins

Through this ad, users can directly download mobile apps from Pinterest. Also, they look the same as a promoted pin, but they are linked to a digital distribution platform such as Google Play Store, the App Store, or iTunes.
Buyable Pins

These pins allow users to look for and purchase products directly from Pinterest. They also appear where promoted pins would, but the items in the image are tagged with (5 to 6) dots which users can tap on to display links to product information.
Story Pins

These pins can feature up to 20 pages of images, videos, text, and links. They appear in the home feed with a title and a cover image. When users tap on it, they will get to see all of its pages.
10 Steps in How to Create Pinterest Ads
Now that you are familiar with the types of ads that you may incorporate into your campaigns, here are the steps to create Pinterest ads:
Register Business Account and Install Pinterest Tag 
Firstly, you can start by converting your existing Pinterest account into a business account or create a new one if you don't have one.
With the Pinterest Tag, you can keep track of the actions (searches, sign-ups, checkouts, etc.) that users do on your site after seeing your ads on Pinterest.
Select Campaign Goal
 Next, head to the Pinterest Ads Manager. Under the Create tab, click on Create Ad.
Here, you will be provided with three business goals to choose from. First, drive consideration by increasing traffic to your website through high-quality leads. Then, second, build brand awareness by helping people discover your brand, products, and services, or by promoting video content. Third, get conversions by driving people to take actions on your websites.
Setup Campaign Details
Under Campaign details, enter your campaign name and set your corresponding daily and lifetime spend limit. Then, identify the campaign status by clicking on Active or Paused. Click on Continue.
Create Ad Group
You can create a new ad group or choose an existing one. Each ad group can have different audience targeting and assigned budgets. They can help manage multiple goals for a single campaign.
Add Interests and Keywords
 By adding interest and employing the right keywords, you can improve reach and increase click-through rates. These ensure that your ads target relevant searches and interests.
When you create Pinterest ads, it is recommended to use 25 keywords, which you can format to indicate a broad match, phrase match, or exact match. You can also input negative keywords to exclude search terms from triggering your ads.
Indicate Target Audience
You can target your audience based on their gender, age, location, language, and device used.
Pick Ad Group Placement
The "All" group placement is set as the default to indicate where you want your ads to appear. However, you can also choose between "Browse" or "Search" when you create Pinterest ads. Browse placements appear in the home feed and related pins. Search result placements work best when you target using the proper keywords.
Set Budget & Schedule and Optimization & Delivery
 Set your daily or lifetime budgets. The former sets the daily spending limit for your ad group while the latter is the total amount that you prefer to spend on the campaign duration.
For optimization and delivery, you can choose between Automatic or Custom biddings. Automatic biddings aim to get the most clicks for your budget, whereas custom bidding lets you control how much to bid at auction.
Pick Promoted Pins
 Click a pin to add it to your ad group. Make sure to include two to four pins in every ad group when you create Pinterest ads.
You can select a pin that you have used before or create a new one. Additionally, you can check out these tips on how to design your social media posts using Adobe.
Then, assign each pin with a name and a URL.
Monitor Campaign Performance
 Lastly, to measure how your campaign is doing, click on Analytics from the Pinterest Ads Manager dashboard. Then, you will see an overview of all the campaigns and their corresponding key metrics, such as total clicks or impressions, engagement rate, the average earned and non-earned cost-per-impression, effective cost-per-click, and total spend.
Under Analytics, you can also check for Audience insights.
Advertise on Pinterest with the Help of an SEO company in the Philippines
All in all, with Pinterest, business owners and marketers can broadcast their ideas, concepts, products, and services to countless individuals and other business entities in one engaging and modernized platform.
Create Pinterest ads and advertise on the platform with the help of an SEO company in the Philippines that offers digital and social media marketing services. Save time creating and managing ads for your business!