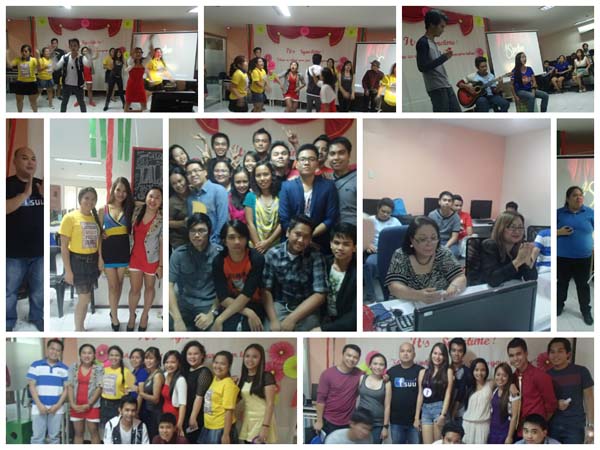 Sep 19, 2014
Syntactics, Inc. Presents "It's Sync Time!" Show Us What You Got, Share Your Talent!
September 12, 2014 – Cagayan de Oro City, Philippines – Syntactics, Inc. -Had its week-long activity organized by the Online Marketing Team called "It's Sync Time!" last July 10 to 14 2014.
Employees from Syntactics, Inc. were given the opportunity to show more than just their IT-related talents. They released their inner 'divas' and 'divos' through singing, acting, and dancing!
With its tagline "Show us what you got, share your talent!" the daily activities of It's Sync Time focused on bringing out the Hollywood celebrity hiding in every employee. This was definitely a week where no one had the time to be shy wallflowers. Everyone had to go all out!
Here's a timeline of the events that happened throughout the week to give us a clear picture of all the fun:
July 10 – Sync Along Bee: Two representatives of the three teams (Red, Blue & Yellow) battled it out through their voices and knowledge in music. Each pair selected a song they would sing along with the song's lyrics provided through a projector. However, there was a twist! Some words or lines of the song were taken out, so they had to continue singing along by correctly guessing the missing words/lines! Red came out on top with a nearly perfect score, followed by Blue and Yellow.
July 11 – Act Mo To!: This time group of 4 from each team were tested on their acting skills! 2-3 people from each group were given a 1-minute movie clip to act out as accurately as they can. Their other member was then responsible for guessing the title of the movie where the clip came from. The participants reenacted popular Filipino and American films like One More Chance and Harry Potter. Once again Red Team dominated this activity, followed by Yellow and Blue.
July 13 – Sync Quiz Trivia: It was a battle of who knows the entertainment industry best! Each team had three representatives, those who knew the most about music, celebrities and movies like they were members of the paparazzi! The questions revolved around both Filipino and international movies and the music industry. Blue proved they had superior knowledge on these topics by coming in first, followed closely by Red, and then Yellow.
July 14 – Culminating Activity: On this day the phrase "Break a Leg!" fit perfectly with the activities. This is because all team members were ready to share their talent on the Rap Battle and Musical showdown which they rehearsed for a good number of hours.
Everyone was dressed as their favorite celebrities making the Syntactics office like a popular Hollywood club! The culminating activity was then truly graced by the presence of local and international celebrities like Solenn Heussaff, Lea Salonga, Vhong Navarro, Justin Bieber, Katy Perry, Lady Gaga and more!
The competition started heating up during the Rap Battle where rhythm, timing and creative lyrics about talents brought out the songwriters and musicians in the participants. Among the three teams, it was the Blue team that won over the judges, with Yellow coming in second followed by the Red team.
However, that was only the beginning, people were still on the edge of their seats for the next and final activity: The Musical! During this part of the event, each team was randomly given a popular musical show they had to reenact.
Following the same order as the Rap Battle, Yellow performed first with their rendition of High School Musical's "All In This Together". Next, Red rocked it out with their version of Camp Rock's "It's On!". Finally, Blue wowed the crowd completely with party poppers in their reenactment of Glee's "My Life Would Suck Without You".
After the flurry of colorful performances, Blue claimed first place once again for the Musical, followed by Yellow and Red. A "fashion show" then followed after a while the committee tabulated the scores to come up with the over-all champion.
So, the team who came out at the very top and who showed to be the most talented was the Blue Team. The Red Team claimed Second Place, and the Yellow Team in the Third Place.
Through "It's Sync Time!" We all saw that everyone has a talent worthy of an award, whether it be a Grammy, Oscar, or even a Golden Globe award!
For this month of September we will again have our week-long activity called "Sync Around the World" from the Apps Department. It will start on September 22 and the culminating activity will be on September 27, 2014.
We can't wait for September 22 to come!