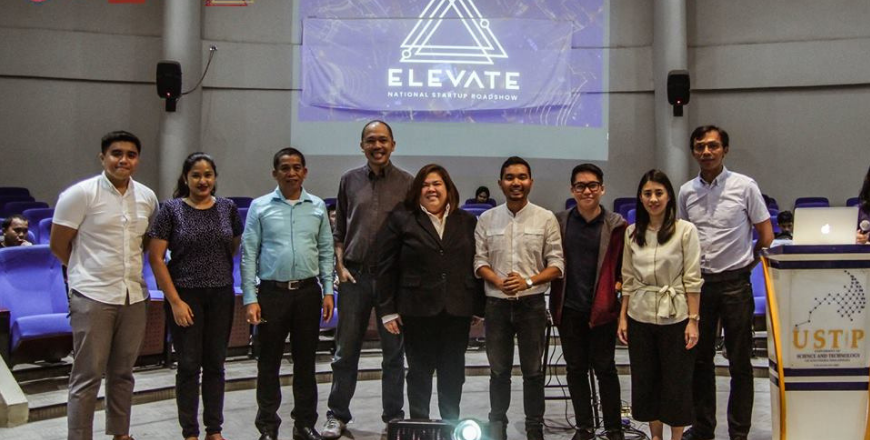 Sep 7, 2018
Elevating Kagay-anons through Technopreneurship
Last August 24, 2018 – Impact Hub, in partnership with the Department of Information and Communications Technology (DICT), held the Elevate National Roadshow to gather startup leaders at the 6th Floor Performing Arts Theatre, University of Science and Technology of the Southern Philippines. With the goal to build the Philippine startup ecosystem, furnish and empower rising entrepreneurs and the startup ecosystem in Cagayan de Oro City, the event was hosted by University of Science and Technology of the Southern Philippines. It was headed by Mr. Bronson Mabulay.
Dr. Ambrosio B. Cultura II, Vice Chancellor for research and innovation of USTP, delivered the opening address. He gladly welcomed all who eagerly attended the Elevate National Roadshow. The said event was also brought by CDO ICT Business, headed by Council President and CEO of an outsourcing company in the Philippines, Ms. Stephanie Caragos – an inspirational woman who began a startup business with her college classmate, Wilfredo P. Kaamino, Jr., as they wanted to provide jobs for the local Kagay-anons. This startup business was the EBS Accounting Software Solutions. It has now successfully grown to what is now known as Syntactics, Inc. 
Furthermore, Ms. Caragos shared her advocacy in building awareness and promoting innovation as she delivered her keynote address. Guest speakers: Mr. Ruel Amparo, Mr. Gerald Castillo, Ms. Guita Gopalan, and Mr. Carlo Valencia then followed.
All in all, these people began as start-ups and have now reached the stars. They shared their expertise as a testimony to how hard it was when they started and to how rewarding it is to have begun as they did.
Start-Up 101
The start-up experience introduces an entrepreneurial mindset to students. Almost or about 90% of the participants were college students, divided into big groups that created two teams.
The workshop during Start-up 101 set a fire in their minds. It also inspired them to become innovative by coming up with a start-up idea. While planning their start-up idea, the entrepreneurship workshop simulated true to life start-up building by challenging participants to identify problems and finding the solution through technology and entrepreneurship. They were even asked to pitch their ideas.
Lastly, the expertise, ideas, and experiences combined with an understanding of start-up culture from the speakers as well as the results of the workshop can definitely help in establishing great models of technopreneurship. Hopefully, they can start encouraged as they journey to being a start-up entrepreneur and reach for the stars themselves.