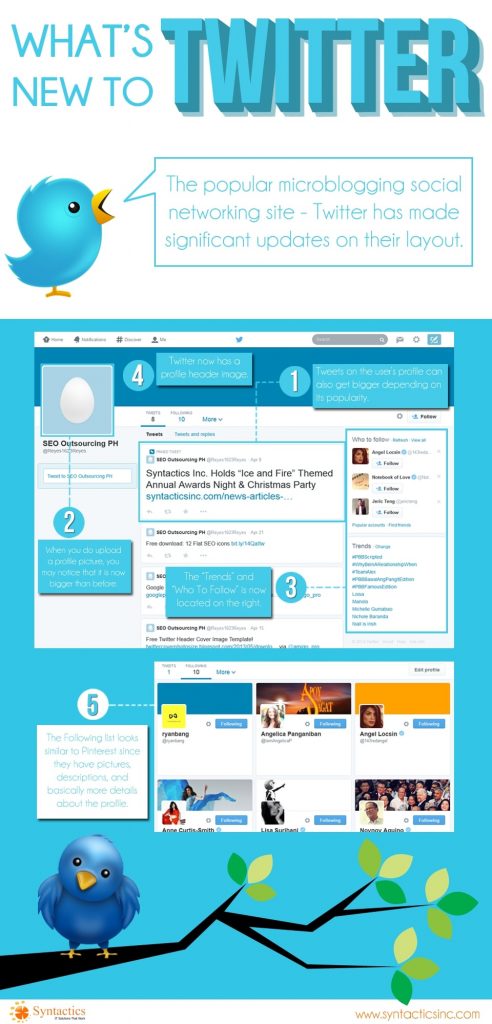 Apr 29, 2014
Twitter's New And Improved Layout
The popular microblogging social networking site – Twitter has made significant updates on their layout. It no longer looks just like a simple collection of the user's tweets, now it has more aesthetic value and looks considerably better.
Reviews have stated that the new user profile looks kind of similar to the Facebook profile. The new profile looks bigger and spacious compared to the old one that looked pretty small and cramped.
Tweets on the user's profile can also get bigger depending on its popularity. The new profile is less text-heavy, which makes it look more interesting and less overwhelming to new users. There is still a certain issue though with the tweets being in a big text for those who just got a Twitter account. These tweets are probably considered "popular" since they have no followers or previous retweets yet.
When you make a Twitter account, certain features are also very different. Twitter fans are probably familiar with the small box on the left that displays the profiles of suggested people that you can follow.
They still have that small box of recommended Twitter profiles, but now they made it a little different if you want to find celebrities and other famous people. Twitter now has profiles of famous people grouped into categories like Sports, Music, Photography, etc. That way, it's easier to find your favorite singer or movie actor.
During the process of making your account, when you do not have a profile picture yet, it will display a person's silhouette. Again, this is another similarity to Facebook, where it also shows a person's silhouette when you have not yet uploaded a profile picture. The old Twitter usually had eggs as your temporary profile picture, which probably symbolized your unhatched Twitter birds.
When you do upload a profile picture, you may notice that it is now bigger than before. Moreover, Twitter now has a profile header image, which works similarly like the Facebook cover photo.
Your Twitter name, description, handles, picture and links are on the far left while the "Trends" and "Who To Follow" are on the right. What's missing now in the new profile is the joined menu of Tweets, Following, Followers, Favorites and Lists.
The Following list is no longer a simple layout of the people you are following. It now looks similar to Pinterest since they have pictures, descriptions, and basically more details about the profile.
If you find yourself wanting to edit your profile you are lucky because it has improved to make editing easier. Another new feature of Twitter is you can now pin important tweets so it is the first thing people see when they visit your profile. It is kind of like how "admins" in Facebook groups can pin their posts.
Generally, the new Twitter layout looks great and more user-friendly, even though it does have some noticeable similarities to Facebook. I used to have a Twitter account but stopped using it because things like that and Instagram bore me pretty easily.
It was still the old account when I stopped using so all these changes can seem a little alien to those who are used to the old one. I even read that Twitter is no longer very strict when it comes to the 140-character word limit, which is usually very constricting in adding links in your Twitter statuses.
If you have an active Twitter account explore the changes yourself and marvel at their improvements. With its new design, Twitter now looks more than just a simple microblogging site.