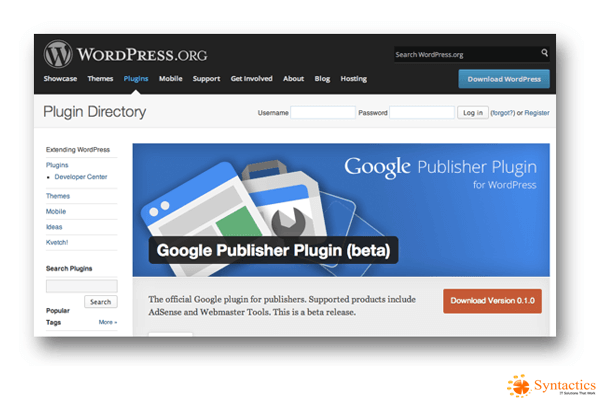 Mar 24, 2014
Verify Your WordPress Site and Manage Your AdSense through Google Publisher Plugin
In their aim to help WordPress website makers and owners, Google released the Google Publisher Plugin for the said website platform. The Publisher Plugin is still in beta form, but it enables you to access Google AdSense and Webmaster Tools for your WordPress-powered websites.
Since the Publisher Plugin is a beta release, Google emphasizes that they are still working on it to make sure that it works well on many WordPress websites. In other words, do not be surprised if you can encounter bugs while using the Publisher Plugin because Google is still fine-tuning it to various versions of WordPress.
Here is the detailed information about what you can do with Google Publisher Plugin:
Google AdSense. You already know that you can earn big money by placing various ads on your website. If you have a WordPress-powered site, it will be difficult for you to place ads on your site, but with the Google Publisher, the plugin can link your WordPress website to your AdSense account. As a result, it would be much easier for you to place ads on your webpage without really needing to manually modify any of the site's HTML code.
To use the AdSense products from your WordPress site, you need to have an AdSense account. If you do not have any, the plugin will take you to the Google AdSense page where you can create one. Once you have an AdSense account you will then be ready to add advertisements to your website.
Google Webmaster Tools. It will be easier for you now to get detailed reports about your pages' visibility on Google as the plugin allows you to access the Webmaster Tools. Thus, verifying your site on Webmaster Tools is just a click away. To verify your WordPress-powered website with Google Webmaster Tools, just click the "Manage Site" button. You will be taken to the Webmaster Tools page where you can easily check your website's real status, understand the search traffic, know how online users find your site and optimize your web page to meet the standard of Google. Easy, right?
Important things to remember:
Google Publisher Plugin is not currently applicable with blogs hosted on WordPress.com. WordPress.com only allows a limited choice of plugins and the Google Publisher Plugin is still not on the list. However, Google strives to change this and allow everyone to use their plugin.
The Google Publisher Plugin is still new and it will definitely improve in the coming years. Do not be surprised by what Google will include in the future versions of their newly released Publisher plugin.
What can you say about the Google Publisher Plugin?