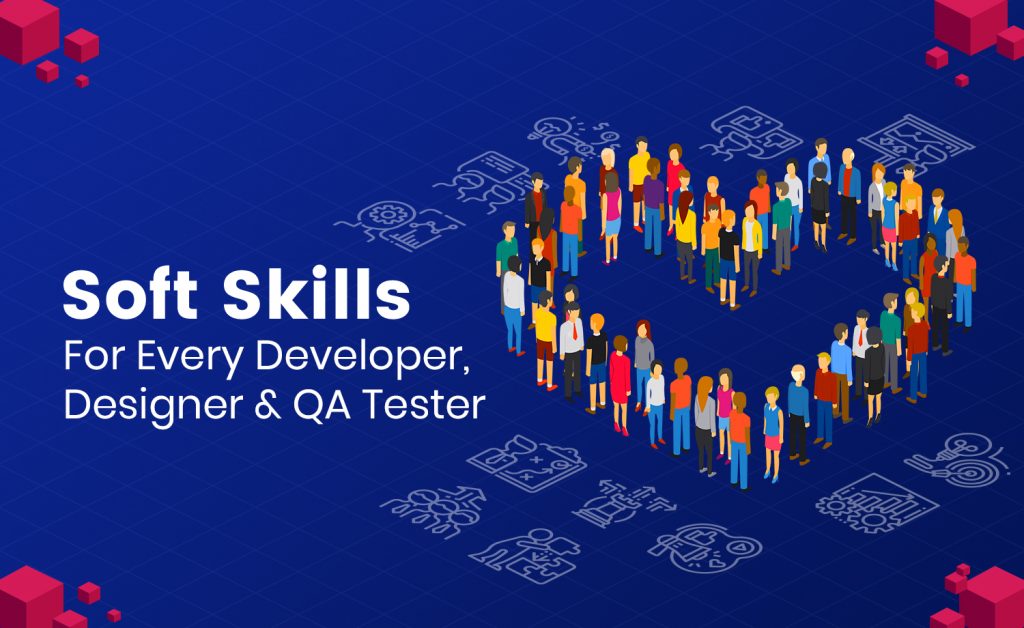 Mar 20, 2019
Soft Skills for Every Developer, Designer and QA Tester
More than just communication skills
Most often, people are hired for their technical capabilities and hard skills.  These skills are acquired through education, certifications, on-the-job training and special training programs. As such, they are easy to define and measure.
A hard skill, for example, of an IT professional is being able to work with different computer programming languages or web designing.  For a non-IT career, cooking is a hard skill for chefs.
Soft skills, on the other hand, are referred to as people skills. Some would immediately associate it with communication skills. However, soft skills actually cover beyond just effective communication, both verbal and nonverbal, and the art of listening.
Soft skills for developers equally important to IT hard skills
Here's why IT companies need to also consider soft skills for web and software developers, dedicated designers, and QAs.
Deloitte's 2018 Global Human Capital Trends reports that executives now consider these skills significant to fostering employee retention, building a meaningful workplace culture, and improving leadership. In fact, 92% of the respondents rated soft skills as a critical priority.
Finances Online also listed down the most in-demand soft skills in any industry this 2019:
Creativity.

Companies need innovative people to develop new ideas and fresh solutions to common everyday issues which others have overlooked.  Strategies can be then conceived to tackle difficult scenarios and overcome challenges.
Persuasion.

This art of communication is rare but can be learned. It goes beyond effective communication that allows a speaker to change his or her audience's attitude or behavior toward a particular idea or object by using either written or spoken words and visual tools for reasoning.
Collaboration.

Other words like teamwork and blending well with others come across as synonymous to this skill. Today, working well with others is a key factor to the business success. Together, everybody can accomplish more.

According to Salesforce, 86% of employees and executives fail due to lack of collaboration and ineffective communication in the workplace.
Adaptability.

People who are adaptable will likely be your best hire. HR managers always look for candidates who can grow and and assume bigger responsibilities as the company innovates and evolves. It's considered a hard-to-find people skill among millennials.

A CareerBuilder survey showed only 45% of employers expect new hire fresh graduates to stay within 2 years or less. With the same survey, 42% of employers who expect job-hoppers come from the IT industry.

Furthermore, if a well-skilled employee also leaves, there is also a cost related to missed opportunities, potential incomes, or perhaps training and time expenses in looking for a replacement.
Time Management.

Effectively managing your tasks in the shortest time possible allows employees more room for business productivity and personal time. Prioritization also falls under this skill that shows how employees cope up with a lot of things under his or her plate.
Leadership.

A leader displays a sense of accountability, responsibility and ownership in the respective function and role that he or she plays. In addition, a leader can outperform competition and drive change essential to the business' success. Each company expects every employee to be leaders in their own circle of influence. Hence, this is even considerable as the most important among the people skills.
Culture Fit

.

Employees that display culture fit are expected to have greater job satisfaction and heightened job performance. If a candidate will easily mesh with the company culture, this means that they are more likely to stay longer in the organization.
These are pretty much harder to define and evaluate. But human resource specialists can strategically ask questions that can provide them hints if the necessary soft skills are present.
Practical ways to develop soft skills for developers, designers and QA testers 
So how do we start improving our soft skills?
You can begin honing your soft skills in the workplace as well starting with these principles:
Show empathy

Listen and respond

Be patient

Display helpfulness

Be approachable

Have an open mind

Solve problems together

Be creative, not repetitive

Have a strategy for everything

Be accountable and own your role

Manage tasks and resources



Additionally, here are also things related to soft skills to keep in mind:
Know when and how to ask the right questions to your teammates, employers and clients.

Keep your focus on what the business stakeholders care about.

Consistently improve on how to play well with others. The beginning is always the hardest.

Learn how to deal conflicts with other people.  It's not always a smooth-sailing ride.

Set time to forget about your tech gadgets and converse with your teammates. Additionally, it's not always about tasks to do but with whom you are doing them with.
Transformation from inside out
As a recommendation, let's not just focus on what employees are only capable of. I'm sure your technical skills are excellent. But hard skills alone will not be enough to push careers forward. Rather, interpersonal skills are equally, if not more than, as important in a workplace filled with other people.
In this digital era, technology like mobile phones and other tech stuff has everyone's attention almost all the time. Therefore, these people skills become more significant and relevant to practice today.  We must not forget to connect with other people too.