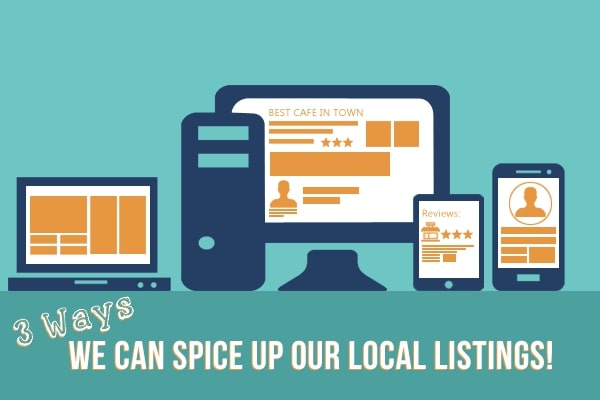 Jul 4, 2014
Three Ways We Can Spice Up Our Local Listings!
The Philippines is no exemption to the growth of web development and Online Marketing. These days businesses are exposed to newer and fresher strategies they can do online, for example, Google+ Local Listings.
You may ask, What is Google+ Local? It's a free online application from Google, itself. What does this application do? It allows businesses to have a higher chance of being discovered, most especially locally.
Local Listings
Why is this helpful? Well of course because people around your area can get to know you more! They're more aware of the fact that you actually exist. This, of course, is something every business owner would want for their establishment. Plus, customers can rate and review your listing. This gives you a chance to know what they think about your business!
If the goal is international recognition, it is crucial to start locally as every big break starts small. Google+ Local can be a great start for any business owner, plus it's FREE! Who doesn't love free stuff?
So, if you're serious about creating your own Local Listing or you want to improve an existing one, here are a few tips that might help!
Find It!
It is as simple as that. After that, we have to make sure it is claimed and verified. If not yet, now is the time to do it! Next, we have to focus on choosing the right and accurate categories for our business and writing an enticing description. This description should be kind of like a pretty girl hiding half of her face behind a fan. It shows enough to attract people and to arouse their curiosity, but also shows too little that they have to know more!
Let People Review It!
These are the voices of the customers and are usually the opinions potential customers will like to hear! The listings also have a special feature where a person can rate the business using stars, with 5 being the highest number of stars one can get. There are many ways for us to get reviews and the simplest way to do so is just to simply ask them! This actually works! Other ways that take a little more effort is to put a Google+ Listing badge on our websites with a "Review Us" call to action. If we are the type of website that sends out newsletters every now and then, we can also include a link to the "Review page" on the newsletters.
Accessorize It!
Just like how ladies like to add a few earrings or necklaces to spice up their outfit, our Local Listings can become even more enticing with a few accessories! One of these accessories is still only available in the United States, but it is better to get a heads up so we can grab the opportunity quickly! It goes like this, Google is now starting to insert data from other sites to the listings. An example is if we try to search a restaurant that subscribes to a website that provides online restaurant bookings. When we do that we can notice a link to that online bookings website on the listing! This does not only encourage people to make a reservation right there and then, but it helps both our business and other businesses/websites that are helping us!
It is never too late to jump on the Google+ Local bandwagon and start making listings! Go ahead and try it for yourself and you may see just how it can improve your business.