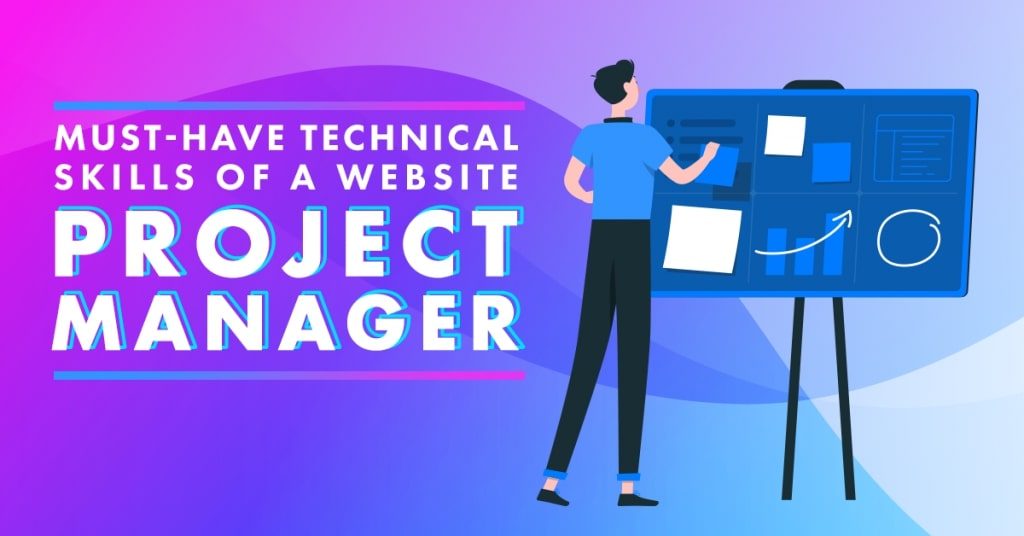 Jan 29, 2021
Must-Have Technical Skills of a Website Project Manager
Managing a website project can become quite tasking, especially if you are busy running a business. Thankfully, business owners can employ a website project manager to help plan, design, develop, and manage business website projects. Let us explore how these dedicated project managers can help your business website operations run seamlessly.
What is a Website Project Manager?
A website project manager is the leader of a team of creative professionals assigned to build, develop, and manage a website project. Based on their client's requirements, the website project manager establishes the scope of the project. They are also responsible for ensuring the project's completion according to the timeline agreed upon. The dedicated project manager also designs, develops, and delivers solutions to achieve the project's goals, aligned with the business objectives.
As such, the website project manager regularly reviews the tasks assigned to their team members. As the leader, the dedicated project manager needs to ensure the timely delivery of projects to guarantee customer satisfaction. Moreover, website project managers will also have to collaborate with their client's company's leaders to create innovative web and business solutions for their future projects.
Must-Have Technical Skills of a Website Project Manager
IT Infrastructure and Architecture
First of all, a website project manager should know their client's IT infrastructure and architecture. When we talk about IT infrastructure, it refers to the composite hardware, software, network resources, and services needed for the existence, operation, and management of a company's IT environment. It is usually internal to an organization and deployed within its facilities to help deliver IT solutions and services to its customers, partners or employees.
Moreover, a website project manager should also have a background on the role of IT architects in designing hardware, software, network, and IT solutions and services that define the business models, specifications, implementation road maps, and other guidelines of the business.
Spreadsheets
An efficient website project manager helps the team see the work needed to deliver the project in time. To do this, a website project manager needs to know how to utilize spreadsheets such as MS Excel and Google Sheets to help the team see the project's overall plan and timeline.
The use of spreadsheets allows the dedicated project manager and the rest of the team to know their respective tasks. For instance, there are Google Sheets features and templates for project management, including Gantt Chart, Project Timeline, Project Tracking, and Event Marketing Timeline. Therefore, spreadsheets can show the members of the development team who is accountable for a particular task. These help the website project manager keep track of the deadlines of each member's tasks and deliverables.
Technical Communication
One of the most vital skills that employees should have in any business is their ability to communicate well with the rest of the team. Effective website project managers should know how to communicate with their team. Clear and open lines among team members ensure that all their respective tasks and deadlines are well noted.
Website project managers serve as the bridge between the client and the rest of their team. So, they should also be familiar with technical and non-technical terms to address issues and concerns regarding the project properly. Along with this, a website project manager should be open to ideas and suggestions whenever needed. Most importantly, they should be capable of getting along well with all sorts of individuals to guarantee their project implementations' smooth flow and success.
Financial Literacy
 Today, finance is one of the essential aspects of modern society. Thus, the lack of financial literacy can damage an individual or an organization's long-term financial success. As the development team's leader, a website project manager should know how about budgeting and cost control.
Before a project begins, they should quantify an approximate the financial resources needed to achieve a client's objectives. Then, upon the start of the project, a dedicated project manager should know how to efficiently control and use their expenses to produce the best results while using the least number of resources and in the shortest time possible.
Project Documentations
Documentation is an essential part of making business operations work seamlessly. Through the documentation of a project, you can track the plans or models used, the resources used, the budget allocated, the people involved, the skills needed, and the timeline followed in its implementation.
It is crucial for a website project manager to know how to document their projects through project management reports, requirements document, project plan, work plan, and the like. Through these documents, your business can look back at previous projects. Doing so allows you to analyze its results and develop the areas that need improvement. These documents will serve as a reference, especially when a business is planning for its next projects.
Design and Analysis Tools
To create compelling websites, a website project manager needs to utilize particular design and analysis tools or programs. These tools will help them plan, implement, and manage every team member's tasks, workload, and deliverables.
Thus, a dedicated project manager should be skilled enough to employ these design and analysis tools to help achieve their team's goals in creating an effective website. Among the top picks for website project management tools include project collaboration tools (e.g., Basecamp, Asana, Slack), flowcharts, diagrams and wireframes (e.g., Moqups, Mockingbird, Lucidchart), and mockups and prototypes (e.g., Invision, Adobe XD, MS Paint).
Hire a Dedicated Project Manager for Your Website Project!
Managing a business website may be too much to handle alone for your growing business. Why not employ a dedicated project manager to assist you in planning, building, and managing your website projects?
Make sure that everything is right on schedule. Hire a website project manager to streamline and oversee your website project today!