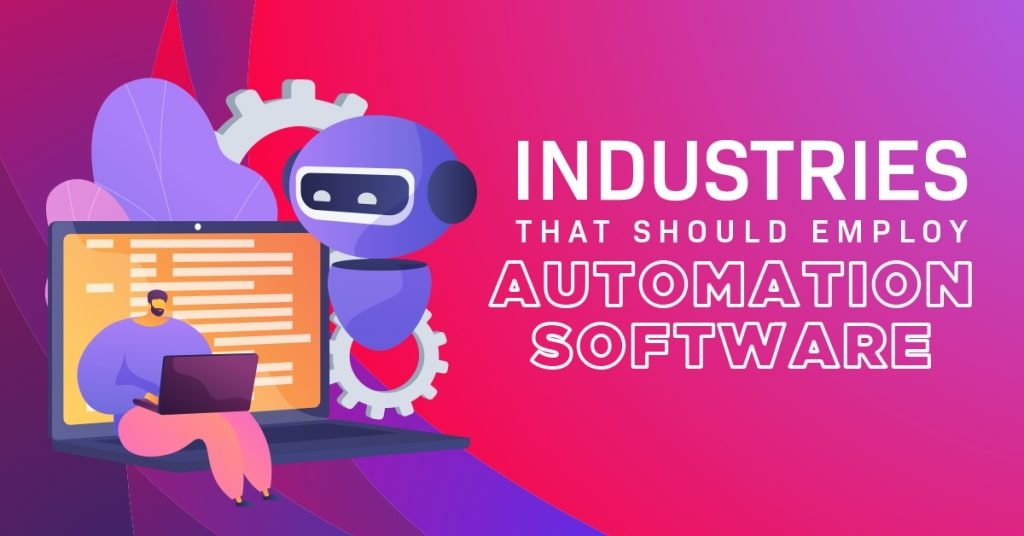 Feb 2, 2021
Industries That Should Employ Automation Software
Automation software through business applications development has made work operations faster, more convenient, and smart. Pair business application software with mobile devices, artificial intelligence, augmented reality, and virtual reality and you can do more than ever even while you are on the move. For this reason, it has come to no surprise that industries employ automation software to create new business solutions, engage better with their customers, and gain the advantage over their competitors.
This article lets us discover the business industries that can benefit from business applications development through automation software.
The Role of IT Automation in Building Automation Software
Designing and building software and systems to remove manual and repetitive processes is called IT automation. With IT automation, you can create and employ automation software that repeats instructions or processes to save time and increase staff work efficiency. If you employ automation software into your business, you can improve your work operations' speed, security, and consistency.
With the help of an IT automation software developer from the Philippines, you can perform various processes or tasks, whether these tasks are simple or complex. Today, we have automation software that incorporates artificial intelligence (AI) and machine learning to build smarter processes for various business needs. Despite how these technologies are still in their early stages, they are becoming more powerful and useful in creating more streamlined and efficient business processes.
Here are some of the benefits that you acquire when you employ automation software:
Quicker Operations. Through automation software, you can speed up data center and cloud operations and reduce service and resource delivery times.
Save Time. Automating repetitive processes free up staff, thereby giving them time to focus on more strategic and higher-level tasks.
Improve Security. You need lesser human interaction if you employ automated software in your processes, thereby reducing the chances of breaches.
Reduce Errors. With staff doing processes manually, there are higher chances for error. You can ensure consistency on a large scale if you employ automation software.
Reduce Costs. Labor hours are reduced due to automated tasks, thereby increasing productivity and resource utilization.
7 Industries that Need Automation Software
E-Commerce and Retail 
People nowadays would rather shop and purchase through mobile apps instead of browsing through business websites. Thus, by engaging with their customers through mobile apps, eCommerce companies have increased their sales. Companies in the eCommerce industry should employ automation software and utilize mobile apps to widen their exposure to potential customers and make more sales.
For instance, the retail industry can make use of online inventory systems in the regular update of their collection of clothes, accessories, shoes, and other products. Through mobile apps, they can provide high-quality images of their products. These business apps also employ automation software to send a real-time notification to clients about the latest products. It is also one way for businesses to showcase offerings, giveaways, and special bonuses to loyal customers.
Hospitality, Travel and Tourism
Among the largest service industries today include the hospitality, travel, and tourism industries. People who love to travel can now make travel arrangements, book their flights, rent cars, and more through mobile apps. Businesses can use their apps to provide customers with a sneak peek of their hotel rooms and rental vehicles. They can even notify customers regarding their booking details. As such, businesses in these fields need to ensure excellent customer experience as one of their priorities. This encompasses the customer's experience before, during, and after their stay in their establishment for hotels.
Therefore, they need to employ automation software through mobile apps to guarantee customer satisfaction in their booking process. The EaSync Booking Plugin for WordPress business websites, for instance, offers customers an automated and streamlined hotel booking or car rental process that they can accomplish with just a few clicks of a button.
Food Service
Today, restaurants and other foodservice providers employ automation software to engage better with their customers through mobile and business apps. They do this because mobile apps allow them to showcase their food products using high-quality images. Others even provide better visualization for their clients through augmented reality (AR), which lets customers see how their food would look like in real life.
Also, through mobile apps, people can order food online and have it delivered right at their doorstep. In addition, these mobile apps also help restaurants and other foodservice providers by giving their customers information about their establishment's operating hours, location, and contact information. It also allows customers to provide their feedback or review regarding the establishment's services, which helps restaurants improve their services.
Media and Entertainment
Most people today spend a lot of their time listening to music, reading news, or watching videos on their phones. The media and entertainment industries should employ automation software through their respective mobile apps to provide their audiences with more content such as music, videos, news, interviews, and more.
Through mobile apps, media followers can get real-time news and information about a sporting event that they are following. Video streaming platforms such as Netflix also employ automation software to allow their users to watch films, serials, and documentaries any time they want. These mobile apps also let music lovers get updated about their favorite artists' hottest tracks in the music industry. The use of geolocation allows media and entertainment providers to tailor content according to a user's current location.
Healthcare
Through automation software in mobile apps, healthcare providers can improve access to quality healthcare, doctor-patient relationships, and resource utilization. PxTrack Patient Tracking, for instance, is an electronic medical records software that stores patient information in a secure and cloud-based system for medical use by authorized healthcare professionals. The use of said software reduces hospitals or clinics' need to keep physical copies of their patients' charts and other health-related records and information. Doing so reduces the need to maintain a designated room for the sole purpose of storing confidential patient information.
Moreover, other healthcare business apps help increase patient knowledge by providing them with relevant information regarding their condition. Today, you can find mobile apps that you can use for losing weight, women's health, pregnancy, fitness and exercise, and more.
Finance
People rely on mobile apps to perform finance-related activities such as paying bills, transferring money, checking account status, taking out loans, paying fines, getting insurance, and other similar activities. These mobile apps offer customers a streamlined and more convenient way to process their finances without the need to go to the bank. They can do such activities anytime and anywhere as long as they have access to an internet connection.
There are even mobile apps that focus on budgeting, account tracking, and other general financial activities. It is vital for companies that deal with finances to employ automation software through finance mobile apps that are secure. They can guarantee this by employing security layers such as two-factor authentication and data encryption.
Education and Social Networking
Today's education system faced numerous changes with virtual classes' implementation as the primary mode of learning for students. Through the use of e-learning apps, we reduce the need to employ face-to-face classroom instruction. Instead of making our students come to school, we bring the school to their homes instead.
With this, social networking apps help connect people with similar interests or hobbies. As such, students and teachers alike can use social networking apps to facilitate in-house collaboration. They can also learn more about particular topics, widen their reach, and continue socializing despite the lack of personal interaction.
Employ Automation Software Through Business Apps
Businesses should ensure that their customers get quality service and products to maintain a lasting relationship with them. Therefore, businesses should employ automation software through business applications development in their business operations to streamline their activities and improve engagement with their customers! Work with a software company from the Philippines now!