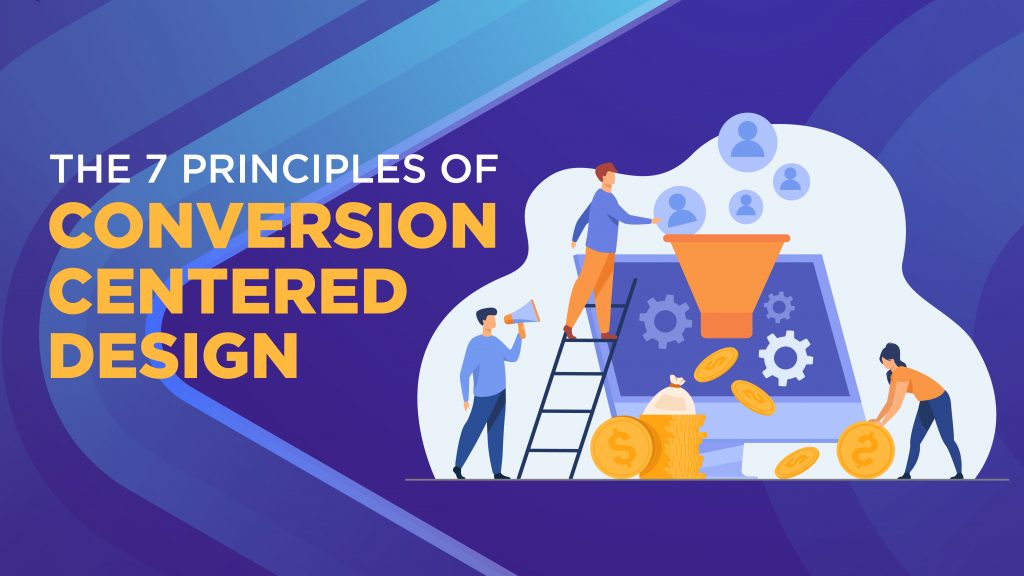 Mar 9, 2021
The 7 Principles of Conversion Centered Design
You have probably heard of and tried many web design trends to build an interactive, responsive, and professional-looking business website. As you may know, web design aims to create websites that are aesthetically pleasing to the eyes and are also functional and help drive customer conversion and increase ROI. As such, in this article, we will delve into the principles of conversion centered design and their role in building websites.
The Concept of Conversion Centered Design
A Conversion Centered Design (CCD) uses psychological triggers to convert a site visitor into a paying customer subtly. Through CCD, business website owners can guide the people visiting their site to purchase or finish a transaction. In this way, they turn a mere visitor into one of their customers.
You can best apply a conversion centered design on your website's landing page. We consider the landing page as our target market's entry points. The landing page is what our audience sees first upon opening our site. Thus, digital marketers create conversion-optimized landing pages and products pages and employ call-to-action (CTA) buttons to address customer goals and improve their SEO.
The Principles of Conversion Centered Design
Through conversion centered design, you can help drive customer conversion rates and guarantee your digital marketing success. Below, we will discuss the principles of conversion centered design. Moreover, we will talk about how they create a web design that helps improve customer conversion.
Encapsulation

We can also refer to this as the "tunnel vision effect". When looking into a tunnel or a framed subject, our eyes tend to look right at the end of it or into its center. Our eyes do not usually wander anywhere else unless another element catches our attention. As such, you can apply this principle of conversion centered design to make your CTAs the center of your site visitor's attention. You can use strong colors and dynamic shapes to do this.

Contrast and Color

Colors bring out various emotions from a person. There are color groups associated with warm, cool, and neutral emotions. Thus, if we want certain parts of our website to stand out, we have to use contrasting colors. So, study the color wheel and identify the colors that contrast with each other. Using this principle of conversion centered design will help you emphasize a specific part of your page.

Directional Cues

You should also provide your site visitors with directional cues. These cues will guide them when they are lost and do not know where to go next. On your part, you can use such directional cues to lead them where you want them to be. Directional cues also help encourage them to take action. Thus, you can employ this principle of conversion centered design using simple shapes, animation, and other elements that direct attention to a particular part of your website.

White Space

Others also call this "blank space". This principle of conversion centered design uses empty space to lead a site visitor's attention to what is essential on that web page. In this technique, everything else is white or blank except for one thing, which can be your CTA. With the proper use of white space, you help lead your customers and other site viewers to take action, such as purchase your products, book an appointment, or avail of your services.

Urgency and Scarcity

You can employ this principle of conversion centered design by using CTAs such as "Limited seats," "order before…," "offer only lasts until…," and other phrases that sound urgent and make one feel that they are running out of time. It is a compelling psychological motivator and works great for websites that use CCD. You may think these catchphrases may sound cliché, but they work! The sense of urgency and scarcity helps make people take your desired action.

Try Before You Buy

When promoting your products and services, you should not hide anything about it. Be as transparent as possible. Employ this principle of conversion centered design. Then, your customers will think that your website and your business are relevant and credible providers of their needs. For instance, if you are selling software, you can offer your site visitors a free trial version. Doing so will help them evaluate your product properly before they purchase or subscribe to the full version.

Social Proof

Let your target audience experience the feeling that something important is happening on your website that they should not miss. You can magnify this sense of excitement through the social media marketing and SEO combination, where you can showcase your brand and expand your audience reach. You can also show your market how many times your site, products, and services, have been liked, shared, tweeted, etc.
Increase Conversion Rates with Conversion Centered Design
Through these principles of conversion centered design, you can create a business website that not only looks good but also helps drive traffic, increases conversion, and provides excellent customer satisfaction. As such, if you need help building and maintaining your business website, you can seek help from a web design company in the Philippines to guide you along the way.
Did you find this article on conversion centered design useful? Please send us a message or let us know in the comments section below!