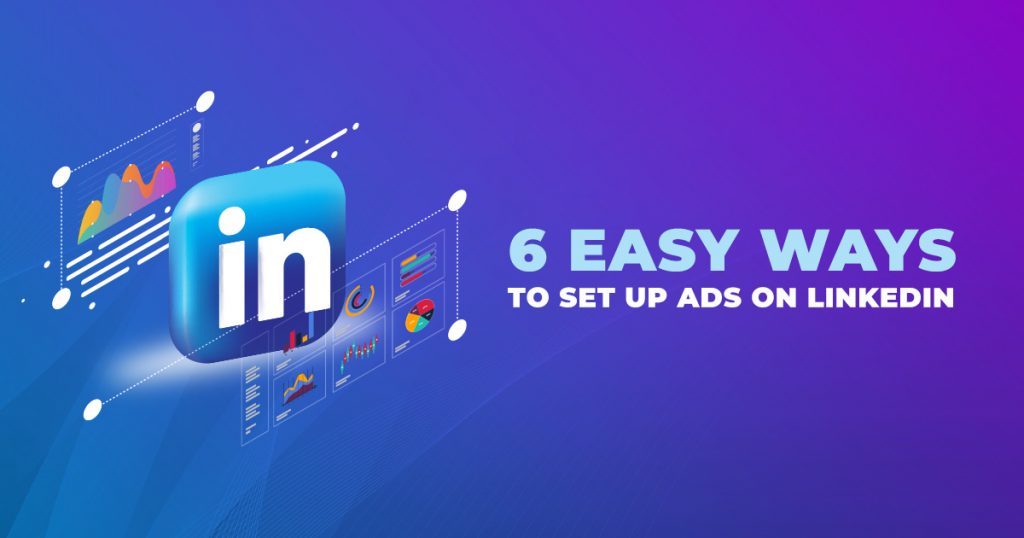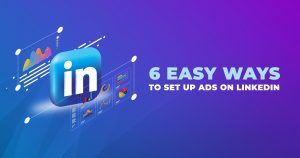 Oct 20, 2021
6 Easy Ways to Set Up Ads on LinkedIn
Did you know that you can advertise on LinkedIn? Yes, you can market yourself and your profile to the right audience and effectively grow your network! If you are interested in knowing how to do that, read on to discover the six easy steps to set up ads on LinkedIn.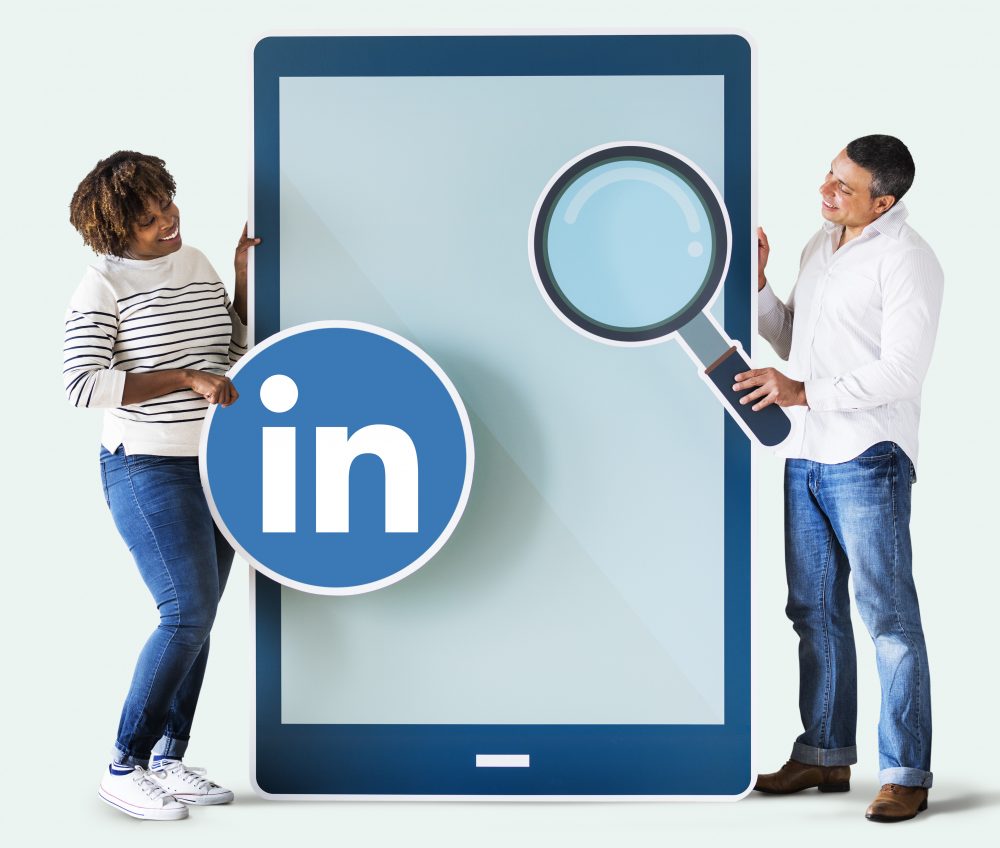 What is LinkedIn?
LinkedIn is considered the world's largest professional network that you can find online. It is a networking platform that allows employers to post job offers. As such, through LinkedIn, you can find a job or connect with other professionals, especially those that belong to your industry or niche.
LinkedIn also provides you with tips on how to improve your skills so that you can succeed in your chosen career. In addition, it allows you to showcase a professional profile, including your work experiences, skill sets, achievements, educational background, and more. The goal is to create a unique profile that would enable you to land the right job.
How to Set Up Ads on LinkedIn
Get Started with Campaign Manager
You can use LinkedIn's all-in-one advertising platform, Campaign Manager, to create either a self-service campaign or a managed campaign. However, you need to create a LinkedIn Ads account first to be able to use the platform and set up ads on LinkedIn.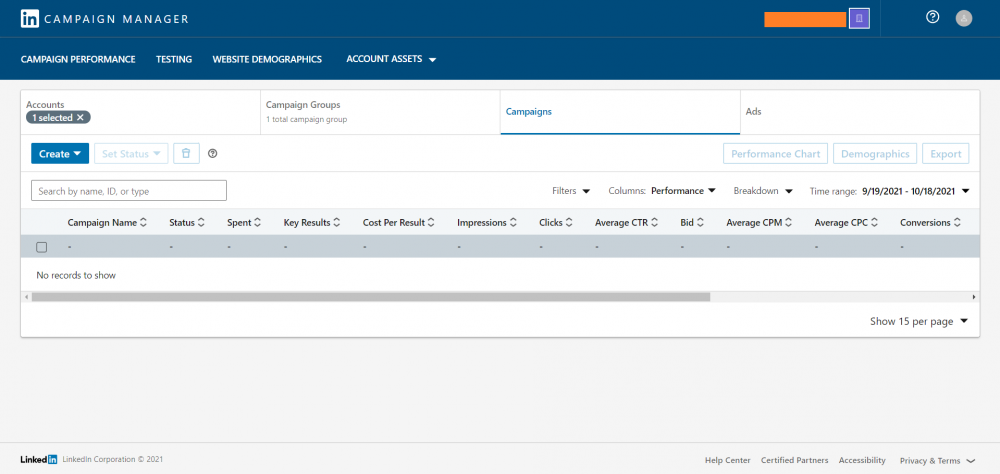 Through Campaign Manager, you can set a budget and select goals, such as clicks vs. impressions. You can also gain complete control over your campaign's timeline. Campaign Manager also allows you to create and manage your campaigns, view analytics and performance reports (clicks, likes, shares, comments, and follows), and manage account assets, including conversion tracking and Matched Audiences.
So, how do you use LinkedIn to advertise your professional services? Check out the six ways to set up ads on LinkedIn:
ONE: Choose Your Objective
When creating a campaign, the first step is to choose your campaign objective. What would the campaign be for? LinkedIn Campaign Manager provides you with three options: you can either choose to build your brand awareness (Awareness), increase site visits, engagement, and views (Consideration), or stimulate the lead generation and site conversions (Conversion). 

The goal or objective you choose will determine what will happen next in creating your campaign.
TWO: Determine Key Metrics
The next step is to determine the key metrics based on the campaign objective or goal you selected in the previous step. 
If you want to have more people know about your brand, you should aim for the following metrics: Clicks, Impressions, Click-through Rate (CTR), and Average Engagement.
Clicks refer to the number of clicks on your ad. Impressions, on the other hand, refer to the number of times people saw your ad. Meanwhile, CTR is the number of clicks divided by the number of impressions. Finally, average engagement is the total engagement, including free and paid clicks, divided by the number of impressions. When we say engagements, these may include social actions such as post likes, comments, and shares.
However, if you want to drive leads and increase conversions, you should focus on the following: Conversions, Conversion Rate, Cost Per Conversion, Leads, and Cost Per Lead (CPL).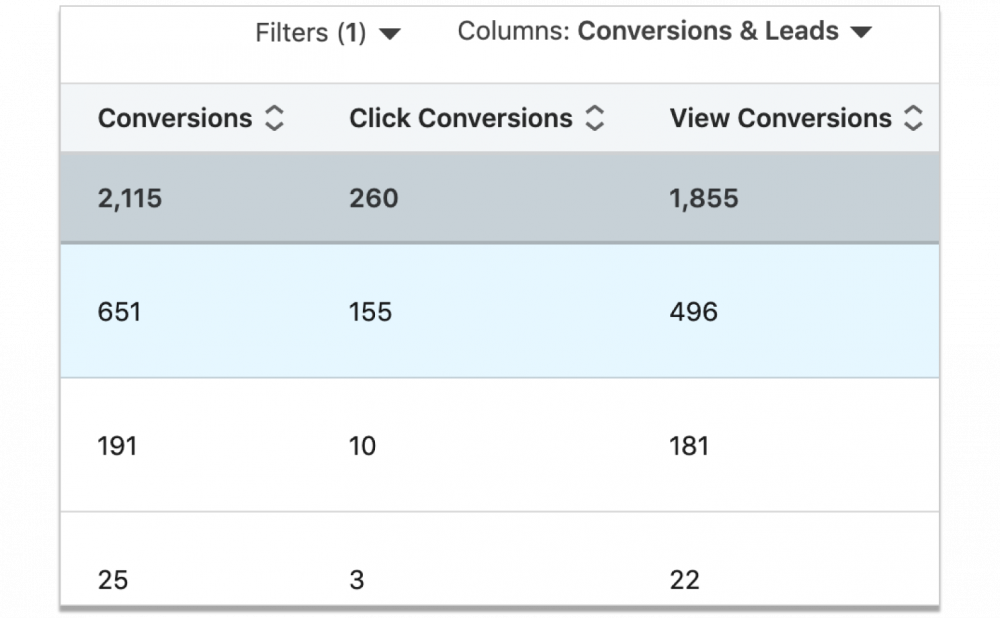 Conversions refer to how many times users performed an action after seeing or clicking on your ad. The conversion rate then refers to how often your ads lead to conversions on your website. Then, the cost per conversion is your ad spend divided by the number of conversions. Finally, leads refer to how many leads you got from your ads, while the CPL refers to your ad spend divided by the number of leads.
THREE: Select Your Target
After choosing your objective, Campaign Manager will require you to select your targeting criteria. This step will determine whom LinkedIn will display your ads. If you target your ads, you increase the chances of engagement and, ultimately, conversion.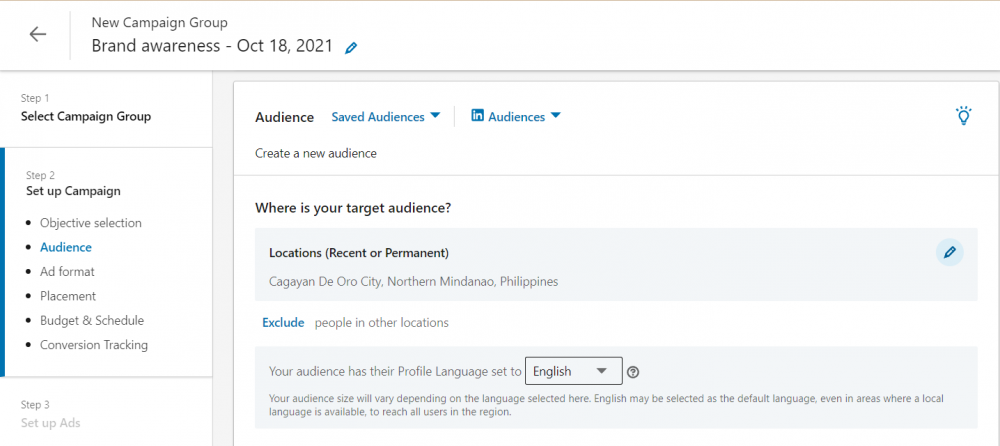 As such, you will have to choose the attributes of your targeted audience. These attributes may include the following: company name, company size, member interests, member groups, member schools, job title, skills, and more.
FOUR: Choose Your Ad Format
In this step, you need to choose your ad format. You have the following options: Sponsored Content, Message Ads, Dynamic Ads, Text Ads, or any mix of the four.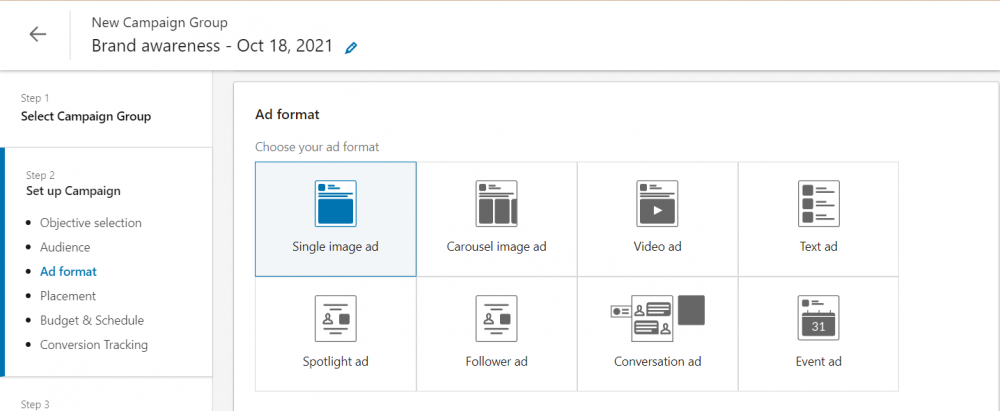 Sponsored content (image ads, video ads, carousel ads, or event ads) will appear directly on the feeds of LinkedIn users. It would be best to promote your already top-performing post as it has already proven to have worked with your existing followers. As such, this content is most likely to entice more followers from a larger market.
Message Ads allow you to connect with prospective employers through the LinkedIn Messaging feature. As such, through message ads, you can directly send messages to your prospects, increase engagement, and see which roles and companies respond to your ads.
If you choose to create Dynamic Ads, you can personalize your ad by using profile data such as photo, company name, and job title. Further under dynamic ads, you can choose to create a Follower ad, a Spotlight ad, or a Jobs ad.
Finally, LinkedIn will display Text Ads at the top, on the side, or at the bottom of the LinkedIn user's feed. These are pay-per-click (PPC) or cost-per-impression (CPM) types of ads. Because it will only display text, you need to keep your copy short but engaging. Doing so would help guarantee that they click your ad and check out your profile.
FIVE: Set Your Budget and Schedule Ads
When setting your budget, you have three options to choose from, namely: cost-per-send (CPS), cost-per-click (CPC), or cost-per-impression (CPM). Message ads campaigns utilize CPS, wherein you pay for every message delivered to your target. Campaigns that require an action from the target, such as registration to an event or generating leads, use CPC. Lastly, CPM is used for campaigns that delve into improving brand awareness.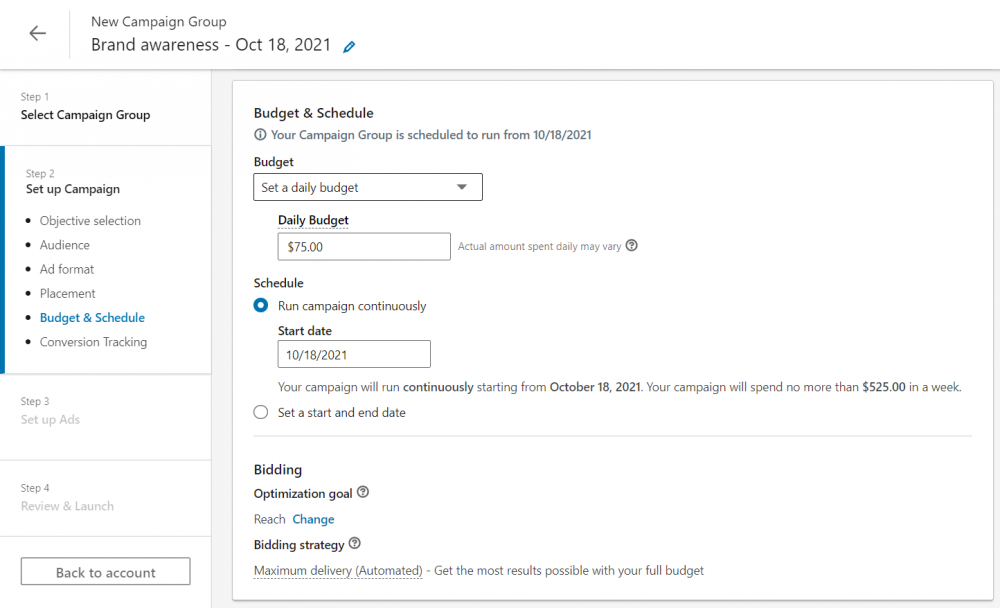 Campaign Manager will then ask you to enter a suggested bid, your daily budget, your campaign's start and end dates, and your total budget. Take note that you can cancel your campaign anytime. Now, you can finally set up your ad and have it published.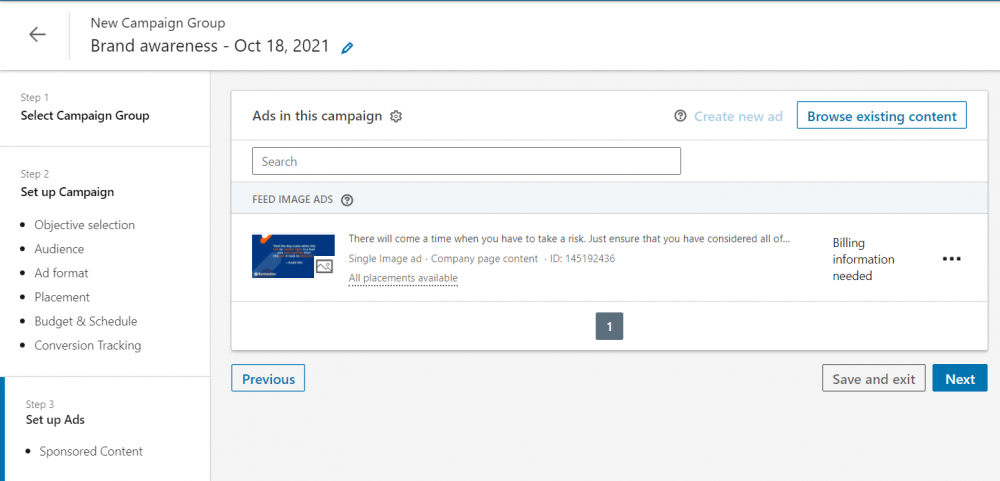 SIX: Set Up Conversion Tracking and Lead Gen Forms
After determining the key metrics to measure your LinkedIn campaign performance, the next step is to set up Conversion Tracking and Lead Gen Forms. 
Conversion Tracking allows you to quickly measure conversions, conversion rate, and cost per conversion. However, before you can create a conversion, you first need to define conversions by choosing from the following:
Page Load Tracking (Sitewide Insight Tag)
For this, LinkedIn will count conversions if users visit your web pages. Thus, you need to set URL parameters to determine which page conversions LinkedIn will measure.
Event-Specific Tracking (Insight Tag)
LinkedIn will count conversions if users take an action on your site. To track conversions for this, you need to add an event-specific code to a button or link on your site.
Event-Specific Tracking (Image Pixel)
LinkedIn will also count conversions if users take an action on your site. However, to track this type of conversion, you need to install an event-specific image pixel that loads whenever the user performs an action.    
Meanwhile, Lead Gen Forms let you measure leads and cost per lead. You can create Lead Gen Forms by selecting the Lead generation objective (in STEP ONE). 
However, you can also create it from the "Account Assets" tab on the account homepage of your Campaign Manager. Select "Lead Gen Forms," complete the sections that you want to include in your form, and then click "Create Form."
BONUS: Measure and Optimize Your Campaign
As with everything you do online for your business, you also need to monitor your campaigns. If you do this, you will be able to see if your ads are performing as expected. However, if they are not, you should be able to determine what they lack and improve them in the next campaign cycle. If you see a low-performing ad, then it would be best to stop it and improve it as needed.

Fortunately, through Campaign Manager, you can analyze the performance of your ads and campaigns. There, you can see your campaign's overall clicks, impressions, budgets, social actions, and more. With this analytics feature, you can quickly determine which ad is performing best and which one is not, thereby allowing you to make the necessary adjustments. Except for standard analytics capabilities, you can, for instance, export Linkedin Ads to Google BigQuery and dive deeper into campaign analysis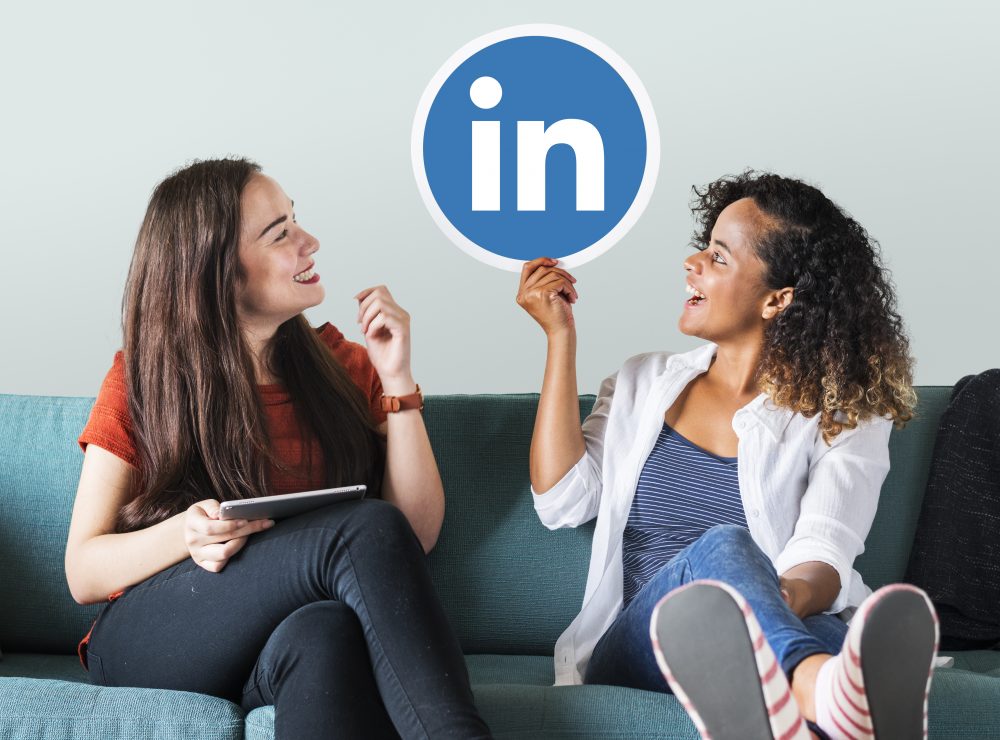 Set Up Your Ads on LinkedIn Now!
With PPC management services, you can have someone managing your LinkedIn ad campaigns for you! If you need help setting up ads on LinkedIn, please feel free to contact us through email or leave us a message in the comments section below.