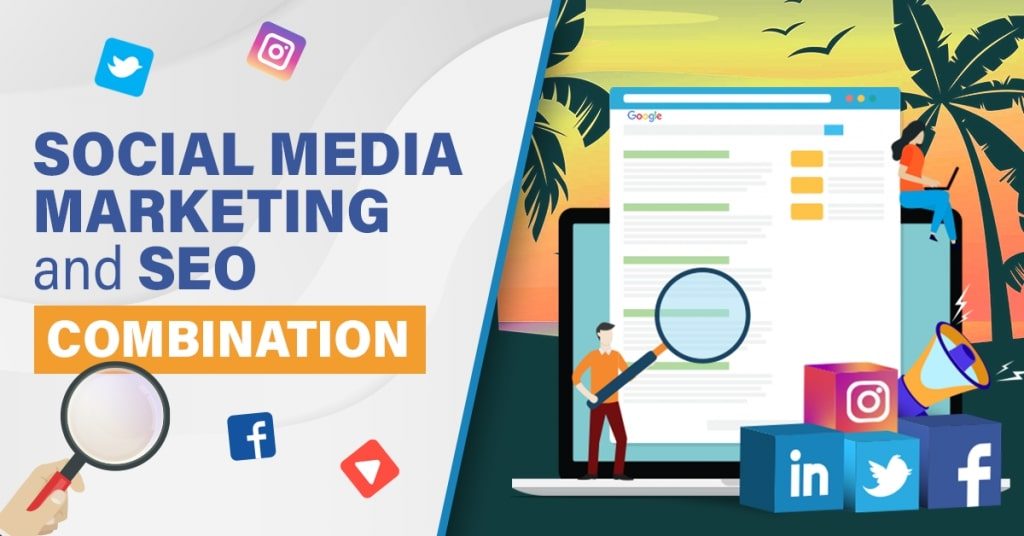 Aug 10, 2020
Social Media Marketing and SEO Combination
Billions of people already have access to the Internet. Now, search engine platforms are not the only way for people to find content and information on the web. They can also use social media. According to Smart Insights, there are an estimated 3.96 billion active social media users worldwide as of July 2020. Considering these numbers, business owners should utilize the social media marketing and SEO combination into their business endeavors.
Search engine optimization and social media marketing have co-existed for years. However, people rarely use them as a working pair. It is unfortunate because both SEO and social media marketing aim to reach and connect with potential customers.
So, where and how can you fit social media into your whole search engine optimization process?
Understanding Search Engines and How Social Media Works
At their core, search engines operate in terms of relevance and authority. Relevance comes from content articles with the right keywords, while authority comes from links. These factors are specific elements that define the social media landscape today.
Social media marketing services in the Philippines provides businesses with a powerful platform for networking and information-sharing for brand promotion. While your social media cannot directly influence your SEO rankings, it can still impact it. For one, the effective use of social media can drive traffic to your site. You can do this by sharing links to your web page on your social media profiles.
Therefore, social media marketing specialists make sure to provide your audience with valuable content such as blogs, infographics, and videos. Once they find content that interests them, they will take their time reading or viewing. Ultimately, they stay longer on your page. The more time they spend on your page, the more it will signal search engines that your page is valuable. Ultimately, it helps you rank higher in search engine results and reduce bounce rate. Thus, many social media marketing specialists believe that social media sites can introduce a new ranking signal for search engines.
This new ranking signal will not replace the ranking signals that come with traditional search engine optimization strategies. Instead, SEO professionals believe it will further boost the link building signal creating compelling brand engagement and a steady stream of quality links.
The Mutual Relationship Between SEO and Social Media Marketing
Below, you will understand how social media marketing specialists and SEO professionals use search engine optimization in creating compelling and affordable social media marketing campaigns:
Keyword research tools help create more effective social media content.
Keywords are user-driven, which means that they are generated based on what people typed into their search box. Thus, you have to know your audience's interests, queries, and situations to create content that catches their attention. Social media marketing service providers in the Philippines use keyword research techniques to find such topics before creating content.
Personalization and analytics tools help with audience research.
Companies that provide SEO services in the Philippines use analytics tools to refine their customers' search marketing strategy. SEO professionals and social media marketing specialists collect information to help create and promote social media marketing content effectively. This information may include who the site readers are and how they interact with the content section. They can identify which call-to-action (CTA) works better for content. Also, they can check which CTA to use for social media referrals and social media landing pages.
On the other end of the spectrum, let us see how SEO professionals and social media marketing specialists use social media in supporting SEO strategies:
Social media monitoring helps with keyword research and content creation.
Due to voice search, researching for typed in keywords on search engines is no longer enough. Spoken queries are also harder to predict than typed queries, which makes it harder for SEO professionals to optimize content. For this, a social media agency in the Philippines uses social listening or monitoring and analysis to understand the new voice-driven user search behavior better. They can see keywords in a real-time context, which makes it easier to identify natural language queries. Additionally, most people use a more casual tone on social media. Through this, SEO professionals can get insights into how keywords appear when used on voice search queries.
Social media ads help assess content performance.
For SEO in the Philippines, the use of advertising platforms on social media sites is an excellent way for businesses to build leads and sales. It also provides the quickest way to test content and how it may perform in the long run. Advertise first on several smaller campaigns on the same topic to build your marketing personas. Then, see who best responds to your content. In this way, you are already creating an engaged audience before publishing your primary campaign. It guarantees an initial awareness that spreads quickly on its own.
Social media helps you discuss content plans with your audience.
In your social media marketing strategy, include live streaming platforms in discussing your content plans in real-time with your audience. You can stage a live video or chat interview on your social media. Then, use its transcript in creating a natural language-optimized article for your site. Social media marketing specialists also find comments to be valuable when you need to collect audience feedback and opinions.
The Social Media Marketing and SEO Combination
Since the very concept of search engine optimization is to increase traffic, build keen awareness, and increase profits through link building, social media marketing strategies can complement existing SEO techniques and practices. The use of social media marketing in search engine optimization can outrank the competition and dominate search engine results. Social media marketing will result in a more strategic, innovative, and profit-oriented search engine optimization campaign.
Thus, social media marketing and search engine optimization is a potent online marketing combination used by SEO in the Philippines that helps businesses take a large portion of their target market against their competitors.
Please let us know in the comments section below if you know more strategies on how to do social media marketing with SEO combination!