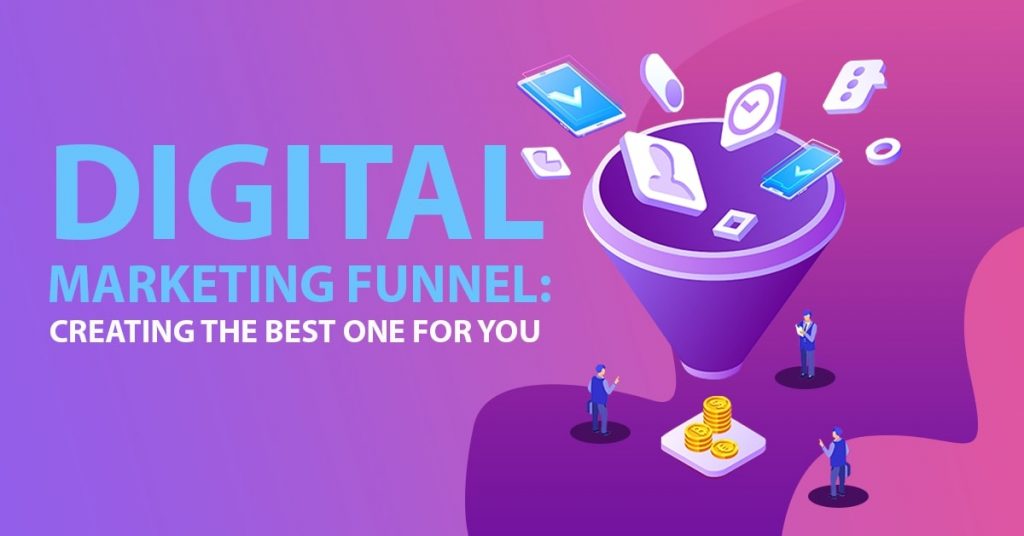 Mar 27, 2019
Digital Marketing Funnel: Creating the Best One for You
What a digital marketing funnel is for marketers
The digital marketing funnel is a simple concept that all marketers should know by heart.
It's a chronological order of phases that buyers go through in their journey to become our customers. Usually, they go from one stage at a time. As digital marketers, we need to be familiar with how our buyers feel, behave, and react when they see our products or services online.
Check out this graphic that shows the stages:
It usually starts with a goal to generate awareness for the buyer to become aware of the product or service. He then shows interest and develops the desire to purchase. After a few considerations, he decides to take action and buys the product.
However, consumer behavior has drastically changed with the rise of the necessity for the Internet, social media, modern platforms, and mobile devices.  By extension, so should the buyer's journey that consumers follow.
With that, it's time to think of setting aside old methods in favor of strategies that can address the needs of today's digital buyers.
Our key takeaways for this article as you read along will be:
Understanding who our audience is and why they matter

Discovering a new model to handle digital marketing in a more effective way

Developing your strategy to capture your audience
Here come the millennials: A new audience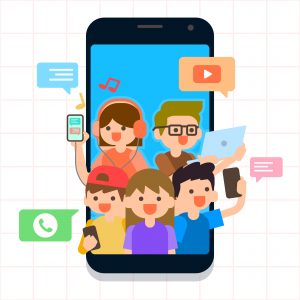 Yes, you read it right. Aside from our existing target market, there is a fresh demographic that has potential.
Our era is now dominated by millennials that bring significant purchasing power.  These young people use modern technology to buy stuff online and influence others to do the same.
Furthermore, CEOs like Mark Zuckerberg (Facebook), Brian Chesky (Airbnb), Evan Spiegel and Bobby Murphy (Snapchat) are also millennials that run big companies and professional organizations.
By 2020, millennials are projected to spend $1.4 trillion shopping every year, according to Accenture. Additionally, the millennials' average yearly income before taxes in the US is around $50,000.
Here are more of those statistics about millennials that's important to note:
60% of them prefer to purchase generic brands over name brands. (Source: Millennial Marketing)

They make 54% of purchases online. (Source: UPS)

40% refer to online reviews and testimonials before even deciding to purchase a product or avail a service. (Source: Millennial Marketing)

74% of them will switch to a different brand if they encounter a negative experience in customer service and product encounter. (

Source: ICSC

)
The digital marketing funnel for millennials
Here's an example of their buying pattern:
Carl, an IT professional, just saw an ad online about the new Samsung Galaxy foldable phone that just came out. (Discover)

Specifically, his eyes became glued to its foldable feature and more prominent display which can come in handy for his line of profession. (Interest)

As a result, he realizes that he needs it for his project presentations because it makes pitching portable and fast. (Desire)

Quickly, he searched Google and Amazon to check for prices and make a value comparison. (Interest)

Carl checks out the phone reviews from tech enthusiasts online and on Youtube. (Research, Learn, Compare)

He asks his friends who have already purchased the product for any feedback (Peer review)

Afterward, he visits the nearest Samsung store and tests the product (Trial)

Carl eventually decides to buy the product and takes out his credit card (Decide)

Consequently, he went straight home to explore his new phone and posts a selfie on his Instagram. (Advocacy)
Preparing to meet this audience's needs and attention
So how do we get ready to grab their attention?
The best model to follow is Avinash Kaushik's See-Think-Do-Care model, which is an accurate and realistic approach to the marketing funnel. It breaks the audience into several focus clusters.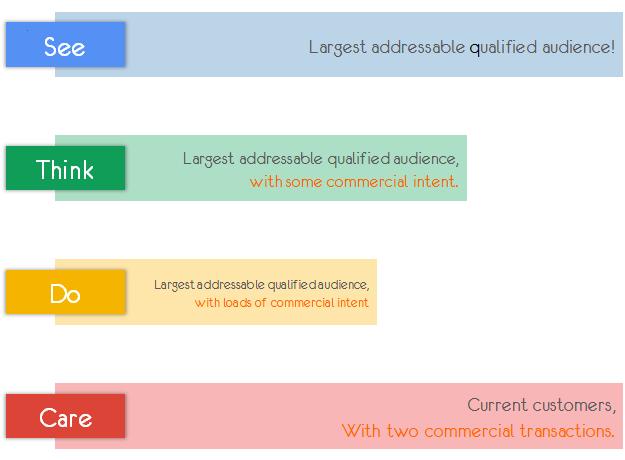 Source: kaushik.net
Let's break down the audience clusters and consideration stages, with our recommended marketing focus (RMF) and funnel phase (FP):
The "See" audience:

This cluster has the largest addressable qualified audience with no commercial intent yet. Thanks to the internet, however, we can now engage actively and profitably with this cluster. For example, you can push marketing content on Youtube to gather significant views for Google to pay you for ads. Moreover, try to do what Jollibee is doing with their commercials. Meaning, the content is there for your audience to tattoo your brand into their minds.

FP: Discover and Explore
RMF: Display (high), SEO (high), Video (medium), Social (high)

The "Think" audience:

This cluster is smaller but displays some commercial intent. Thus, it's always best to trigger their interest using intent signals and make them think that they need your product or service. With this group, you'll need to start doing gentle follow-ups. Focus more on consulting and giving advice.

FP: Explore and Research
RMF: Display (high), SEO (high), Video (high), Social (low), Email (low)

The "Do" audience:

Most marketing funnel activities are focused mainly on this audience with strong commercial intent. A lot of call-to-action triggers are expected to be visible in hopes to bump them into purchasing products or availing of services. Furthermore, do switch to more ambitious follow-ups by sending emails or calling in hopes of bringing up their conversion rate.

FP: Buy, Ask, Engage
RMF: Display (high), SEO (high), Voice (high), PPC (high), Email (high), Video (medium)

The "Care" audience:

These are your customers, new or loyal, that have availed of your services and bought your products. Unfortunately, this cluster also needs attention and after-sales support that not many companies are addressing.  Sadly, there's just so little care for this cluster on the web today.

FP: Advocacy
RMF: Voice (high), Email (high), Video (low), Display (low), SEO (low), PPC (low)
In the end, our objectives as digital marketers should be to move your audience from the primary stage towards the last one.
Make, market and measure as a combination for your marketing funnel
Here's what you can do once you are ready to plan for your marketing funnel:
Make your best content. If you are still planning to launch your first digital marketing campaign, you can check our

recommendations

on how to effectively do it and increase brand awareness.  

Execute your marketing plans. Without a plan, you can't reach your goals, and your great content is wasted. Considerably, follow Kaushik's See-Think-Do-Care model above in shaping up your marketing funnel and strategy.

Measure your success. Even with the best content and effective digital marketing, you will never know if you were successful without data. It's best that you come up with ways to evaluate your digital marketing success effectively.
Of course, keep in mind that these three are intertwined and must be present at all times.
Execute as soon as possible
As a final recommendation, let's build great content that meets the audience intent based on their behavior in ways that bring value, inspiration, and direction. Next, identify your audience clusters afterward and unleash your content with your newly developed marketing funnel. Lastly, don't forget to measure your success.