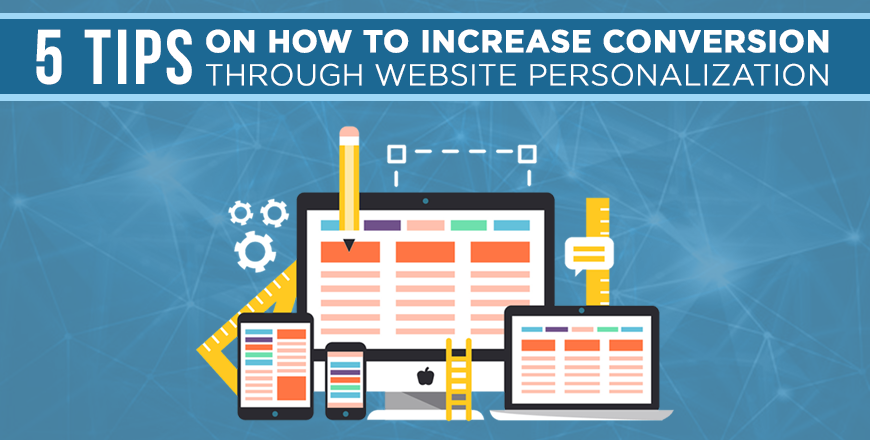 Aug 6, 2018
5 Tips on How to Increase Conversion Through Website Personalization
Today, a carefully curated website and online presence is not an option anymore, but a necessary requirement. Recently, there has been a massive boost in online businesses, and naturally, there is also an increase in competitors. It has now become crucial to craft your website's design, content, and experience and make it particularly appealing. However, that's only the general idea or tip to increase conversion.
Doing so will enable you to attract raw visitors and motivate them to take action and come back again. More importantly, neglecting to acknowledge its importance would mean losing out on great opportunities for your business.
5 Tips to Increase Conversion:
1. Analyze Visitor Frequency
Research shows that 40% of consumers purchase more from retailers who personalize their website shopping experience across channels. Additionally, first-time visitors often look for brand information, offered products and services, and reviews. On the other hand, returning customers navigate through your site with specific things in mind. Hence, experts suggest utilizing a cookie to track returning visitors and direct them to the most appropriate and relevant page. To increase conversion rates of first-time visitors, consider including:
Phone number
Business address
Contact form
Video tutorials explaining products or services
For returning visitors, adding an option to sign up for a mailing list can help increase customer retention.
2. Modify Content Accordingly
You have to give attention to every possible area you can maximize, but sometimes seasons and trends can be overlooked. What day, week, or season it is, should guide your content and even parts of your website design and experience. For example, your business can still cater to customers' inquiries long after closing hours by replacing a phone number with a contact form. If your business deals with retail clothing, create ads that market swimsuits during summer and jackets and parkas during winter. Being updated and regularly updating your website according to trends and seasons is known to attract more visitors, thus also helping increase conversions.
3. Consider the Geo-Location Feature
One of the best tips to increase conversion for local businesses, Geo-location can help in accurately showing where a device, and the device's user, are located. With this feature, you can increase the effectiveness of your marketing efforts even more with location targeting. It creates a more tailored and relevant marketing tactic. Entice potential customers with ads and coupons. Also, inform them that these are only a few blocks away from them in your shop or store can increase the likeliness of them dropping by.
4. Personalize Your Website on Holidays and Other Special Events
Brands that put effort to personalize their website design and experience with content relating to particular holidays and special events often get more visitors' attention. Other possible ideas would be to create cobwebs on Halloween or fireworks on New Year's Eve. Website personalization on specific days will encourage customer engagement and may increase conversions.
5. Determine Visitor Source
If you can capture the original destination source that a visitor has entered your website from, you can easily display the type of content on the landing page that they see first. Adjust the content based on the previous page they've been on to create a free-flowing experience for current customers and especially for first-time visitors.
In this era of on-demand customized everything, there is, fortunately, an abundance of online tools, products, and services accessible to make your personalization efforts more rewarding for both your business and your customers.
With these tips to increase conversion and our website design services, you can develop a website tailored for your business and the needs of your prospective clients and increase conversion.