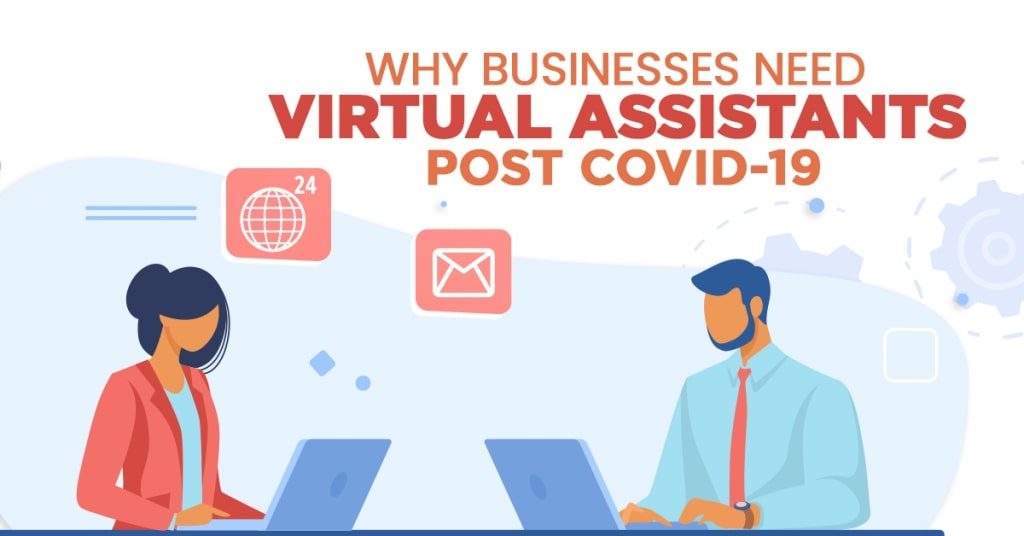 Mar 8, 2021
Why Businesses Need Virtual Assistants Post COVID-19
When running a business, it would be quite demanding for business owners to perform administrative tasks on their own. It would be nearly impossible to take phone calls, schedule customer appointments, make travel arrangements, manage email accounts, facilitate staff, handle payrolls, and more without help. Now that people are slowly getting vaccinated against COVID-19, more and more businesses are expected to return their normal operations, and business owners should hire virtual assistants as part of their business strategy to help manage their operations. To get back to business, and get ahead of the game. Let us discuss further in this article why businesses need virtual assistants.
Why Businesses Need Virtual Assistants
Virtual assistants (VAs) specialize in providing administrative assistance and related services to clients from remote locations. As mentioned above, these services include scheduling appointments, making phone calls, arranging travel plans, managing email accounts, and more. Depending on the industry or business, VAs may specialize in writing web content, creating graphic design, bookkeeping and accounting, social media management, and planning, implementing, and managing marketing campaigns.
Virtual assistants also work remotely – often at home. Thus, they will spend less time traveling to the office, thereby giving them more time to get their job done. One could also minimize contact with more people as they slowly open up their business to the new normal. Also, most VAs today have already had enough work experience in their previous projects. Therefore, a virtual assistant would only need minimum supervision from you.
In terms of their contract, you can hire VAs for just the services that you need. Finally, you save time and money when hiring a virtual assistant because you would no longer have to conduct lengthy recruitment, interview, and orientation procedures. 
As such, for business owners, hiring a virtual assistant can be of great advantage.
Top Skills Expected from Virtual Assistants
In this section, we will delve deeper into why you need virtual assistants as part of your business strategy post COVID-19. If you are new to the idea of hiring virtual assistants, here is a summary of the everyday tasks that they can do for you to make your workload lighter:
Communications Management

Today, taking calls is no longer limited to using the telephone. We have mobile phones, video conferencing platforms, and other communication tools, including email and messaging apps. Taking calls and managing emails may seem like small and simple tasks that you can do by yourself. However, when your device continually rings and your inbox fills, you will find it difficult to do more important things. Thus, as one of your business strategies, you need virtual assistants to do these tasks for you. While taking calls or managing email, virtual assistants will note the caller or sender's name and other important information mentioned. Then, they can provide you with a synthesized version of what was asked for so you can figure out what needs to be done. Hire VAs to help you manage your time better post-pandemic.

Bookkeeping and Accounting

Another business strategy you can implement is hire virtual assistants to do bookkeeping and other accounting tasks for you. All you have to do is provide them access to some of your company's accounts. Then, your VAs will provide you with constant updates regarding any unpaid bills or outstanding invoices. We know that such information is sensitive and confidential. Rest assured, virtual assistants are strictly professional. Usually, it is in their company's policy to keep information confidential according to the client's wish, as everyone is already aware of data privacy. You can trust your VA with your bookkeeping.

Marketing Management

You can also assign your virtual assistant to help you plan, implement, and manage marketing campaigns and other relevant duties. By employing digital marketing trends, your VA can provide your target audience with relevant information about your business, promote your brand's products or service, and encourage them to purchase or subscribe to what you offer. Virtual assistants can do various marketing tasks for your business and they do this through face-to-face interaction, phone calls, or video calls using online video conferencing platforms such as Skype, Zoom, or Google Meet. After the pandemic, you can expect an even more stiff competition. So, make sure you're ahead of them all with a dedicated virtual assistant at your side.

Social Media Management

In relation to the item mentioned above, you can also ask your VAs to integrate your marketing campaigns into your social media accounts. During the pandemic, more and more people use social media as part of their daily life. After the pandemic, you can expect people to continue relying on social media to get updated with the world outside. As such, it is a great platform to spread the word about your business and market your products and services online. Virtual assistants can create, schedule, and publish marketing content on social media.

Search Engine Optimization

Virtual assistants are well aware of various ways to promote improved search engine optimization (SEO) efforts for websites and social media accounts. Virtual assistants can be counted upon to know the trending keywords and call-to-actions to incorporate in your overall business strategy and marketing campaigns. Doing so will guarantee that your web or social media content reaches your target audience. As a result, you connect with the people who are more likely to purchase your products or services. Hire VAs for improved SEO.
In Need of a Virtual Assistant?
Virtual assistants have helped many small-to-medium businesses and even large companies manage their businesses. So, if you want help growing your business post COVID-19, strengthen your business strategy and hire a dedicated virtual assistant now!
To focus on higher-level tasks that need your utmost attention, your business needs virtual assistants who can manage the rest!