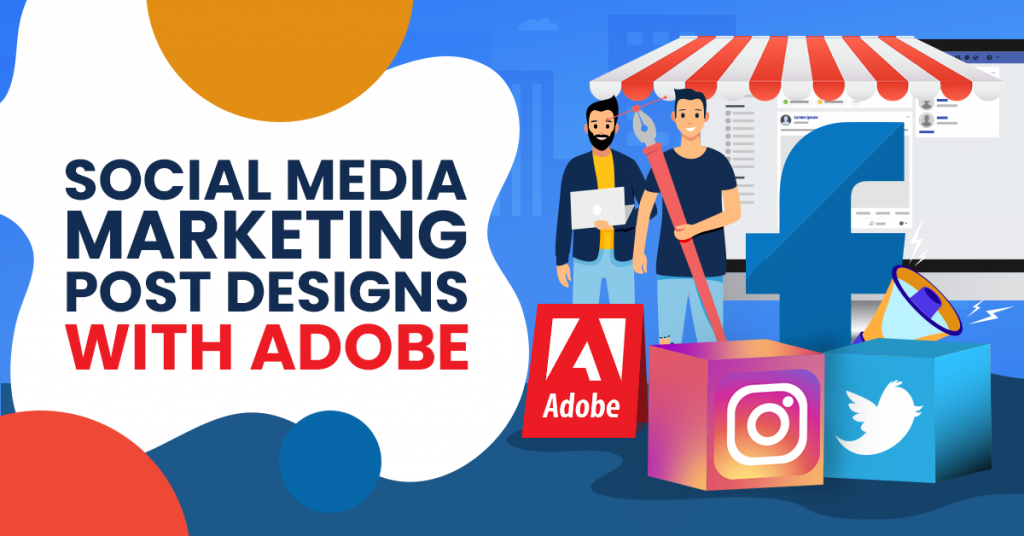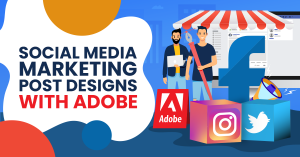 Sep 7, 2020
Social Media Posts: Designing with Adobe
The COVID-19 pandemic caused numerous and varying changes for everyone and every aspect of society worldwide. To survive the effects of the ongoing health crisis, business owners have shifted to digital marketing and employed social media posts as a part of their strategy.
What is Social Media Marketing?
Google Trends shows a constant increase in interest over social media marketing within the last five years. We may attribute this increase to the knowledge that – aside from search engines – people can now access information through social media and other online platforms. With the right keyword, people can discover other people, nearby events, products, services, and many more through social media.
Social media marketing, therefore, involves creating and sharing content on various social media platforms to obtain your business marketing goals. It aims to drive audience engagement through activities such as posting text and image updates, videos, and other content. To effectively do this, you must know who your target audience is. Moreover, you should also determine what you wish to achieve from your social media marketing goals. Lastly, create the type of message and image that you want your audience to get from you.
Marketing with Images and Other Graphic Content
With effective social media marketing, you can extend your reach across the different social media platforms. Especially with today's market, images and other graphic content are essential in increasing engagement for any social media post. So, for your online marketing campaigns, consider creating marketing ads, images, and other graphic content to go along with your social media posts. Because of this, you must know how to make different versions of your graphic content to follow the various social media image specifications required by the respective platforms.
For instance, you can create banner ads, covers, and timeline posts for Facebook to increase your following. On Instagram, you can post ads and share your IG stories to keep your audience's interest. You can upload posts, covers, and banner ads to boost your Twitter campaigns. In promoting your business, you can post image ads on LinkedIn that reflect your goals and objectives. Pinterest also allows you to post beautiful visual content such as pins and ads on your account. Lastly, on YouTube, you can produce a unique banner that will help you stand out from other content creators. You can also create relevant video thumbnails that will attract your viewers and target audience.
A Quick Guide to Creating Social Media Image Posts Using Adobe
With the help of Adobe, you can give your social media profiles, pages, and channels a new and improved look. Create social media image posts by combining your logo with a great photo. Then, add a formatted text that genuinely reflects your brand image and aligns with your business goals.
Follow these quick and easy steps in creating your own social media image post using Adobe Photoshop or Adobe Illustrator:
Create a New File

Create a new file by heading to the File Menu and selecting New. After doing so, the New Document dialog box will appear. It will let you determine the document's profile, size, measurement unit, color mode, and page orientation. You can choose to use any of the presets available or manually input specified values as you wish. Then, determine the number of artboards (pages) that you want in the document. Lastly, enter a file name. You can modify this later on when saving your file.
Add Image

To add an image, click on the File Menu and select Place. From the Place dialog box that opens, click Place to import the file. You can also click on your desired image and drag it onto the artboard. You can adjust the image's size, lighting, and colors as needed. Additionally, Adobe Illustrator allows you to copy and paste images from other programs such as Adobe Photoshop, and vice versa.
Add Logo

With your brand logo, you can personalize your social media banner ad and other image postings. So, make sure to apply branding to ensure consistency in all of your designs. You should also add overlays to your image to apply specific effects that blend well with your overall design. Moreover, you can spice up the design with a shape overlay using existing shapes from the Toolbar, or create a custom overlay to fit the image using the Pen tool. Your customers will immediately know when your company made an ad through the effective use of branding.
Add Text

To add text, select the Type Tool from the Tools panel. Click anywhere on the artboard to add a new placeholder text on the document and start typing. Change the text size by clicking the Selection tool from the Tools panel. You will then see a box surrounding it. As needed, drag any corner of the box to adjust the text size. Moreover, to reposition the text, you can drag it. To format, select the text. Then, in the Properties panel, change the text formatting (font family, font size, weight, width, spacing, etc.) and text color. Don't forget to add a catchy and compelling call to action in your text. Check out some of the commonly used CTAs here and start creating your own.
Save File

When you are already satisfied with your created design, Adobe Photoshop lets you export it as an image file such as PNG or JPEG. You can also choose to save your work in a PSD format to make it an editable template for future use. To save your design, head to the File menu, select Save As, and choose where you want to store the file. Then, from the Format menu, choose the format type, and click Save. Learn more about the different file saving options in Adobe Photoshop here.
Get Social Media Marketing That Works!
Overcome the pandemic by building your brand, targeting your customers, and boosting your sales through digital and social media marketing services in the Philippines. So, start creating compelling banner ads and social media posts to fuel your marketing campaigns and actualize your business goals. Don't let your competitors get all the good stuff, and join the digital marketing trend starting today!