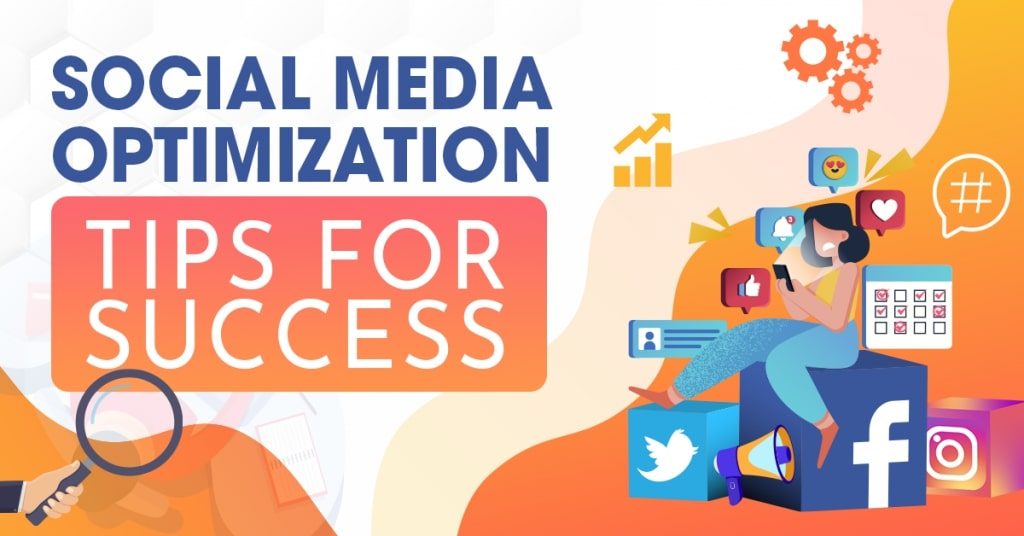 Jul 4, 2022
Social Media Optimization Tips for Success
Social Media Optimization Experts have developed tips and strategies to optimize platforms to fuel marketing campaigns. Such plans can strengthen your brand and generate leads. So, here are several tips to optimize Social Media for business!
For instance, during the COVID-19 pandemic, people spent a daily average of 65 minutes on Social Media in 2020. In the year just before that, Social Media users spent 56 minutes on their Social Networks of choice.
Social Media Optimization (SMO) uses Social Media Strategies to grow a business' online presence. However, companies often create a Facebook, Instagram, or Twitter profile with uncoordinated visuals and irregular posting schedules. That won't cut it nowadays, as strategic optimization entails more than just posting about businesses, products, and services.
Fortunately, experts can create, build, and maximize your Social Media Optimization Plan to develop connections with your target audience.
The Social Media Optimization Plan
One of the best things about Marketing Strategies is that they can all tie into one another. Thus, you shouldn't keep your marketing channels isolated. By working together, they can amplify each other's success.
As a result, Social Media Optimization Plan should also work alongside your Search Engine Optimization efforts. After all, Social Media Marketing and SEO combined attract relevant traffic. Thus, your business can build brand awareness and ultimately increase profits.
In addition to getting in touch with others, Social Media lets people catch up on missed posts and funny videos. Thus, Social Media Optimization Services and Experts can help integrate Social Networks into a business' marketing strategy.
From here on, we'll discuss tips to optimize Social Media for Business Marketing Campaigns.
Social Media Optimization Tips and Strategies for Marketing Success:
Update and Optimize Your Strategies
As Social Media evolves, so should your strategies. This means you've got to monitor campaign progress and check results constantly. But before the analytics reports stage, Social Media Optimization Experts must set clear campaign goals and objectives. These goals may include:
increasing brand exposure;
driving leads;
earning conversions, etc.
Likewise, Marketing Campaigns should incorporate business goals that require effort from your organization. Firstly, these goals will be vital in solving challenges and creating engaging content. Also, they'll help identify business opportunities while tracking and improving your marketing efforts.
Thus, when optimizing Social Media for business, you should create goals that you can monitor and measure. Goals or metrics will let you know if your business is doing well with your campaign or not. In addition, you must also decide which Social Media site to use to reach your target audience.
If you want success, you must tweak your game plans whenever necessary.
Research for the Right Keywords
Keywords are essential for your business, as you can use them to find your target audience. However, the reverse is also true, allowing interested customers to find whatever they want. For example, 54% of people on Social Media use it to do product research. As a result, applying Search Engine Optimization strategies can significantly boost your campaigns!
Both SEO Experts and Social Media Optimization Companies work with keywords. Thus, it's critical for businesses to know the topics, keywords, and hashtags that their audience uses when looking for information.
Long-Tailed Keywords can help cut down the results by a lot. But the kinds of keywords you use on Social Media will differ from those on the World Wide Web.
So, you'll need the right tools to create the right keywords for your Social Media campaigns. For instance, you can select phrases through Social Media-specific Keyword Tools. One of them is the Twitter Keyword report, which lets you know which ones to add to your posts.
Source: Pinterest.
Perfect Your Profiles
Businesses must put effort into their profiles on Social Media. It's an excellent strategy for driving more qualified traffic to their pages.
First, use your company logo for your business profile to build brand recognition. Because most people's eyes are drawn to visuals, a profile picture is one of the first things people see. Thus, it's an excellent representation of your business!
Also, your username must be consistent across all your Social Media Profiles. As a result, it's easier for people to locate your business on Social Media. Therefore, it's critical to get to the username closest to your original business name as possible!
In addition, state what your company does in your bio while incorporating relevant keywords to help people better understand your brand. But, keep in mind that character counts can differ across Social Media platforms. So regardless of length, bios should communicate vital information.
Lastly, you can include a trackable link to your website for those who wish to know more about your business.
Source: LinkedIn.
Create Compelling Content
Since Social Media is an excellent place to share quality content, you must optimize content for your audience on that platform. Applying Content Marketing to your Socials is necessary for getting your brand message across. Many networks have limited character counts, so you can use infographics or add a link to your dedicated website.
So, you may choose to create original content for posting on your Social Media channels with the help of Content Writers.
Additionally, A/B Testing might be valuable for checking which headline resonates best with your audience. Then, you can use the results as a reference for future postings.
Additionally, you may also use images to optimize content. But first, ensure that you have sized them correctly for each Social Network. Thus, you can engage your audience with well-optimized Social Media Content Strategies.
Use Hashtags Properly
Social Media hashtags help users discover new, interesting, or trending topics. As a result, one suggested Social Media Optimization Strategy is to incorporate hashtags in your post. After all, hashtags boost your post's reach so more audiences can see your content!
Of course, you can apply SEO Strategies and incorporate relevant keywords. Also, when creating your hashtags, remember they can track specific marketing campaigns on Socials.
In the case of Instagram, using more than 11 hashtags on a particular post boosts interaction by 79%. Still, it's also critical to use hashtags with a purpose and avoid stuffing your post with unrelated ones.
Additionally, to help drive traffic to your page, you can use relevant hashtags that industry influencers use. Finally, it's also helpful to use industry-related trending hashtags.
Schedule Your Postings
Publishing content at the right time is a Social Media Optimization Tip or Strategy you shouldn't forget. Timing is critical for getting the most out of your audience. Still, you can always check on your analytics to find the best posting times.
For instance, a student won't be active on Social Media at the same time as an adult. Factors that determine the right time to post content to guarantee engagement are:
your business' nature,
the Social Media sites you're using, and
your target demographic.
Also, it would help if you also decided how often your postings should be. A study conducted by Constant Contact suggests that you:
post three to ten times per week on Facebook;
at least five times per day on Twitter;
two to five times per week on LinkedIn; and
five to ten times per day on Pinterest.
So, develop a schedule that helps you reach your audience at the right network and time.
Monitor Your Campaigns
Once you've set up your accounts and posted content, your campaigns don't end with posting on your chosen channels.
Instead, you must keep track of published content's performance to assess which works best with your target audience. From the results, you can increase the effectiveness of your content. Whether a business or a marketer, you should always strive to improve your content!
So, you can rely on your in-house analytics, apply a tool, or use both to check on engagement. Examine the number of likes, shares, comments, follows, and conversions you get through your platforms.
Monitor your progress through these metrics to improve on how to optimize Social Media for business marketing campaigns.
Source: Hootsuite.
Hire SMO Services in the Philippines Today!
Despite distance and time, Social Media is an excellent communication method. Moreover, Social Media plays a crucial role for businesses to reach consumers and expand marketing potential.
Nowadays, there are numerous ways for people to access the Internet. But, not everyone uses search engines to find what they want. Instead, most people use Social Media apps to keep in touch with their friends.
These Social Media Optimization Tips and Strategies will help improve your Marketing Campaigns across networks and platforms. A properly executed plan will drive better results for your business!
Social Media Marketing Services in the Philippines can give the best results by taking a strategic approach to your Marketing Campaigns!