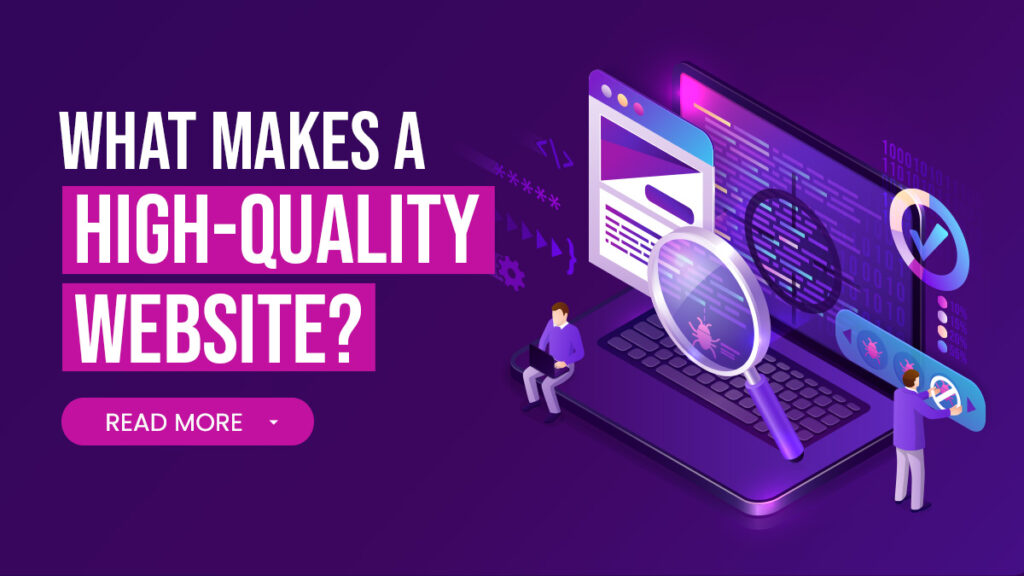 May 16, 2023
What Makes a High-Quality Website?
Quality Assurance in Website Development is necessary to create a functional, secure, and high-quality website. Quality Assurance (QA) improves your web projects in many ways, so let us show you the process to achieve it.
For any company that wants to make its mark online, a website is vital to spreading Brand Awareness. So, your business website or application helps you establish your digital presence with consumers. Thus, you must ensure it's navigable, has an attractive design, and functions smoothly. 
If any of these characteristics are missing from the finished product, website visitors will bounce away to other competitors' sites. Fortunately, you can count on Quality Assurance processes to help you iron out all the issues with your website. 
A Standard Quality Assurance process will involve the following: 
(Client) Requirement Testing;

Site Design Evaluation; and

Functionality Testing.
The Importance of QA in Creating a High-Quality Website
Website QA allows developers to test a product to discover errors or bugs. Often, these errors weren't noticeable in earlier design and development stages. The process is necessary to ensure that the product is of good quality before end users start interacting with it.
Quality Assurance or QA Testing, in particular, is vital to Website Development, including WordPress Web Development. So with thorough testing, businesses will obtain a first-rate website. 

Source: The QA Lead.
It's best to do Quality Assurance on Landing Pages, A/B Tests, Email Marketing Campaigns, and of course, entire websites. After all, a website's overall Page Experience is a critical component for ranking on search results pages.
To provide a seamless experience to end users, developers must avoid common Web Development Mistakes, such as:  
Poor navigation;

Dead links;

Lack of On-Page SEO;

Pixelated or ill-fitting screen resolutions;

Slow page load speed; and

Little to no Cross-Browser Testing.
How QA Helps Your Web Development Projects
Again, Quality Assurance will ensure you gain a functional, high-quality website ready for launch. It offers the following benefits:
Cost-efficiency;

Provides early fixes to problems before they become too complex to deal with;

Thorough product testing before launch; and

Maintains product quality standards.
The Web Development Team shouldn't do Quality Assurance in a hurry, as finding any problems in the project is vital. So here's how Web Development QA can help your business:
Ensures that Devs Meet Functional Requirements
Web Quality Assurance will ensure that a project follows agreed standards, methods, or best practices. Not only that, but Website QA aims to improve customer satisfaction by meeting client requirements. Also known as functional requirements, they're defined at the start of the project and outline what the site should do. 
Often, Web Developers receive these requirements or demands from their clients or company. By doing so, the Devs and the QA Team can create a desired high-quality website. Then, the first-rate finished product will build trust with your stakeholders and customers.
As a result, people will be more likely to use your website. So, you can compete with other businesses in your industry.
Ensures that You Provide an Enhanced User Experience (UX) to End Users
You're competing with other websites in your industry. Thus, you need to provide a flawless User Experience to get an edge over them. One of the many benefits of Quality Assurance in Web Development for your business is user-friendly functionality. For 70% of CEOs, User Experience is a "competitive differentiator."

Source: FinancesOnline.
Fortunately, with Quality Assurance, you can create a reliable site that offers users an excellent UX. In addition to meeting clients' and other stakeholders' requirements, QA allows devs to meet end-user expectations.
QA is vital to creating a website with an attractive, easy-to-use User Interface (UI). When you test your site, it should be understandable and navigable, too. By following accepted QA best practices, Web Developers can ensure that the finished product will work seamlessly.
Maintains the Web Project's Security
Security is crucial to creating a unique, high-quality website that solidifies your business' reputation. For instance, if you're building an eCommerce Site, you must ensure its payment functionality is bug-free. Thus, you must avoid payment errors to preserve customer trust in your eCommerce brand.
Quality Assurance Testing can help you stay safe from any issues arising from website errors. Thus, if the finished website is secure, your business won't have to worry about an unfavorable user perception!
Ensures Cross-Device and -Browser Compatibility
Sometimes, a website will appear differently depending on the browser or device used. With QA in Web Development, it's essential to test the website on all devices and browsers.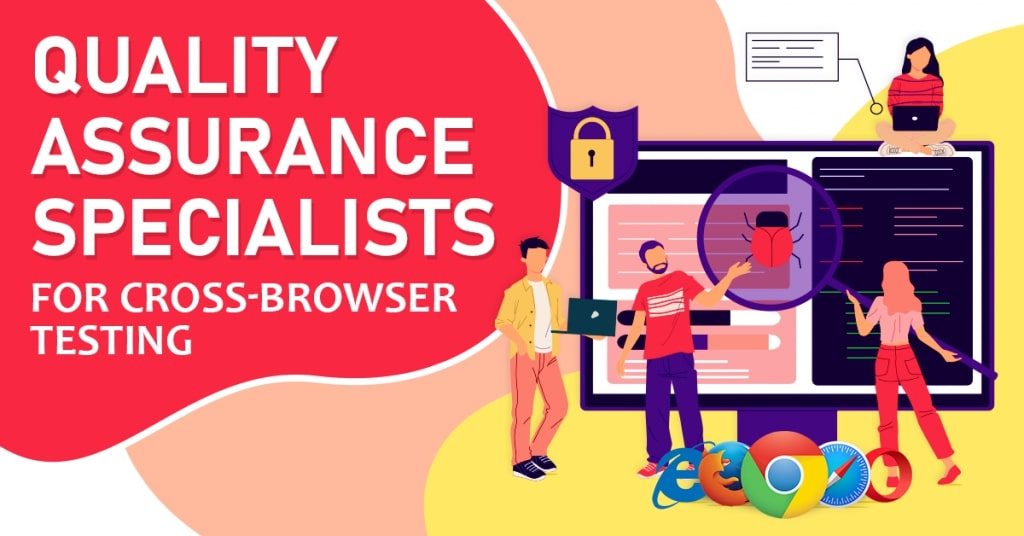 What works on one device or browser may not function on another, whether on a desktop, smartphone, Chrome, or Firefox. So, developers should also check how a site functions across various browser and Operating System versions. 
Quality Assurance allows Devs to examine how page elements look and act. The website must function properly, regardless of the kind of browser or device end users rely on to access it. Some browsers or devices may be outdated, but thorough Cross-Device and Cross-Browser Testing are vital. At the end of testing, you can be sure that every interested user can interact with your finished site. 
Keeps Development Costs Manageable
In addition to saving time, Website Quality Assurance can save money. It identifies bugs and defects during development stages so developers don't have to fix errors in later stages. These late fixes can become more complicated than early-development fixes. As a result, they are much more costly to deal with. 
After all, when faced with project errors, you must remedy them and continue testing. Additionally, QA prevents the product from not being up to industry standards. Thus, the business can save on legal expenses. 
Count on Quality Assurance to avoid spending additional resources to deal with bugs in the project!
Helps You Stay On Schedule
Often, your project timeline is laid out during the earliest stages. (Naturally, it also outlines the Quality Assurance Tools and Web Development Methods to be used to create the site.) Quality Assurance can detect serious issues with your website at the outset or at least early on. Not only can QA in Web Development prevent unnecessary spending for fixes, but you can also stick closer to your timeline. 
The earlier Web Developers deal with website errors, the more time they have to work on its essential functionalities. For instance, you can prevent any website crashes and find bugs. Keep the development process streamlined with Quality Assurance!
Ensures Customer Satisfaction
Consumers will interact with your site, so test it before they can see any flaws in the design or features. Quality Assurance in Web Development allows developers to create a high-quality website that can add to your brand credibility. 
Of course, your business' aim is to produce a reliable website that will satisfy your audience. Web Developers must comply with accepted industry standards, such as accessibility standards and Data Privacy laws.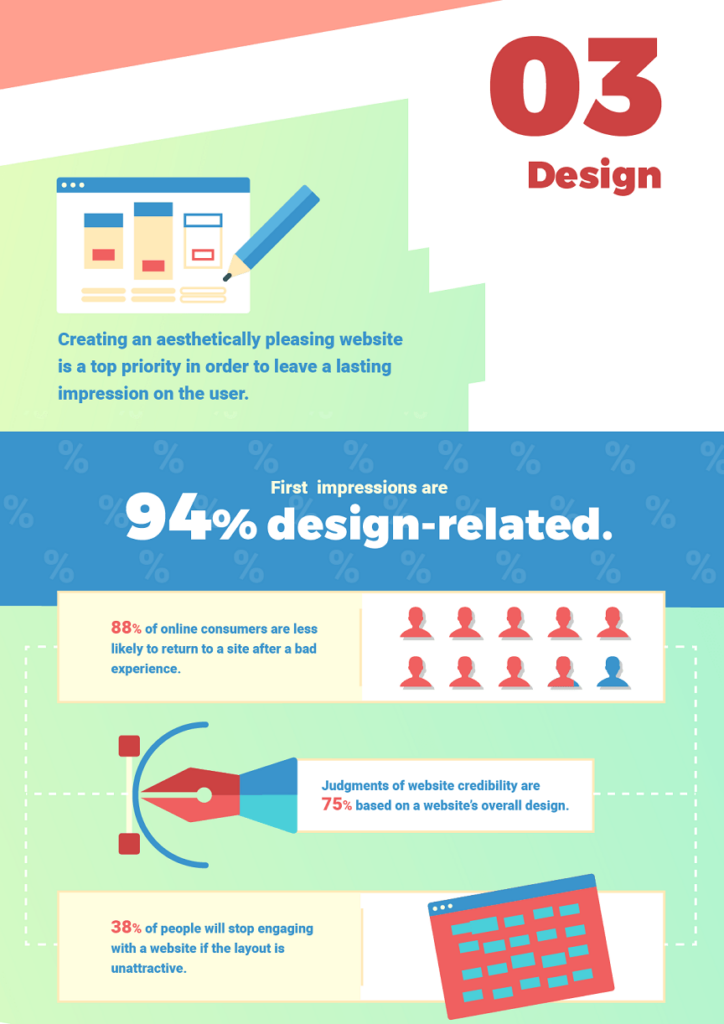 Source: WebFX.
Products that aren't working properly will frustrate users, thus damaging your business' credibility. By following industry standards, you can prevent your users from bouncing away while avoiding legal issues. So, make a positive impression on your users by ensuring the finished product functions as intended.
Adds to Your Brand Reputation
Again, if you release a flawed product, it will cause users to get frustrated. This will diminish their trust in your brand. Thus, businesses must avoid cutting corners or skipping Quality Assurance procedures. Fortunately, with Website QA Testing, you can catch any concerns before your end users do.
You want to avoid handling site defects after launch, which will be visible to end users. Thorough user testing allows your business to display its high product standards via your website. Your finished website's presentation will tie into your brand reputation. 
Your site's poor navigation or uninviting web design will reflect poorly on your business. With Quality Assurance in Web Development, you can be sure your finished site is reliable and error-free.
And That
'

s What Makes a High-Quality Website!

Even if you hire the best Web Developers and use the right testing tools, incompatibilities and errors are always likely. However, standard Quality Assurance processes allow developers to find bugs long before the launch stage. 

QA in Web Development can help you in several ways:
Quickly finds any design or functional issues in need of fixing;

Prevents problems in later stages or after launch;

Ensures high customer satisfaction;

Ensures you stay within budget; and

Builds your brand reputation.
You must rely on the right Web QA Tester to ensure your website project works as intended!