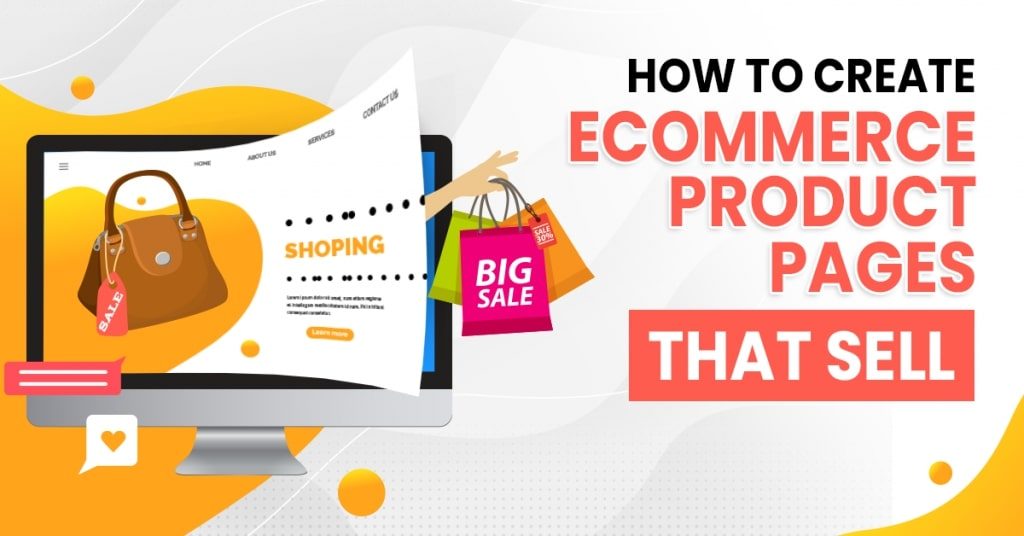 Oct 30, 2020
How to Create Ecommerce Product Pages that Sell
The most crucial part of an eCommerce website is its product pages. Because of this, web design and development companies in the Philippines aim to create and maintain web designs that convert site visitors into customers. In this blog, we will discuss a few tips on how you can create eCommerce product pages that sell.
10 Tips to Creating Ecommerce Product Pages that Sell
To get you started, here are ten things that you can do to enhance the user experience of your product pages. Test out these tips on your existing product pages and determine which works best for your eCommerce website.
Use High-Quality Photos

You should invest in good photography and place high-quality product images in your eCommerce product pages to entice viewers. Use images that are zoomable to allow your customers to view even the tiniest details. Help them visualize how it looks in real life. You can also provide them with a 360-degree view of your products with a GIF. Or you can provide multiple images of the product taken from different angles. You can also experiment on product videos.
Add Compelling CTA Buttons

Using a call to action button is one way to improve your technical SEO by encouraging site visitors to take action on something. In this case, you want them to purchase your products. The usual "Add to Cart", "Buy Now", and "Proceed to Checkout" work well. Keep in mind that your CTAs should be compelling, consistent, and highly visible. You can do this by using colors that stand out from the rest of the design and color scheme.
Showcase Customer Reviews

Most online shoppers look for reviews on eCommerce product pages about the product that they wish to buy to ensure its value and quality. Thus, you must help encourage your customers to purchase with the use of ratings and reviews from customers who have previously purchased your products.
Provide Price Comparisons and Options

Try to give your customers a comparison of prices, especially when offering special price promos on your products. Let your customers see how much they can save if they decide to push through with making the purchase. Also, it would be best if you provide customers with related items in case the product that they are looking for is not available. Doing so allows more site visitors to complete their purchase without altogether leaving the funnel.
Display Shipping Information

Most shoppers get disappointed when they reach the checkout process when they find out that they still need to pay for shipping and other additional costs. To avoid this, display your shipping information on your eCommerce product pages right from the start. Show it on your home and products pages to remove any confusion later for the customer.
Tag "Out of Stock" Products

Do not let your shoppers reach the checkout page of your website just to be notified that the product is no longer available. If you have already run out of stock, then tag those products immediately to avoid wasting your customers' time. Then, let them sign up for notifications so that they can know when the product is available again.
Create a Sense of Urgency

You can set deadlines on all of your discount and product offerings. Doing this will make your customers realize that they should make a purchase as soon as possible. Otherwise, your special promos may not be around the next time they visit your website. You can also tell them that only a few pieces of the product remain available to encourage making a purchase right then and there.
Utilize Live Chatting and Social Sharing

Integrate a live chat box on all of web pages, especially your eCommerce product pages. Through this, you provide your customers with a venue to make queries, voice out comments, and send suggestions about your products and offerings. It is also a way for you to send communication about sizing, product quality, customer service commitments, and return policies. Check out this article on how to add FB Messenger to your website. You can also place social buttons that will allow your site visitors to share your products on social media.

Optimize Page Loading Speed

Nowadays, web users are all about speed. Slow loading pages often discourage site visitors from continuing exploring the website. With the help of a web design and development company in the Philippines, you can optimize your web page loading speed to ensure that it loads in two seconds or less. Also, they can make your pages responsive to any browser and device to avoid losing any chance of a conversion.

Reassure Customers

Customers need to provide personal information when making a purchase. Thus, it would be best that you reassure them that their information remains safe post-checkout. After the purchase, we suggest that you reassure them with a short message or show them safety certifications on your website. Doing so helps you get their trust. It also helps ensure that they return to your eCommerce product pages to make another purchase.
Enhance Product Pages with the Assistance of a Dedicated Web Developer
As you can see, your product pages can significantly affect the performance of your eCommerce website. Try implementing these tips on your product pages and see improvements in your eCommerce transactions.
With the help of a web design and development company in the Philippines, you can now create e-commerce product pages that will not only look pleasing to the eyes but will also help convert site visitors into customers.
If we missed other tips on how to create eCommerce product pages that sell, please feel free to comment them below!