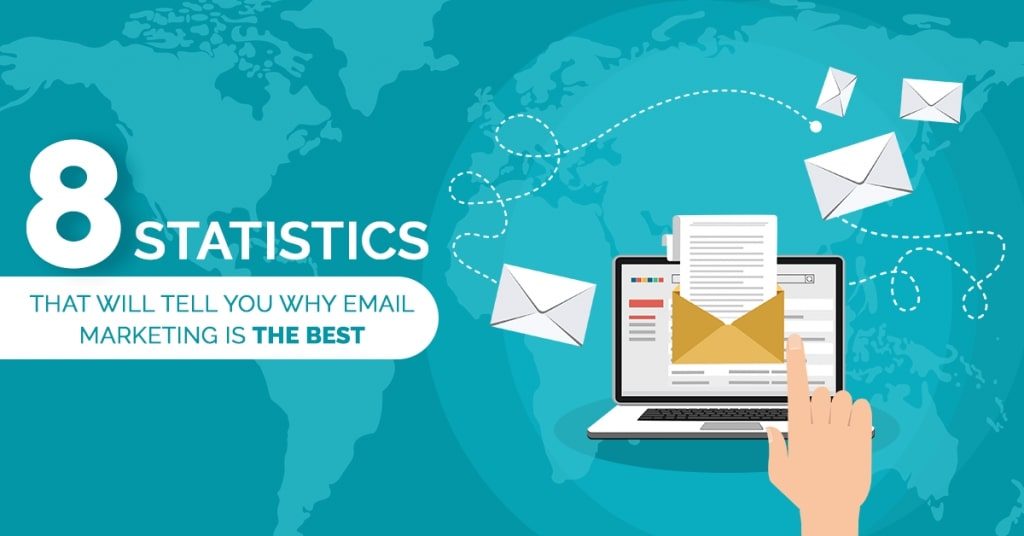 Jul 22, 2019
8 Statistics That Will Tell You Why Email Marketing is the Best
Emails are seriously more than just something you need to sign up for online accounts; as they are known to be one of the top digital marketing strategies in the online world. You may have noticed these digital and email marketing methods or strategies in your inboxes; coming in the form of newsletters or notices about special product promos.
Due to the rather personal nature of emails; it is only natural that marketers are always so hungry to gather as much as possible; especially from their target audiences. Since it is not all the time that a consumer would immediately decide to buy a product; having their email helps businesses stay on their radar through blasting regular updates to their inboxes. In digital marketing, keeping up visibility with recurring customers is just as important as attracting new ones.
However, like most marketing strategies, email marketing requires a significant amount of patience and diligence. Thus, sometimes people do not think it is worth pouring in all their efforts into an email marketing campaign; especially one that does not drive instant results.
For those who happen to fall under such category, we will tell you this: you are missing out. Additionally, if we cannot convince you, maybe these stats from Campaign Monitor and Caroline Forsey from Hubspot will change your mind.

Revenue for B2B marketing automation systems increased 60% to $1.2 million in 2014, compared to a 50% increase in 2013. (VentureBeat)
That is 10% more than the rise in 2013, and this happened in 2014. You can only imagine how much more these B2B businesses have seen revenue increase just by using email marketing strategies for their digital marketing. 
93% of B2B marketers use email to distribute content. (Content Marketing Institute, 2017)
What about the other 7%? Wait, why care about the other 7% in the first place; when this means that nearly every B2B business or marketer uses email to send out valuable content? The real question is, are you going to be part of the 93% or the measly 7%?
About 53% of emails are opened on mobile devices. (Campaign Monitor)
We are all about mobile in 2019, and that will keep going on for a while. The thing is being mobile-friendly is not solely attributed to websites, but to the emails you send as well. Seeing as 53% of the population are using their phones to open up their emails; better make sure you are using mobile-friendly and responsive email templates. That way, you further optimize your digital marketing strategy.
73 percent of millennials prefer communications from businesses to come via email. (Adestra, 2016)
Should you happen to be targeting this particular age group, and you also happen not to be using email marketing strategies, then what are you doing? The more modern the generation, the more they want to receive information faster will less hassle, and one way they want to do so is getting updates via email. You may think social media might be enough since they are on there quite often too, but adding email to your marketing campaign can double the effectivity. 
Personalized email messages improve click-through rates by an average of 14% and conversions by 10%. (Aberdeen)
Gone are the days when we would start emails with a simple "Hi there!" or "Dear Sir/Madam", if you tried that out now you are most likely going to be ignored. Since you are sending an email to a particular person, the best way to get their attention is to personalize your email by greeting them by name ex. "Hi David!", "Hey Justin", "How have you been doing, Robert?", etc. Fortunately, email automation tools like MailChimp make it easy to personalize several emails in one blast by merely adding names into your email database and using a particular code. 
80% of business professionals believe that email marketing increases customer retention. (Emarsys, 2018)
While the goal of every marketer is to get as many new customers as possible, it is essential not to ignore the customers we have already acquired. These are people whom you already have a relationship with as they have bought your products or availed of your services at one point, so they are most likely to do it again as long as you remain on their minds. Email marketing and its strategies is a great way to keep yourself on their radar. 
You are 6x more likely to get a click-through from an email campaign than you are from a tweet. (Campaign Monitor)
Yes, email marketing and its strategies can be as powerful or even more so than social media platforms like Twitter. Due to the highly personalized nature of email marketing, people are most likely to get curious about an email they receive that speaks to them as opposed to a general tweet or post that can be addressed to just about anyone. 
56% of brands using an emoji in their email subject line had a higher open rate than those that did not. (Forbes, 2017)
Although this would still depend highly on the kind of email you are sending or the type of audience you are sending an email to. However, for businesses who like to portray an image of fun or firms who are targeting millennials, there is no harm in trying out using emojis in your subject line to see how effective it is for you. 
These are only a few but very true email marketing stats you can find online to convince you of the effectivity of this digital marketing strategy. For those who are just starting and may need help, check also these tips from the email marketing experts.