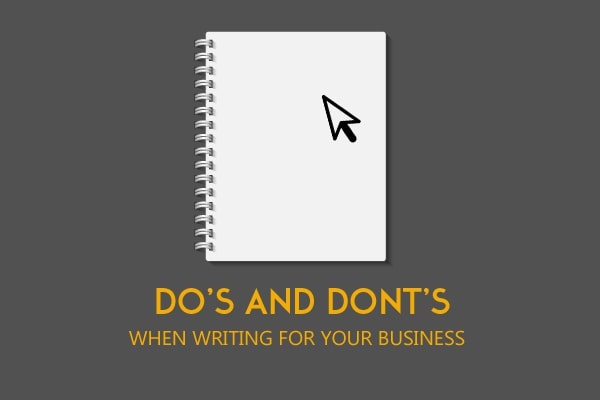 Sep 24, 2014
Don't Get Ignored: A Couple of Dos and Don'ts When Writing For Your Business
Outsourcing companies in the Philippines realize the growing need for businesses to build their online image. This is mainly because when you go online, you are opening yourself up to endless opportunities.
Most of these opportunities come in the form of the potential customers you can possibly meet online. Once you make your business and products available on the internet, you are no longer limited to local customers, but national and maybe even international customers as well!
That means you should put some effort into your website design, SEO strategies, and of course your business' content. In fact, with the way Google is changing its algorithms, focusing on your content should be one of the top priorities.
Now writing effective content can be tricky and it is hard to find the right words that can grab the customers' attention and convince them to buy what you are selling. However, you have probably read content from other businesses as well. Some of these might have been appealing to you, while others might seem too bland or too "in your face".
Of course, as a business owner you would not want your content to be one of those bland or "in your face"/hard-selling pieces customers instantly ignore. So, here are a couple of dos and don'ts for writing your business content:
DOs
Write like you are talking to a friend and keep things straightforward. Tell them all they need to know about your business without using any unnecessary words. Tell your readers what type of product you are offering, how much it costs, how it benefits them, the basic stuff.
Newspaper writers write their articles with the conclusion or the most important piece of information at the top. It might seem weird, but if you want to get your point across instantly, this is a good way to do so. This writing technique is called the "inverted triangle". The important information goes first, and the details are introduced in the following few paragraphs.
DON'Ts
Starting your content with something like "I am writing to…" is a huge no-no. Unless you are writing a business letter to another business for like a sponsorship or something, this is okay since these letters require some form of a formal opening. However, your business content is a far cry from a business letter since this is addressed to your customers. Your customers probably already know you are writing because you want to sell them something, you do not need to rub that in their faces any further.
When you are writing about your business you might have the tendency to write marketing gibberish all customers would rather ignore. These gibberish includes words like "world class", "market-leading", "best-in-class", "revolutionary new", "state-of-the-art"/ "cutting-edge", etc. Customers will simply not care about all of these, unless you have the statistics to prove that you are "the best".
Cheryl Conner from Forbes has an informative article about what you should do to improve your business writing. It is actually where I got a few ideas for this article. Check it out (the title is "The Signs Your Business Writing Stinks (And 11 Solutions)") or find out other dos and don'ts by simply doing some research!