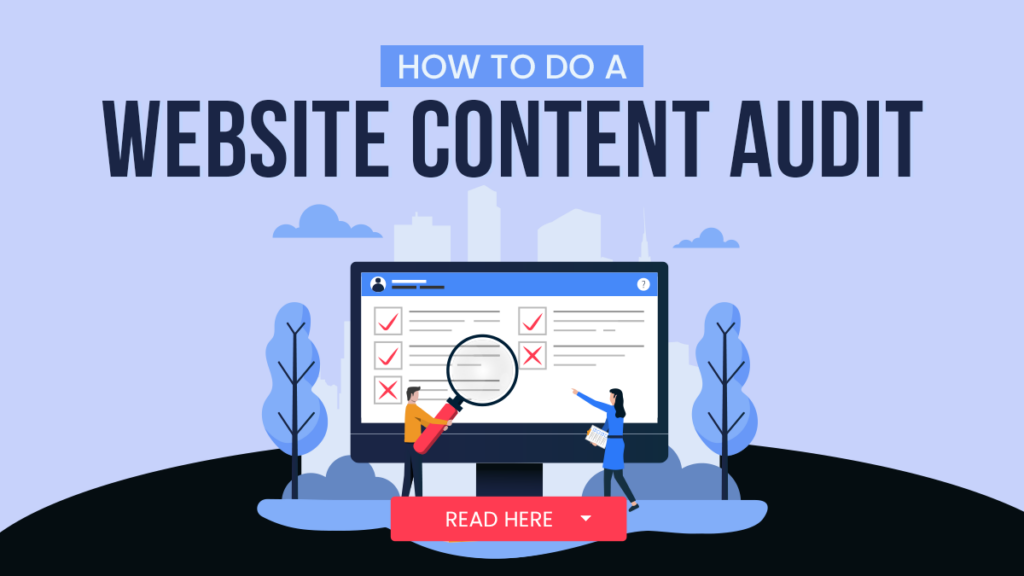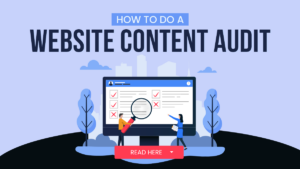 May 9, 2023
How to Do a Website Content Audit
When you say 'Content Audit,' you're referring to the systematic process of reviewing or assessing content found on a website. If you're a site owner or marketer who publishes content, you must know how to conduct a Website Content Audit.
Content Audits can analyze content performance, offering significant benefits for your business. Audits allow site owners and Content Marketers to fully understand the results of their content efforts.
In particular, Content Marketers conduct these audits for Search Engine Optimization efforts and to assess current content strategies. For the former, audits provide the necessary information for optimizing your current and future content. So you can add more relevant keywords and expand the article's content.
You can also see the results of your Content Marketing Strategies so you can see what did and didn't work. Then, you can apply your findings to future marketing plans. They help you find existing Content Gaps within your site and figure out how to cover them in the future.
How to Conduct a Website Content Audit: A Guide
First, Determine the Goals of Your Audit
Content is critical for various organizations, so auditing your existing pieces is vital. When you conduct a Content Audit of your website, you'll check the results of past Marketing Strategies. Then, these results can refine future strategies.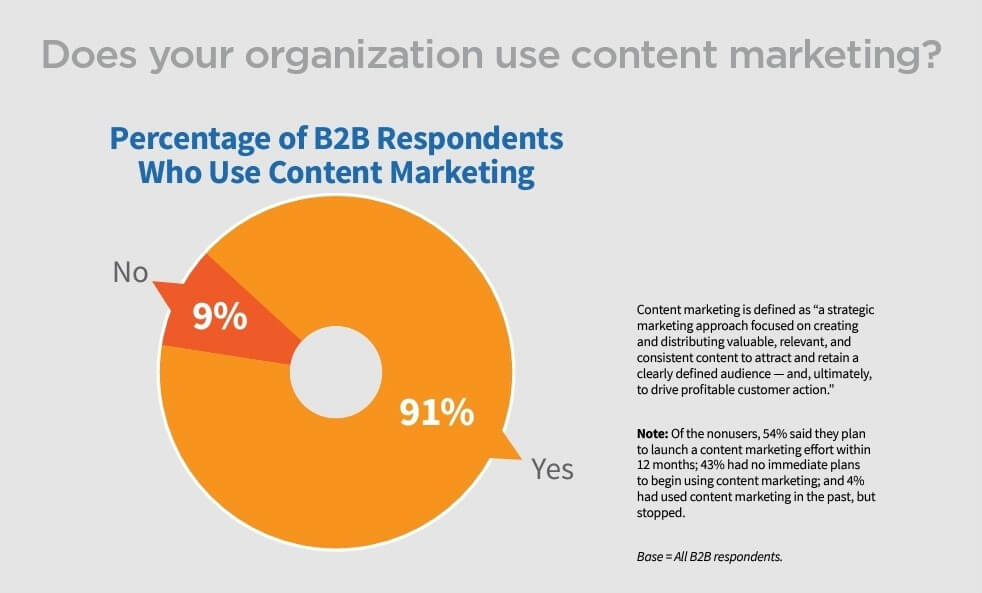 Source: Content Marketing Institute.
Before reaching this stage, it's essential to start with a solid plan and clear objectives.
Understand the Purpose of Your Website Content Audit
Before you start, you must set goals to maximize your Content Audit process and gain the desired results.
Some great Content Audit goals include the following:
Improving your SEO. So, your audit will mainly focus on finding and retaining web pages with the best SEO standing.
Increasing engagement. Here, you find the most engaging content that catches your audience's interest.
Boosting Conversion Rates. Audits focused on this goal will discover the best lead-generating content.
Identify the Key Performance Indicators to Measure
Once you've settled on your goals, you must derive your Key Performance Indicators or metrics. KPIs for evaluating content performance primarily include micro-conversions. You'll see metrics for page visits, email subscriptions or signups, and Social Media sharing.
If your audit aims to improve SEO, your KPIs will include your backlink volumes and search results rankings. But to determine what content topics are popular, consider analyzing user behavior and engagement.
Next, Collect Data for Your Content Audit
During this stage, you can collect information about all content present on your site. You need to search for high-performing content pieces and those that contribute poorly (or not at all).
But before you can create a comprehensive inventory of content details, you need to decide which content to review. You can analyze any type of text content on your site, including:
Blog posts or articles;
News stories;
Educational posts;
Product or service descriptions;
Landing pages, etc.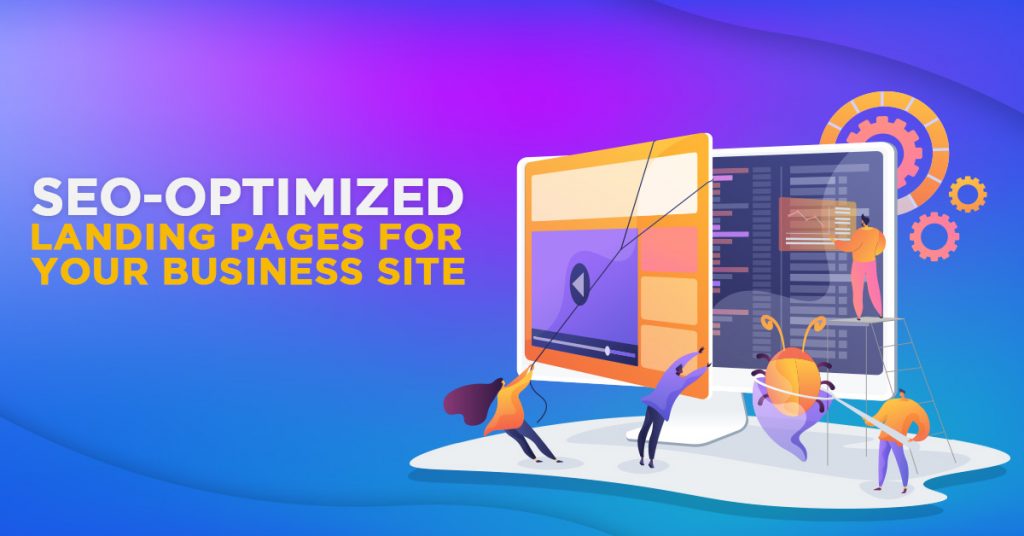 In addition, you can assess non-text content types, such as videos or interactive content like quizzes or tests. However, when conducting Content Audits, Content Specialists focus on examining published textual content.
Gather Data About Your Site Content
You need to make an inventory of content data. You can accomplish this by creating spreadsheet columns indicating the metrics for each web page.
One critical piece of data you must collect is the web page URLs containing the site content you want to analyze. You can also collect metadata, or the titles, meta descriptions, and headings for each piece of content.
Once you've collected enough data, you must catalog it in a spreadsheet. This can also make tracking easier for your marketing team members.
Here are a few key details you can use:
Author;
Content cluster;
Media or content type;
Content goal;
Date published or modified;
Title;
Targeted keywords;
URL;
Word count;
Customer journey stage (ex, awareness, decision, etc.), etc.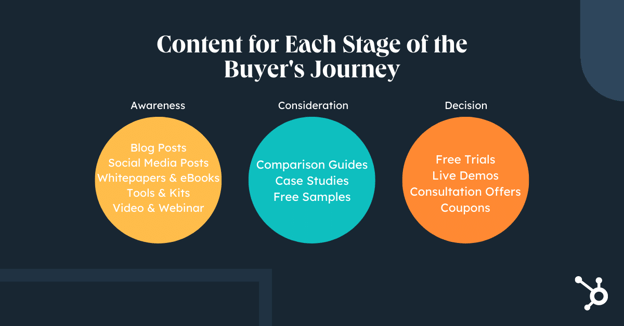 Source: HubSpot.
However, the details you'll add to your inventory will depend on your goals. For instance, you can note the kind of products or services indicated in your content.
Use Data Collection Tools
Data collection tools can help you inventory the content you've collected. If your website only contains a few pages, you can manually categorize the information via a Google Sheets or Excel spreadsheet.
However, if you have a more extensive website, you can use a Content Audit tool to categorize your site content! You can choose from the following list:
Ahrefs
ContentWRX
Content Square
Google Sheets
Google Search Console
HubSpot
Screaming Frog
Semrush
WooRank
For instance, Semrush Content Audit is a powerful tool for collecting URLs and the metrics you want to examine. It provides data like authors, backlinks, metadata, social shares, and more!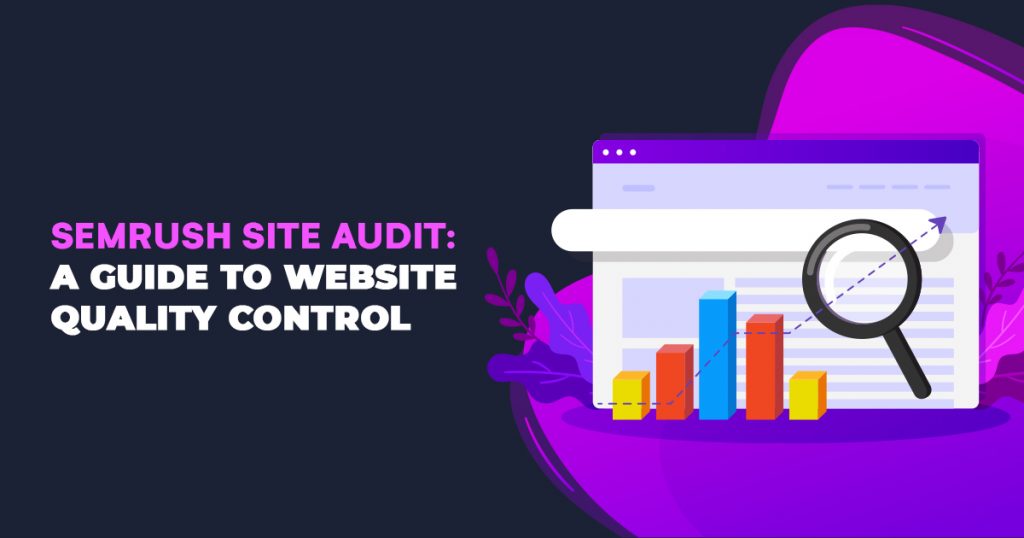 Not only that, but the tool can audit website content based on sitemap data. In addition to helping search engines understand your site's structure, sitemaps are helpful for conducting Content Audits. But you can use a sitemap generator tool if you don't have an existing one.
Then, Analyze the Collected Data
It's time to interpret the inventoried data as a whole and better understand your site's content performance. You must find your site content's strengths, weaknesses, and opportunities here.
After thoroughly assessing your content assets, you can keep, update, or delete pieces. You can indicate what category your content falls under in your Content Audit spreadsheets.
Analyze User Behavior and Search for Trends or Patterns
Analyzing data is crucial to see how visitors interact with your content pool. You need to assess content elements like the following:
Web page titles;
Buyer's journey stages;
Calls-To-Action, etc.
With these elements, you can understand why they might click on your work, stay to read it, or leave.
For instance, your pages might gain plenty of traffic but have short visitor sessions resulting in high Bounce Rates. So, visitors find your topics interesting enough, but they stay on your pages only for a short while before leaving.
Find Content to Prioritize, Based on Performance Metrics
After assessing your content performance, you can categorize the web pages or content pieces that need remedying. For instance, will you choose to keep, delete, or update existing pieces?
Naturally, site owners must keep high-performing, relevant content that gains a lot of engagement. These include evergreen content and Frequently Asked Questions pages.
Updates are best for pages that aren't performing or converting as well as they should. Of course, Content Marketers generally have to update content to keep it evergreen. As a result, you can revise your content pieces to make them more accurate!
Reviewing more recent pieces is a good practice, but you must find older, popular pages. Improvements such as boosting word counts for poor or Thin Content can further strengthen their search engine rankings.
Lastly, website owners should delete or remove articles that aren't pulling their weight. These will include content published over 24 months prior with little to no engagement.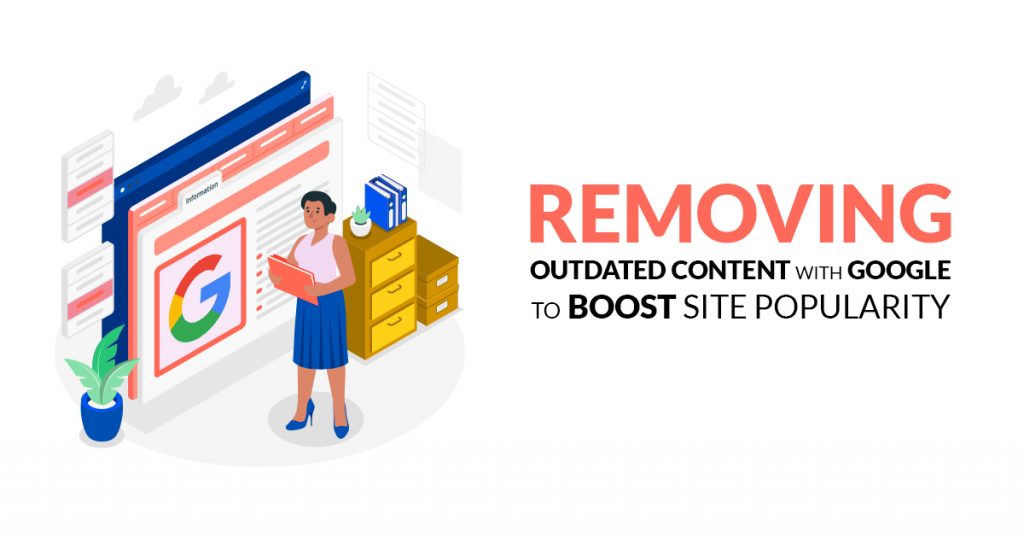 You can also delete content for the following:
Seasonal marketing campaigns;
Outdated products or services; and
Duplicate content.
Create a Content Audit Plan of Action
After you've analyzed your content data, you can set up an action plan to improve your Content Marketing Strategies. So, base new methods according to your Website Content Audit goals and the conclusions of your analysis.
Set Post-Content Audit Objectives and Goals
Your post-audit objectives are based on your goals at the start of the audit process. Because they're the backbone of your action plans, you can prioritize goals depending on how achievable they are.
For example, if you intend to improve your SEO standing, these might be your goals:
Adding more backlinks to articles;
Creating more Long-Form Content;
Publishing more eBooks;
Create a New and Improved Website Content Strategy
Once your objectives are in order, you can create your new Content Strategies. Your new Content Marketing plans should suggest critical actions. You can go over each content piece by URL.
Identify the Necessary Updates and Changes to Website Content
There are several methods to boost your content's performance:
Of course, you can rewrite content to improve its SEO and add new or updated information to the text. This can include adding more vital information, such as instructions.
Consider adding more non-text content, like relevant images and videos. (Make sure to optimize your writing with the appropriate Anchor Text!
Optimize your titles and meta descriptions with targeted keywords.
Improve your content's hierarchical structure — use proper H2 and H3 tags, especially on older pieces.
Optimize your internal links, and ensure newer pieces link to older ones as long as they're relevant to the subject.
You can also merge shorter, underperforming articles into one Long-Form piece.
Additionally, consider reusing content by publishing it in a different format, such as slides, eBooks, etc.
Update Calls-To-Action when necessary.
For all deleted pages, set up 301 Redirects.
Lastly, inform Google Search Console about your updated web pages.
Implement Changes and Track Audit Progress
After deciding on your Content Strategies, you need to implement them afterward. Of course, Content Specialists perform audits to create better long-term marketing plans. As a result, you can improve audience engagement, organic reach, and conversions.
Monitoring the impact of changes on performance metrics 
Not only do you have to implement your post-audit changes, but you have to monitor performance over time. Continue tracking necessary metrics, such as:
Organic traffic
Paid Ads traffic
Conversion Rates
Social shares
It's also crucial to review your Content Strategies at least yearly to ensure they align with your business goals. However, if your industry is the type that evolves quickly, you might want to set up monthly or quarterly reviews.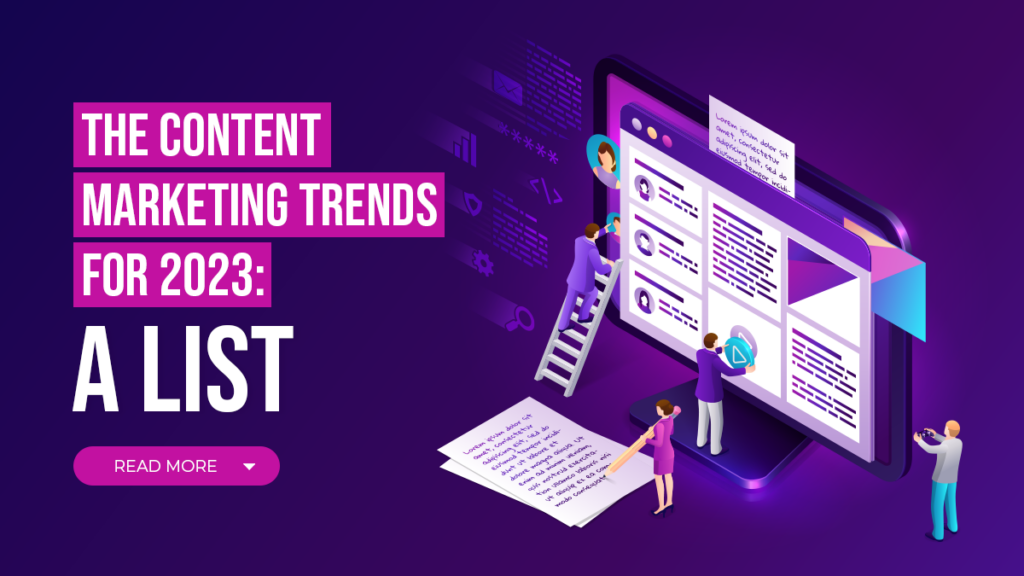 Final Thoughts
Website Content Audits are meant to reveal your content pool's strengths and weaknesses. Regular Content Audits allow you to expand your content's reach via SEO, find specific areas of improvement in your current strategies, and adapt them to the industry and your goals. Also, you can use this to investigate content gaps to fill in the future!
You can better appeal to your target demographics by thoroughly understanding your content performance. As a result, you can improve organic reach and lower Bounce Rates while boosting conversions.
You can significantly improve your site's reputation with a well-planned audit by yourself! But, you can also tap Content Writers from the Philippines who are well-equipped to handle Content Audits.