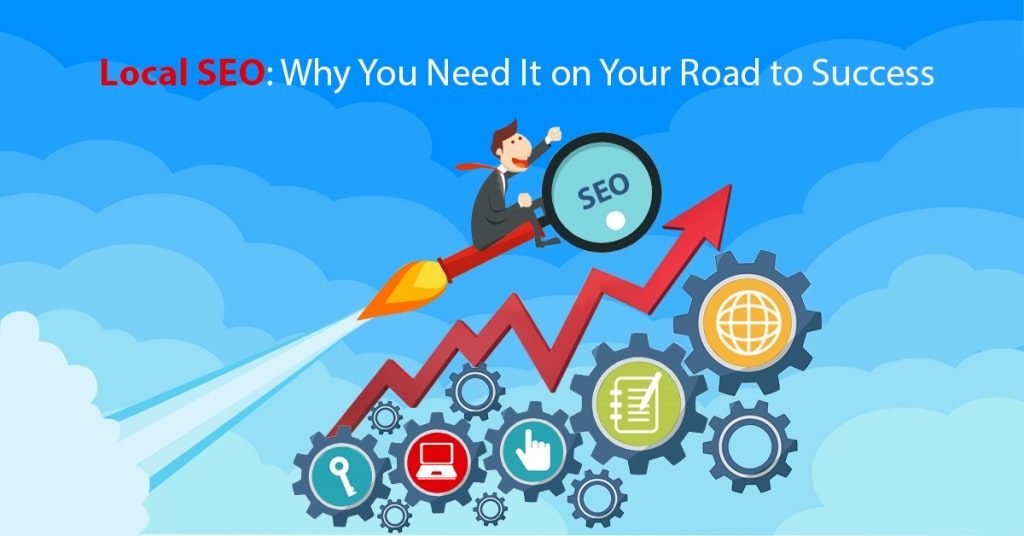 Mar 18, 2019
Local SEO: Why You Need It On Your Road to Success
Why you need to use local SEO today
It's simple. SEO – Search Engine Optimization, is a marketing strategy that drives rankings and visibility of websites –  making it easy for customers to find your website. Local SEO helps local businesses' websites rank more pages higher in SERPs (Search Engine Result Pages) while expanding local companies' organic search visibility. This is particularly useful when you publish local content in a blog post. Ranking and visibility are the focus of local SEO specialists.
The strategy eventually drives more visitors to your website and increases the chances for conversions and sales.  When somebody searches Google for a particular product or service category, they find your website on the top results. Google's goal is to provide these user inquiries with relevant answers or information listed on results pages.
Match the customers' modern buying behavior
Do you know how modern shoppers behave these days?
Studies show that more consumers use search engines to find products or services online than any other media channels like television or newspapers. Hubspot reports that about 70-80% of search engine users focus only on the organic results. Furthermore, 85% of respondents choose Google for their searches.
On that same Hubspot research, it mentioned that 77% of consumers research a brand before engaging with it.
How do consumers use search engines? Here's how:
They open Google on their browser and type in the keywords of their problem/things they are looking for

Sometimes, they search about potential solutions related to their problem
They evaluate the alternatives based on what they see on the top results pages
In the end, they only resort to calling a company after they've exhausted all searches to no avail
So the only chance for these potential customers to actually see your website, product or service is to have it show up on the top results pages when they search for something using their local search engine. This is exactly the reason why we need local SEO and the help of local SEO specialists.
How experts rank your website today
Search engines like Google always keep their search algorithm unrevealed. But experts have brilliantly identified significant factors that rank websites on SERPs. These are what we call as ranking factors.
Based on these ranking factors, we can summarize the local SEO strategy into three core components:
Every time a consumer uses a search engine, he or she is looking for relevant content — information on a particular issue or problem that, for him or her, needs a solution. Content is king and may come in different formats like text, audio or video, product review, and even a business listing for a big or small business. Local SEO specialists know this as a primary driver for ranking any website.
Really, it's all about content and what helps gain greater search visibility in local SEO.
Okay, before even the ranking begins, the search engine needs to be able to find your website first. Afterwards, it scans your pages to identify their keywords and understand their topics and context.
The search engine then adds them to its index, or what we understand as its database of all the content that it found in the Internet. Once this is done, it can now consider displaying your website for relevant queries depending on its algorithm. Now, you can be easily found when other users perform keyword research.
Pretty easy.  Unfortunately, there is a catch to this local SEO component.
Even though you see a webpage as a collection of graphics, colors, formatting, text and links designed to look amazing, it's just nothing but text to a search engine.
This is where the technicality, also referred to as onsite optimization, is significantly considered by local SEO specialists. It ensures that your web pages allow the search engine to scan and index them without any issues.
These are responsible for your site's popularity and authority. They are references to your content coming from other websites. Each time another website points their readers to your content and web page, you gain a backlink to your site.
Search engines like Google use quality and quantity of links as a good signal of a website's authority. It's based on the premise that web content creators refer their discussions to a popular and highly reputable website more than them.  Local SEO specialists ensure your content is interesting and credible so that there is a high chance that other sites will use it for their own content.
Let's take the action to jump on board
By now, it's best to keep up with the trends in digital marketing and local SEO. For more than a decade now, the digital marketplace has grown exponentially and its reach beyond traditional methods.
Expectedly, more consumers now take to search engines to find the products or services they're looking for. Hence, we can say that the marketplace and consumer buying habits have already changed, and so should businesses.
In conclusion, having a website will not be enough to put your presence online. With possibly more leads that you could generate online, it's time to equip yourself with Local SEO tools, take action and be smarter to grab them before others do.