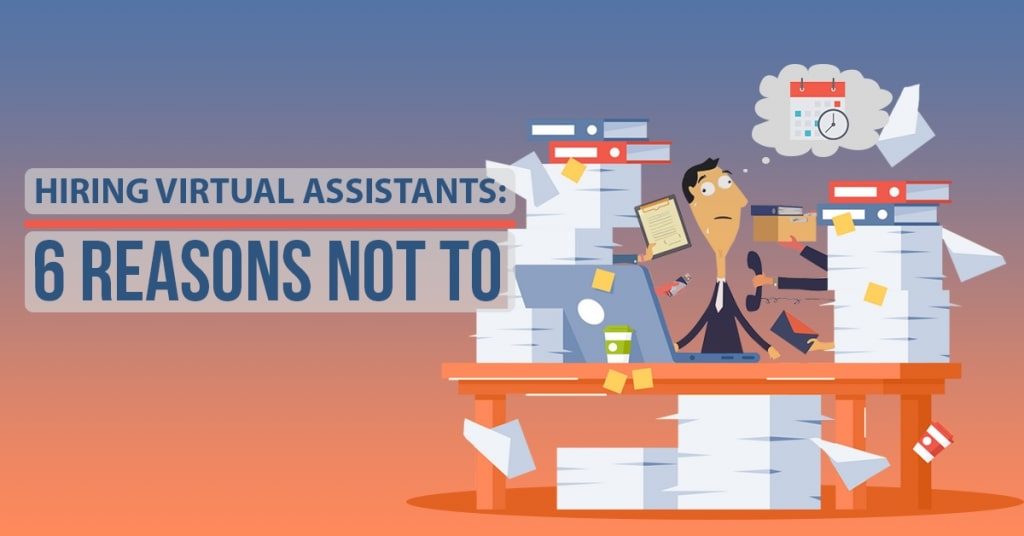 Mar 19, 2019
Hiring Virtual Assistants: 6 Reasons Not To
Hiring virtual assistants have undoubtedly become highly recommended in the business industry these days. It's not a secret that we are now living in a period where almost anything can be done virtually. With the use of high-speed internet, business owners can seek virtual assistance anywhere in the world.
Furthermore, we are not suggesting that you should take advantage of such benefits for your business in general. However, before jumping into a conclusion, allow us to present some guidelines on why we think you should not hire virtual assistants for your business.
#1 Don't Hire A Virtual Assistant If You Don't Want To Save Time
Virtual assistants are capable of providing you with more leisure time to do other things aside from managing business tasks all day long. They can even rescue you from hours of stressful work each day. Juggling too many tasks by yourself will not benefit you in the end. It will only burn you out in the long run.
On the contrary, delegating your business tasks to virtual assistants can definitely provide you with rewarding results. If you don't want to experience these extraordinary benefits, however, then don't hire one.
#2 If You Don't Want To Save Money
Virtual assistants are very flexible when it comes to working. They can work part-time or full-time based on your business support needs. Thus, you can save a lot of money if you'll hire one to work for a specific number of hours only. Consider your cost per hour, which is most likely, much higher than the per hour cost of a virtual assistant. If you can delegate work to someone else, do it. Use your time in doing things that will use your skills and abilities and be able to earn more.
When you hire a virtual assistant, there's no need for you to provide additional equipment. Most of the time, virtual assistants also have exclusive tools or online resources that they can use and provide to you for free. If you still think that hiring a VA is not a cost-effective business strategy, you can always try to find other options out there.
#3 Don't Hire A Virtual Assistant If You Don't Want To Have Someone Who's Good With Multitasking
Virtual assistants are great at managing time to complete various tasks because they value your time as much as you do. Even though they are experts in juggling tasks, they always make sure to produce quality outputs. They can also display their adaptiveness and flexibility when it comes to beating deadlines and sudden change of tasks.
If you don't want to experience the convenience of working with someone who can contribute such multitasking expertise to your business, maybe a virtual assistant is not what you really need.
#4 If You Don't Want To Experience Excellent Customer Service
It is important to know that virtual assistants commit to providing excellent customer service for their clients. More importantly, most of them possess exceptional communication skills that help them excel in their jobs.
Additionally, they have a clear understanding of different business goals and objectives that allow them to perform smoothly. If you feel that there is no need for you to take advantage of such a beneficial element, you don't really have to force yourself to hire a virtual assistant for your business.
#5 Don't Hire A Virtual Assistant If You Don't Want To Reduce Your Workload
As we already know, virtual assistants have the power to take all the work that you don't have time for. If your schedule is filled with tasks that you can't immediately accomplish, a virtual assistant can help you finish all of them.
With the help of virtual assistants, you can efficiently manage your workload. You can also provide excellent results for your business as a whole. However, if you believe that you can do everything yourself without affecting any of your fixed schedules, the choice of hiring a virtual assistant is all up to you.
#6 If You Don't Want To Increase Your Business Productivity
As a business owner, continuously doing minor tasks can slow down your business productivity. This is where virtual assistants can help you in terms of managing tasks. Instead of dealing with data entry, email management, and research, you can let a virtual assistant handle those tasks. This will help you focus more on your significant responsibilities as a business owner.
There is no doubt that virtual assistants can contribute to your business' growth and development. Having a dedicated virtual assistant can also help you maximize your time efficiently to increase productivity.
Considering all of the advantages, virtual assistants can undoubtedly contribute to every business or company. Thus, who wouldn't think of hiring one?