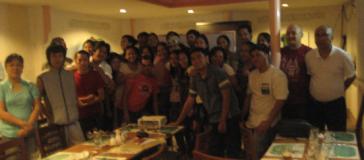 Aug 8, 2011
Syntactics Continues Its Commitment to Help Team Members Grow in Their Professional Path
Last October 11, 2008, Syntactics had an exclusive company seminar and workshop on Managing Stress in the Workplace and Time Management to help team-members continuously improve in their productivity and improvement of their overall well-being.
The workshop was conducted by Ace Preferred Business Options Inc. and was fortunate to have Mr. Nyoy Ligutom, a veteran in team management and consultancy, as the main speaker for the workshop. The workshop discussion defined stress and how common workplace stressors could be properly addressed. The Workshop emphasized stress as a response to an upsetting situation in which can be controlled by each individual. The workshop sited the importance in managing stress, mainly because stress is one of the often-cited problems in the workplace affecting a person's behavior and productivity, slows performance and understanding; by managing stress employees can increase productivity, have a better health and be happier in general.
An additional session about time management was also conducted the same afternoon to help team-members find ways to streamline and be on the right direction and focus at all times. Throughout the afternoon, emphasis of keeping balance in health, career, family and friends was discussed.  The Workshop was held at Phileas Fogg, Velez Street, Cagayan de Oro City. This seminar is one of the several trainings and activities that Syntactics will be conducting for the continuous growth of each team-member and for the entire corporate family as well.