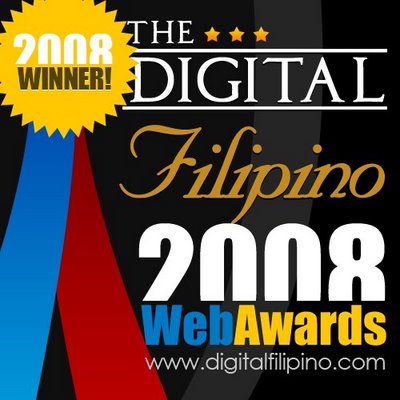 Aug 8, 2011
Syntactics Wins the 2008 Digitalfilipino.com Web Awards
Manila, Philippines – Syntactics, Inc. bags the 2008 DigitalFilipino.com Web Awards as Best Corporate Website for the second consecutive year.
"We thank Ms. Janette Toral and DigitalFilipino.com for encouraging online entrepreneurs to continuously innovate in the way we do business." said Syntactics COO Wilfredo P. Kaamino Jr., who went to Manila to receive the award. "It is an honor for our company to be recognized among highly competitive websites in the corporate/professional category."
"Websites in forty (40) categories were reviewed and judged for their ability to create a noticeable presence on the Internet a" their ability to be seen and heard among all the noise and clutter of the Net," said Digital.Filipino.com CEO Janette Toral. "Commercial websites were also reviewed for their ability to conduct e-commerce, in a simple yet professional manner. "
The DigitalFilipino.com Web Awards advocates use of the Internet and e-Commerce for business development, through the identification, promotion, and highlighting of best e-Commerce practices from various websites in the Philippines," said Ms. Toral, a writer, SEO consultant, trainer, blogger, policy lobbyist, and entrepreneur.
All entries were nominated by the public last September to October 2008 and were judged by members of the DigitalFilipino.com Club. The Corporate / Professional category intends to spotlight on websites that serve as a portfolio or identity of a company, business, or professional individuals. It includes sites that promote products, services, or information about a company or professional individuals. Other sites nominated for the category were
http://www.mondenissin.com
http://www.mindbuilders.com.ph
www.creativoices.com
http://www.synetcom.ph
http://kopez.com.ph
http://www.makatipalacehotel.com.ph
"Through this project, we hope to increase the awareness and promotion of outstanding websites and to get a better understanding of the benefits of the Internet, as well as the various ways in which e-Commerce can play a vital part in business development," Ms. Toral said.
Syntactics, Inc. is based in Cagayan de Oro, which was cited by Trade Undersecretary for Operations, Carisa Evangelista among the good BPO locations outside Metro Manila.