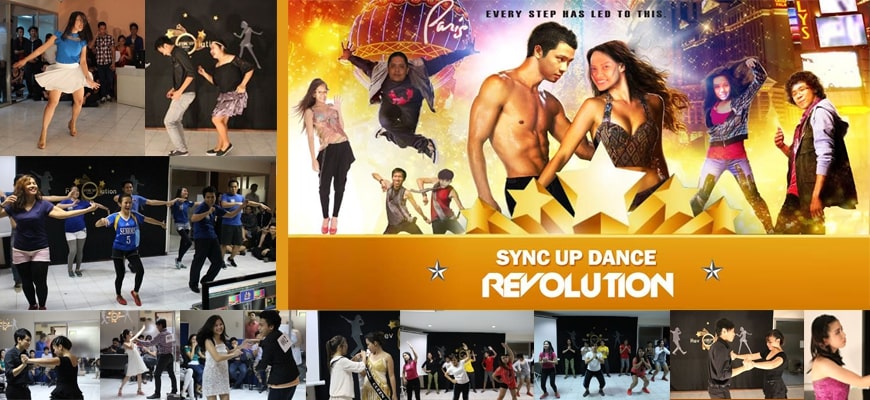 Dec 15, 2015
Dance, Dance Revolution: The Sync Way
People these days rarely find the time to just sit down with each other, talk, reminisce about the good ole' days, and simply relax. Most of them choose instead to spend their leisure time engrossed with different kinds of media; they prefer playing games on computers or mobile phones, watching videos or movies online, browsing through social media feeds and other activities that rarely involve a face-to-face interaction . In a world filled with busy days and hectic schedules, time should always be set aside for relaxation and recreation to avoid losing that connection with the very same people who should be first on the priority list.
However, this does not always have to go to the extent of spending so much for that dream vacation or taking the risk of going to airports or ports just to get to that seemingly perfect getaway. Scheduling gatherings and group activities where the most that is expected of anyone is just to have fun will usually do the trick. Simple, yes, but these gatherings are usually the ones that remind us why we do what we do. This is not even exclusive to gatherings for family and friends, this can also be organized for employees of companies who need to take breaks from the stress of deadlines and pressure of the corporate world.
As a company that aims to always provide exemplary business and IT solutions, Syntactics, Inc.'s employees tend to stay glued to their seats in front of their respective computer units, accomplishing and completing respective tasks and projects assigned to them. Fueled by the desire to consistently meet the client's expectations (and even rise above it), these dedicated employees tend to get so focused with the tasks at hand that the company decided to create activities that will serve as their occasional break and stress reliever. Aside from major activities like the Sync Summer Camp and Sync Family Day, week long quarterly events which are done after office hours were also designed for the purpose of having fun, as well as strengthening the camaraderie within the office.
This practice started just last year where the three company divisions of Syntactics, Inc. drew lots at the start of the year to decide who will be in charge of the respective quarterly events. The assigned division then decides on the concept and theme for the said week. The activities usually begin in the last month of every quarter where the three competing teams, identified by their pre-assigned colors, make the necessary preparations for the event.
The third quarter's concept was a dance party featuring several kinds of dances such as Zumba, Aerobics, Impromptu Dance Showdown and of course, Ballroom Dancing (Rhumba, Cha-cha and Boogie Woogie Categories). With the theme "Sync Up Dance Revolution", the three teams, which were the Yellow Titans, Blue Archers, and Red IncREDibles, prepared for their respective performances. The Zumba dancing, which had a twist since it had to be on video, was submitted three weeks before the event. The Dance Showdown was impromptu, and the Aerobics Dance was performed during the culminating activity itself, allowing the representatives a little more time for the necessary preparations and practices. The Rhumba, Chacha, and Boogie Woogie representatives, on the other hand, were the most pressured. They had to go through a three-day elimination round before the finals, which had to take place during the culminating activity. Since most of them were not familiar with the dances, the participants asked friends to teach them while others had to take crash courses from YouTube.
There were unavoidable halfhearted protests, especially among newbies who were tasked to dance. These excuses ran from being too shy, not knowing how to dance, having two left feet, and other little excuses they could come up with just so they wouldn't be asked to dance. However, they weren't given much of a chance to back out and ended boning up on Alemana Turns, Cha-cha Chasses, Rumba Boxes, Cuban Walks, and Triple Steps. However, there was also a small consolation for them since even the senior officers and team leaders were not exempted from dancing. Every member of each group pitched in to help make the event successful and enjoyable.
All in all, the event week was a success and the Syntactics Family had a blast. The culminating activity, which was held last September 26, 2015, was purposely done on a Saturday so that no work would be compromised and at the same time, employees can have as much fun as they wanted without having to think about tasks awaiting them after the program. With everyone getting into the spirit of healthy competition by cheering their teammates on and keeping the energy level high, the competing members showed off by executing impressive dance moves, hilarious routines, and unexpected stunts.
The champions were the Yellow Titans, bagging 1st places for the Dance Showdown, Cha-cha, and Rhumba. The Red IncREDibles came in 2nd for winning the Zumba, Aerobics, and Boogie Woogie. Last, but definitely not the least, were the Blue Titans who came in 3rd but with the promise that they will definitely be better in the competitions during the next and final quarter. Everyone claimed their prizes (which came in the form of finger food) and gathered to divide them and danced some more.
Before the day came to an end, with everyone munching on food from their prizes as well as those that were prepared by the committee, everyone settled down to listen to a few things our President & CEO, Ms. Stephanie Caragos had to share as her closing remarks.
"Life is like dancing, it is teamwork and we all take turns being strong to catch our team members. We need the support of each other for those most difficult maneuvers."It's okay to dance alone; there are some who prefer it. However, it's more motivating (and more fun) when other people are there cheering for you. It makes you want to give your best shot and make the people cheering for you happy and proud of you.
"No matter how busy we are, we can make time to have fun with the team and with friends."Work schedules will always be hectic and will always make us feel like we don't have time for anything else. It will make us tired, edgy, and irritable to the point that we tend to snap at the people around us. This is one of the reasons why we need to carve out time for relaxation and fun, most especially with the people we spend most of our hours in a day with.
"You can accomplish things if you stop making excuses."Accomplishing things can be hampered by excuses and alibis. The same way the respective dancers kept on delaying the inevitable up 'til the last minute, some of them had to cram and were not able to give their best possible performance during the elimination rounds. However, once they put their mind to it, the chosen finalists were able to produce impressive dance numbers their teams could definitely be proud of.
"To grow, we need to go out of our comfort zones. How else can you show what your level of commitment is? Sometimes we have to do things, even if we don't really want to, but do it for the team because you know your team is rooting for you."We all have our comfort zones. We all have our own talents, quirks, and skills we're comfortable doing. However, it is when we are asked to step out of what's normal for us that we discover the extent we'll go just to prove how dedicated we are at what we do. Even if we are not perfect at some of our tasks, it will be enough as long as you will exhaust all efforts to give the best possible outcome.
"There are no seniors or juniors. We all have our role to play for the team."There are no exceptions. It doesn't automatically mean that the juniors will be the ones solely responsible for the performances. Seniority is not an excuse to skip out on roles. Every member has the responsibility to step in and take charge of anything that needs to be done. Everyone is encouraged to help each other not just for winning, but also to show one's dedication and consideration for the rest of the team.
"And most importantly, it really feels good to have fun with our colleagues and teammates. And of course we have proven time and again that Syntactics Family is not only a group of brilliant ITCT experts but multi-talented as well."We have brilliant ITCT experts who can produce multiple projects and meet deadlines, design websites, make applications, and write articles. However, their talents do not stop there. There are dancers, singers, hosts, artists, and more, proving that the Sync Team has a crop of multi-talented and versatile people, all willing to do whatever needs to be done for the betterment of the whole team.