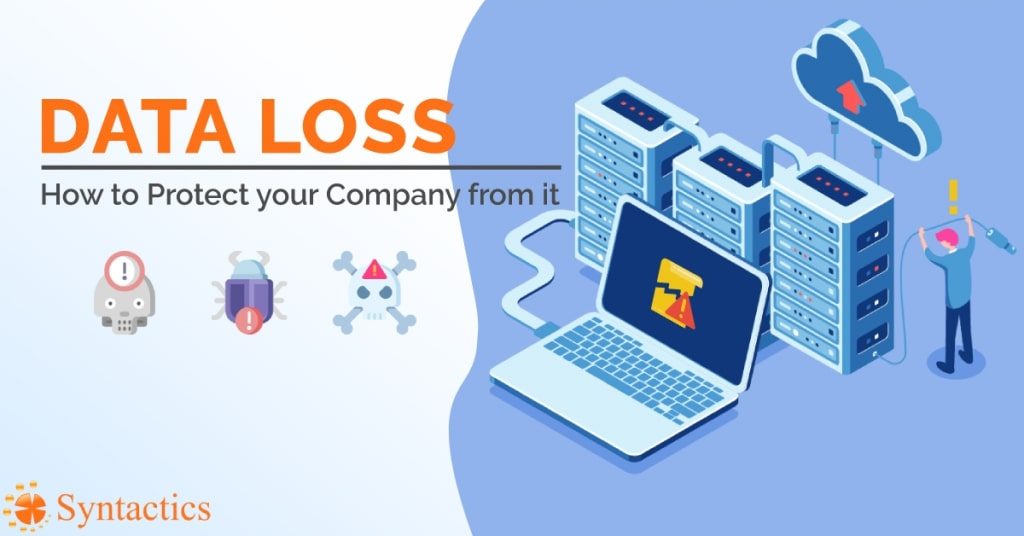 May 16, 2019
Data Loss: How To Protect Your Company From It
Is Data Loss Likely To Happen to My Company?
All companies collect and use data everyday. In fact, data helps improve business processes and decision-making. It helps managers understand their resources better and find ways to improve to reduce waste and increase profit. The collected information are saved in storage devices where the companies can easily access them on demand. From physical file cabinets to digital media like flash drives and cloud storage, businesses benefit a lot from what they can generate out of them. Unexpectedly, they experience a loss of data and don't know what happened and how to resolve it.
Believe it or not, data loss can occur anytime on any device that stores data. Although a simple data misplacement can be technically considered a loss, we'll focus more on the permanent loss of data that is vital to your business and its success. And yes, it's likely to happen to any company such as yours at any time.
Alarming Statistics of Data Loss
Businesses have reported incidents of data loss all over the world over the recent years. An annual event called World Backup Day (March 31, 2019) campaigns to remind companies to prepare for data loss.
Check out the statistics gathered this year below:
Hard drive failure is the leading cause at 45%. You can protect yourself from losing data in such an incident by having a reliable data backup solution. For many, this may entail having a backup hard drive in a physical off-site location or storing files on the cloud.
Malware, including email attacks and phishing scams, at 35%. Nonetheless, it's important to use a reliable, up-to-date antivirus protection in order to prevent this type of data loss. But this strategy is still not enough.  It's best to train all company employees to be mindful not to cause data loss and to be ready for any attempted external breaches.
Human negligence at 20%. Based on the Comparitech statistics below, company people just fail to secure their files and folders. Because of this, files that are open to anyone can provide easy access to sensitive information, putting their company at risk from malware and ransomware attacks.Losing unsecured mobile devices also contribute to  data loss. Theft of laptops and smartphones with access to company resources can be a tool for hackers to intentionally breach and steal data.
SMBs cannot afford to lose data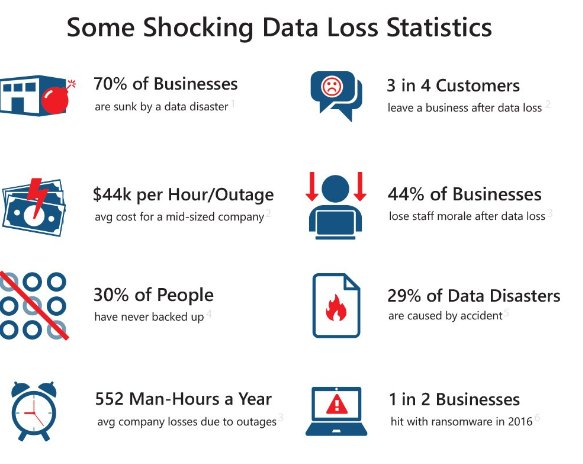 Small and medium businesses (SMB) know that they just can't afford to lose data. However, around 58% of them still do not prepare for data loss.
Around 22% of SMBs cease business operations immediately after experiencing a ransomware attack. What's worse? 60% of those remaining will shut down within six months.
Even big companies with more than 1,000 employees also feel the impact. When data loss happens, around:
94% do not recover
51% close within two years of the data loss
43% do not reopen again
A Devastating Blow To All Types of Businesses
Leaving data unprotected is a risk that's very much expensive to take especially when data loss incidents do happen.
According to a study, the average financial cost of a downtime is around $5,600 per minute. Another similar study mentions that an hour of downtime costs $8,000 for an SMB.
Not only that, data loss disrupts a lot of business activities, including:
Productivity time. During data loss, your business must spend time and resources to recover and therefore cannot focus on profit generation.
Timelines.  There is a tendency to lose customers once productivity is set aside. Every project has an underlying cost and your company will suffer for its loss in productivity every day.
Business continuity and daily functions. The other business functions suffer once the company time and resources are redirected to address data loss and recovery.
Reputation and client trust. Companies need to inform customers of the loss. Expectedly, they might take their business elsewhere. Rebuilding and earning again these relationships will take significant time and company resources, even if your company can technically recover from a data loss incident.
Getting Ready to Prevent Data Loss
With that, it's still best to be safe than sorry when it comes to company data protection. Otherwise, you will definitely run the risk of suffering huge losses. Here are some of our tips that you can consider:
1) Prevention is better than cure.
Protection must come first before any great recovery plan. While other companies invest in a good backup or disaster recovery plan, we recommend that businesses should think way ahead and establish a prevention strategy. One way to achieve this, and avoid data breaches and loss is through outsourcing a business applications team.
Analyze your existing digital configuration and setup. This includes your hardware, software, collected data, local network and connectivity. Identify loopholes which may compromise your data security and conduct a thorough analysis of the entire process. We call this as an impact assessment.
Equip and discipline the staff.  

While technology constantly evolves to become more effective and reliable, the weakest link to this whole disaster remains to be us, the people.  Data loss can be avoided once employees are well-trained and disciplined to quickly detect security lapses beyond what technology can handle. Assign reliable managers and highly technical people to devise a process that greatly reduces the risk of data loss at high-risk company functions and activities. Create a team to oversee and monitor for loopholes.

It is not an easy task to manage and train human beings. 

Try implementing a people strategy before employees deploy themselves to high-risk activities. In fact, adopting a fair and just culture model is one of the ways to go about it.
2) Choose the right preventive solution and technology.
The more data is collected, the higher the risk your company takes in. You can:
Be meticulous in your technical requirements.

Inquire and discuss with the right people who handle actual data for analysis.
Acquire within your budget and allowable resources.
Conduct periodical breach tests and assessment.
Implement new company regulations geared towards data protection and security.
Have a disaster recovery plan and schedule backups.

Proceed to this fail-safe strategy after everything has been set up and in place. Schedule periodic backups to ensure accurate copies of data are saved.
Be aware ahead of any possible threat ahead and consider it a priority.

A lot of companies lax down once they have initially implemented a solution. Remember, there are plenty of variables towards a data loss so you have to be way ahead of them.